Interview with Anupama Jain, Author of 'When Padma Bani Paula'
Interview with Anupama Jain, Author of 'When Padma Bani Paula'
on
Oct 22, 2021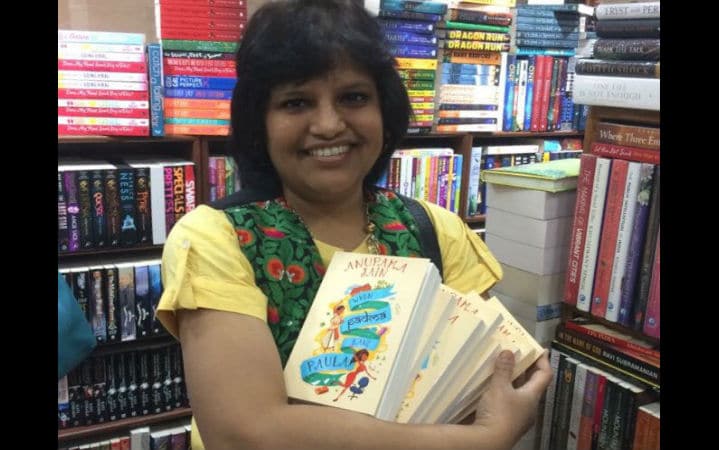 Anupama Jain is the author of:
When Padma Bani Paula

, listed as 'One of the 5 best books of 2018 – Fiction', by

readwriteinspire.com

. It is a breezy novel about second chances of life and the importance of staying true to one's roots. 

 

Masala Mix: Potpourri Of Shorts

, a vibrant short story collection on myriad manifestations of love. 

She is currently editing her third, 'Kings Saviours & Scoundrels -Timeless Tales from Katha Sarita Sagara'
She is a co-author of 10 anthologies across genres, one of which is a LIMCA record holder as India's first Composite Novel.
She is the Founder & Admin,
'SeniorSchoolMoms'
which won the Orange Flower Award 2021, For Best Facebook Groups. 
She is the Head (Content & Collaborations) at
Incredible Women Of India.
A community builder, a multi-awarded blogger, and a mentor, Anupama is based out of Gurugram
Q1 - How did the journey of being a writer start in your life?
I was an accidental late entrant into this enigmatic world of writing. I am not formally trained in the nuances of the craft. A few years ago, I started writing little notes to overcome a particularly tough year - a year of loss and its attendant ugliness followed by a major illness. Through my writing, I found a release. Writing in my case has been therapeutic and liberating. It has given me a new direction and a brand new identity.
One thing led to the other and here I am, about to be three books old. 
Facebook is where I cut my writing teeth. I would write random posts on the daily humdrum, current events, or on anything that caught my fancy. The 'likes' on my posts became my energy boosters, gave me the strength to cope with life by putting the smile back. 
I started contributing and participating in various story competitions regularly. By winning the competitions, I became a part of 10 anthologies, ( one is a LIMCA 2016 record holder, India's first Composite Novel). 
Meanwhile, I blogged too. I blogged for multiple brands, wrote commissioned pop-ups, won many awards for my flash-fiction stories, creative writing, and humor pieces.  
I have written an award-winning series at
readomania.com
- 'AJ Wants to Know', a satirical take on the quirky world around. 
I also blog at
akkaacerbic.wordpress.com
which is listed in the Best Indian Blogs Directory 2018 under the Topical Matters and Current Affairs Category (only 328 were listed). 
Q2 - How did you get the idea to write this story?
The publishing house, Readomania, ran a couple of story contests where the requisite genre was humour. I wrote a small story about a lady in a lift, and what happens to her in that two-minute ride. This story struck a chord with Readomania and a germ of a novel was born. 
How much could one stretch a 300-word story with a singular character in a limited setting? 
Stretch I did! 
Multiple layers were added. Independent and dependent characters with enough backstories surfaced. Slowly the story began to stitch itself seamlessly and grew into a 70,000-word novel.
First was the plot, then a skeletal draft. I added in the muscle, fat, and some seasoning. Of course, lots of blood and sweat goes into creating a readable work because I started with a fragment of bone and sculpted a figure.
Q3 - How would people resonate with the story protagonists - Padma and Paula stories?
Padma and Paula are one and the same. Padma Luxmi goes to the big city in search of a happening career, undergoes metamorphosis, acquires a trendy monicker Paula. My novel is about the life of this girl, who vacillates between her alter egos. She evolves with the changing and challenging times while her innate grit and tough resolve with which she battles life head-on remain constant.  
I believe we all have Padma and Paula within us, co-existing, each surfacing at different points of our lives. Sort of Yin and Yang. We all tackle the vicissitudes of life or the daily humdrum in our various avatars. 
This essence of the dualism of self, this celebration of life, of the undying human spirit, and of our incredible capacity to survive against all odds has been a captivating factor with readers. People have resonated well with Padma's trajectory as it has mirrored theirs!
Q4 - Everyone has different parameters to live their lives. What parameters should we set to live a good life? Give reference from the story.
Our Roots define us, hold us together while the second chances of acing the Karma propel us ahead. We eventually come back to our roots to find answers to the questions that pop up along this life's journey. 
A smart and young woman about town Paula, aka Padma Luxmi, with an upwardly mobile career, suddenly finds herself unseated by the boss, very publicly, for a much younger lass. As she storms off humiliated, dejected and on the brink of losing everything she has in life, her long-discarded South-Indian background comes in handy for comfort and helps her strike back at life, mending the broken ties and finding love along the way.
I say, keep the faith and cope with the vicissitudes of life with fortitude, without losing the core spirit. The phoenix will rise again from its ashes as Padma did!
Q5 - 'When Padma Bani Paula' is your Debut Novel. What challenges Did you face while writing this book?
Blogging, in my opinion, is like cooking for one's own self whereas writing a novel is like cooking for a marriage party with thousands of guests with multiple tastes. A blog needs about 500 words and a novel needs 50K words. It is very easy for the novel to get scattered if one isn't diligent.
A creative process, surprisingly, is all about discipline. 
During the process of my writing this book, I learned to add layers to a story, use the 'show' technique and look at a story dispassionately. I learned to be open-minded and patient as the process takes time.
Just as an expectant mom would trust the doctors to do the best for her baby, the author should have faith that the iterations and changes suggested by the Publisher & Editorial team are for the overall benefit of the book. Trust I did and the best results are for all to see!
Q6 - A lot of the books present how to find meaning and purpose in life. What distinguishes your book from others?
This is a story, above all, about hope. We all want another go at acing Karma. Many of my initial readers have told me that 'When Padma Bani Paula' is extremely relatable and brought a big smile to their faces.
Some have called my book a multi-flavored fare, an entertaining write-up with an underlying message and takeaways.
And some said, 'Humour' is serious business and this delectable book, indeed has therapeutic value. Its beauty lies in how, I, the author have woven something extraordinary from the simple, ordinary strands of life.
Rather than bludgeon the reader with a heavy message, the book is interspersed with humorous everyday incidents, comforting family situations with which the reader will resonate immediately.
Many reviewers have recommended this as a breezy authentic read, because of my ability to write humor well and because it is a fun, refreshing, and happy book. 
A reader missed her station because she was engrossed in reading my entertaining novel.
Q7 - What tips do you provide to bloggers who want to pursue a career as an author?
There are more authors per square inch than readers! 
So how does an author grab the readers' attention in this frightening scenario? 
By being different, that too constantly!
By believing in self and keeping at it. There is no shortcut to success. The key is to improve always, updating self and learning as much as one can from others. 
The mantra is 'never give up.' 

Don't put all your eggs in one basket. 

Write daily and put it out for consumption and critique. 

Be open to experts' suggestions. 

Join writing groups and participate in competitions. 

Be aware, be current.

A creative process, surprisingly, is all about discipline. So writing 500 words a day is paramount

Learn newer techniques. 

Read. Read. Read.
Remember you cannot please all. Cherish positive feedback.