Interview With Ankur Pathak, Director & Chief Operating Officer, Garuda Prakashan
on
Jun 02, 2022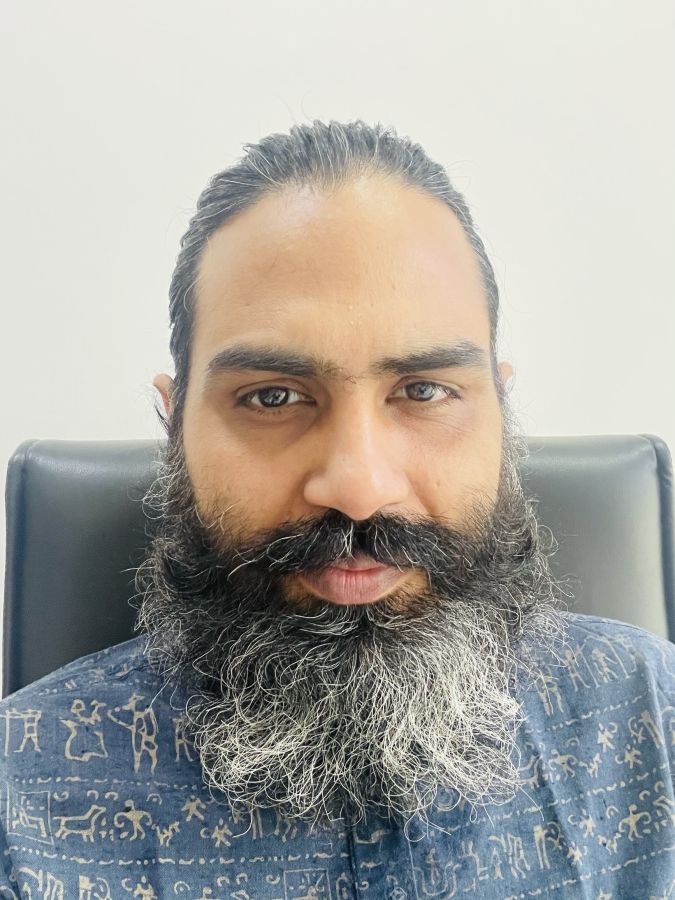 Ankur Pathak is the Co-founder and COO of Garuda Prakashan. He is an author also. His book series Vocab Made Easy Volume 1 and Volume 2 is quite popular among students. He has delivered guest lectures in various institutes of national importance, like IIT Kanpur, IIT Bombay, IIT Patna, etc. He is a columnist also. He has authored several articles in English and Hindi, which have been published on various online portals.
He is a practitioner and trainer of Yoga and Meditation. He has delivered an expert lecture at Banaras Hindu University under Faculty Development Programme.
Frontlist: There are several books based on Culture and Politics, illustrated blandly and failed to capture the attention of today's generation. What approach should we need to adopt to urge them to read such books?
Ankur: Thanks to social media, these days, the youth is taking a keen interest in Culture and Politics. They want to know the truth. They wish to understand politics through unbiased and authentic sources. They try to understand culture through the scientific basis behind it. The younger generation sees things logically. Their attention should be grabbed with such content which is unbiased, authentic, factual, and logical.
Frontlist: Ever since the Pandemic knocked into our lives, the reading consumption pattern has altered too. Some prefer audiobooks or other printed ones. How can we promote the reading habits within young minds for their holistic development?
Ankur: Everyone wants success and growth in his life. Knowledge is the key to success and growth. Reading habits help us in gaining knowledge of almost everything around us. Hence, essential for our growth. We just have to communicate this benefit to young minds. We need to catch them where they are, like on Instagram, Youtube, Facebook, etc.
Frontlist: Millennials are more likely to read international authors. How can we shift their reading interest to read books by Indian Authors?
Ankur: Simply, by providing them high-quality content. So many books of Garuda Prakashan, like Saffron Swords, A Brief History of Science in India, etc., are popular amongst millennials. In today's world, content is the king.
Frontlist: It's been years since you've been working in this industry, and Garuda Prakashan has its special place here. How can we increase readership between the genres of Fiction and Non-fiction books? Answer on account of your first-hand experience.
Ankur: As I have mentioned earlier, focus on the good, authentic, unbiased, fact-based content, and you will start getting results. People want to know the true history of India. If you provide them with what they want with good intent, they will not leave you for sure.
Frontlist: Penetration of digital books has increased among children over the past two years, which has led to a rise in reading habits. What type of initiatives is Garuda Prakashan planning to bring change in their reading development?
Ankur: For children, we have brought out high-quality books with colored graphics. There is a book named Kid's Stories. It is an adaptation of Hindi writer Shri Siyaram Sharan Gupt. By converting it into a picture book, we made it interesting for children who otherwise might not be interested in the plain text moral stories.
Frontlist: How can we create a fun reading milieu among new readers to expand their literary progress?
Ankur: Schools can play an important role in it. They can make small reading groups where children can read books together, and they can plan some activities around those books. Some prizes can be given to proactive readers.
Frontlist: Our young generation needs to be more aware of their Indian Culture. As the Co-founder of Garuda Prakashan, what advice would you like to give to the modern readers for inculcating cultural ideologies among them?
Ankur: My advice is before making any opinion, negative or positive, one should do a thorough reading of the subject. It is the knowledge that ultimately makes us free, be it prejudices or biases. Always be a seeker and stay away from false propaganda.
Frontlist: As a valuable contributor to the Publishing industry, what needs to be changed to develop a reading culture that has been altered due to digitalisation?
Ankur: People should be made aware of the harmful effects of their increased screen time on mobile phones, computers, or television. It will help them in allocating their time to different activities, including reading.