Interview with Aman Chawla and Anuj Chawla, Director at Dreamland Publications
on
Aug 03, 2022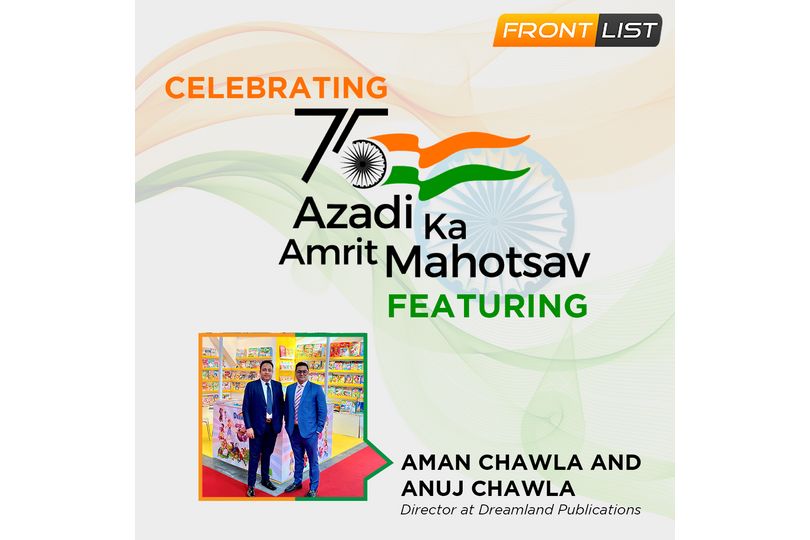 Aman Chawla- Aman Chawla, the Director, joined Dreamland Publications in 2003 after graduating from Delhi University. He is an intelligent, solution-focused person with sales, marketing, and operations capabilities and is looking after the export section of the company.
His sophisticated communication skills, right strategies to market the business, and utmost dedication to work have taken Dreamland Publications to the next level.
His focus has successfully led to the expansion of Dreamland Publications globally to export books to over 70 countries and in more than 25 foreign languages.
To broaden Dreamland's horizons, he regularly participates in and visits various international and domestic fairs that help him continue understanding multiple aspects of the publishing world.
Anuj Chawla - With Delhi University, Symbiosis, and Harvard as his Alma Mater, Anuj Chawla joined Dreamland Publications in 2008. He is heading production along with international sales.
As Director, he is committed to the mission of the flawless production of books. His innovative ideas and research work help him develop new products that elevate the company's growth.
His understanding of the ethics of the publishing profession and dedication towards his responsibility to provide books of excellent quality, both content and designing-wise, have resulted. Hence, Dreamland Publications has been conferred many awards and honours like the Best Children Book Publishing Award, Excellence in Publishing Award, and many more by the Federation of Indian Publishers and Federation of Educational Publishers in India.
With these awards, he has become more devoted to bringing prosperity to the education system. His regular visits and participation in various international and domestic book fairs help him shape his research to develop more innovative products for children.
Frontlist: How does Dreamland Publications revolutionise the Children's Publishing Industry as a leading children's books publisher?
Aman: As leading children's book publishers, we at Dreamland have always tried to come out with books that provide the right content for education in an entertaining manner. A lot is happening in children's book publishing. To revolutionise this industry, we aim to create fun, unusual picture books for children that are fun and provide great non-screen activities to stimulate their creativity and imagination.
Anuj: We at Dreamland Publications have an extensive publishing portfolio expanding daily with books and other educational products like puzzles, flashcards, and more for children. To revolutionise the publishing industry, we are committed to producing quality age-appropriate books for little ones to delight them while learning through play and promote fine motor skills and creativity.
Frontlist: How do you look at digitalisation in the Publishing community? How has it influenced Dreamland Publications?
Aman: A step in the digital world, in terms of books, is offering technical changes, operating on processes of production and market distribution, and extending along the whole value chain. But when it comes to children's books, people still prefer a physical printed book rather than an e-book. Digitalisation has influenced Dreamland Publications for the betterment to improve its designing, composing, editing, printing, etc., and to bring better products for children.
Anuj: Books are one of the oldest media still in use, and throughout its history, books have remained a central medium in providing education. The current changes from digitisation are evident, but it has not affected the importance of printed books. Especially when it comes to children's books. Parents want to keep their children away from screens due to their physical ill effects, so printed books are the best option.
Of course, digitalisation has been a boon for publishers when it comes to sales and marketing. It has become easy to reach the masses through various digital platforms, and global players like Amazon have provided a new context for the economics and distribution of books.
Digitalisation has also given a new platform for designing, printing, and editing books.
Frontlist: What are the career prospects for Children's publishing? Do you think Children's publishing is an enticing career to pursue the young generations?
Aman: Reading is an important part of a child's development, and a book with beautiful artwork, design, and texture is a genuine joy. Hence, career prospects for children's publishing are bright for those who wish to contribute to developing such beautiful books. It can make one proud to develop something that is loved.
Children's publishing is undoubtedly an enticing career to pursue young generations, as it has not only full-time working options but also can be developed as a freelancer to fulfil one's hobby. Many areas in which enthusiasts young can contribute and make a mark, from writing and editing to designing. There are many fields in the publishing industry where one can make his career.

Anuj: Most people love reading books. Publishing can be defined as the activity of making information, literature, and other content available to the public. But this industry is not limited to this; apart from writers and editors, there are many segments in this industry where career options are available, especially in the context of children's books. There are many platforms where careers can be made, Such as painters, graphic designers, colouring artists, photographers, etc.
Indeed it is an enticing career to pursue for those who are creative, innovative, and enjoy reading books.
Frontlist: How has children's literature flourished since you joined until the status quo?
Aman: Children's literature is not only a means of entertainment, but they are so much more than that. Since joining this industry, I have seen vast growth in children's literature. Earlier it was confined to a few fairy tales, animal stories, or other books, and today it has a vast empire. It has been realised that the age range for children's literature is from infancy through the stage of early adolescence, so there are a plethora of books in children's literature available nowadays. I have seen it flourishing since I have been in this industry.
Anuj: In earlier times, most early books for children were didactic rather than artistic, meant to teach letter sounds and words or improve the child's moral and spiritual life. But with advancements in technology and digitalisation, children's literature has been drastically changed since its earliest days. Today, an abundance of poems, fables, instructive texts, short stories, fictional narratives, etc., has been added to the children's literature empire. Hence children's literature has definitely flourished since I joined the publishing world.
Frontlist: Since you, both have given a great deal of time in the Publishing Industry. Why does the Indian Publishing industry lag at the international level? Answer on account of your first-hand experience.
Aman & Anuj: India's book publishers are facing myriad challenges — from heightened production costs to a reduction in the kinds of books consumers are willing to read. Publishers are facing new challenges, and price hike in printing and transport services has impacted the industry substantially.
Compared with mature publishing markets worldwide, the Indian Publishing Industry faces many constraints. A few such roadblocks are -
⦁ Lack of publishers' involvement in policy-making reforms pertaining to the publishing industry
⦁ Weak laws and lack of enforcement concerning piracy and copyrights
⦁ Regulatory challenges linked to GST and import duty
⦁ The limited scope of the free market is due to a large market share of state-run publishers.
Frontlist: The book distribution chain has been disrupted since the Pandemic Outbreak. How did dreamland Publications make it possible to give access to content to kids and children?
Aman: Pandemic has undoubtedly hit the publishing industry just like it has affected almost every business badly. But thanks to technology and online portals, we have helped to meet the demands of our clients during the Pandemic. People order books online via email, website, or simply call us.
Anuj: COVID-19 has impacted supply chains across different geographies and industries. However, the book distribution chain has been disrupted since the Pandemic Outbreak, and the demand for books has increased. Kids been inside the home, unable to attend school or go outside to play or visit friends, and children's books saw increased interest.
Thanks to all online eCommerce portals for supporting the book supply chain.
Frontlist: What are your thoughts on the Sustainable development goals introduced by UNESCO for giving a new direction to the Publishing World?
Aman: Sustainable development goals call to end poverty, protect the planet, and promote good health and well-being. These goals are setting out a supremely ambitious and transformational vision. Each country faces specific challenges in its pursuit of sustainable development. The sustainable development goals introduced by UNESCO certainly give a new direction to the Publishing World.
They have motivated us to bring new books on new topics to bring awareness among children on protecting, restoring, and promoting sustainable use of ecosystems. These goals will help people to transform the world for the better.
Anuj: Sustainable development goals introduced by UNESCO are an urgent call for action by all countries - developed, developing, or in a global partnership. These goals are developing ways for publishers to recognise and address the lack of SDG-related content in their educational materials. They are encouraging the publishing world to create content and alternate formats that are useful for the world. Steps taken in this direction will definitely impact and create a better world.
Frontlist: You have attained this much at this age. Apart from a Publishing career, is there something left that needs to be accomplished as every person desires to explore innumerable things?
Aman: Not only is the world constantly changing, our desires and wants continuously change. It is human nature to always look for something better and something new. Whatever I have attained so far inspires me to look for more innovative ideas for my business so I can take it to the horizon. It will help me to provide better prospects for my immediate family and my staff family, who has always stood by me.
By bringing more good content, and the best quality books, I want to serve the education industry to make better human beings.
Anuj: Our desires are endless. However, when fulfilled, countless more spring up. And it is not wrong to expect more at this stage of age. Of course, I have achieved a lot till now, but there is still a lot that has to be achieved, and today's success inspires me to achieve that.
I wish to take my publishing house to the heights that my father has dreamed of. I want to take the name of Dreamland to the heights where every reader has books that will help them improve academically and become a better person. To touch these heights, I keep trying to publish new format books daily. So there is still much more to accomplish and unlock the opportunities to serve my family, my organisation, and mankind.