Interview with Abhay K, author of 'The Alphabets of Latin America'
Interview with Abhay K, author of 'The Alphabets of Latin America'
on
Nov 19, 2021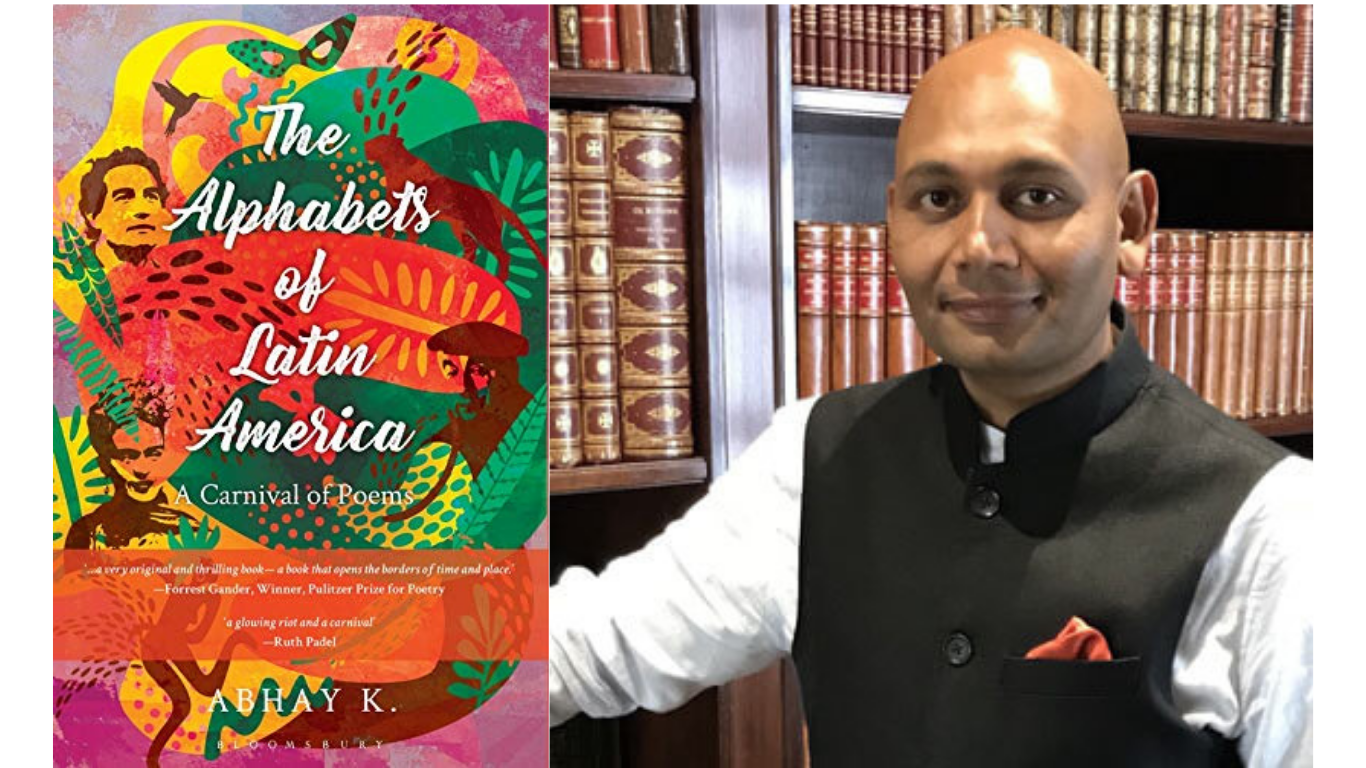 Abhay K. is the author of nine poetry collections including The Magic of Madagascar(L'Harmattan Paris, 2021), The Alphabets of Latin America(Bloomsbury India, 2020), and the editor of The Book of Bihari Literature (Harper Collins, 2022), The Bloomsbury Anthology of Great Indian Poems, CAPITALS, New Brazilian Poems and The Bloomsbury Book of Great Indian Love Poems. His poems have appeared in over 100 literary magazines including Poetry Salzburg Review, Asia Literary Review among others. His 'Earth Anthem' has been translated into over 130 languages. He received SAARC Literary Award 2013 and was invited to record his poems at the Library of Congress, Washington DC in 2018. His forthcoming book-length poem is titled Monsoon. His translations of Kalidasa's Meghaduta (Bloomsbury India, 2021) and Ritusamhara (Bloomsbury India, 2021) from Sanskrit, have won the KLF Poetry Book of the Year Award 2020-21.
Ques. Tell us something about this book – The Alphabets of Latin America.
Abhay K. The Alphabets of Latin America is a collection of poems I penned during my stay and travels in Latin America between 2016-2019. It paints a poetic portrait of Latin America through 108 poems in total describing the flora, fauna, monuments, mythologies, cuisine, landscapes, and festivals of Latin America. Arranged in alphabetical order from A to Z, it starts with a poem on Amazon and ends with a poem on Zocalo. It takes one on a roller coaster ride to one of the most culturally and geographically fascinating continents known for its legendary Maya and Inca civilizations, sizzling Samba and Tango, the world's biggest carnivals, labyrinths of Borges, magic realism of Gabriel Garcia Marquez, great poetry of Ruben Dario, Pablo Neruda, Gabriela Mistral, Cesare Vallejo, Octavio Paz, memorable art of Frida Kahlo and Fernando Botero, among others. As one flips through its pages, one finds oneself swimming with pink dolphins in the Amazon river, watching the sunset at the Martian landscape of Atacama desert, kissing the heights of Machu Picchu, dancing with Samba dancers in the carnival in Rio de Janeiro, and admiring a thousand rainbows at Iguazu Falls.
Ques. How did you get the idea to pen down this book?
Abhay K. I was fascinated by the vibrant Latin American culture and by the poetry of great Latin American poet-diplomats like Pablo Neruda, Octavio Paz, and Gabriela Mistral, the legends of great Maya and Inca civilization, colorful costumes, streets and art of Latin America, sensuous dance and music of the continent and dreamlike places like Machu Picchu, Atacama, Iguazu falls. All these combined together created a great urge within me to live and travel across Latin America and write poems on this alluring continent.
Ques. The Spanish edition of your book 'The Alphabets of Latin America' is going to be launched at the International Kolkata Book Fair. How do you feel about that?
Abhay K. Kolkata has a great reading culture and I'm delighted that the Spanish edition of The Alphabets of Latin America brought out by the Indo-Hispanic Language Academy, Kolkata will be launched at the International Kolkata Book Fair in January 2022. A Bengali edition of the book too will follow which is likely to be released on the occasion of the Bengali New Year in April 2022.
Ques. Which authors have profoundly impacted your poetry writing skills and how?
Abhay K. Kalidasa, Kabir, Rabindranath Tagore, Ramdhari Singh Dinkar, Dante, Shakespeare, Rumi, Hafez, Walt Whitman, Kahlil Gibran, C.P. Cavafy, T.S. Eliot, Wislawa Szymborska, Pablo Neruda, Frederico Garcia Lorca, Octavio Paz, Carlos Drummond de Andrade, Jean-Joseph Rabearivelo, Pushkin, Du Fu, Shuntaro Tanikawa, Charles Baudelaire, Rilke, Bertolt Brecht, Robert Frost, Mahmoud Darwish, Ghalib, Derek Walcott, Seamus Heaney, Les Murray among others are some of my favorite poets who have had a profound impact on my evolution as a poet. I have learned a lot from their works which have, in turn, inspired me in creating my own poems. For example, my poem 'Carnival, which appears in The Alphabets of Latin America is a rewriting of The Love Song of J. Alfred Prufrock by T.S. Eliot. My forthcoming book-length poem 'Monsoon' is inspired by 'Meghaduta/The Cloud Messenger' of Kalidasa.
Ques. What challenges have you faced in your career till now?
Abhay K. I have to keep myself motivated, disciplined and work extra hard to keep writing as I also have a very demanding job as a diplomat. So far, I have been able to keep the balance between my passion for poetry and my work as a diplomat. It has been really a challenge. I have had challenges in finding publishers for my work and still do, despite having two dozen books published in several countries.
Ques. What advice would you give to aspiring poets and writers?
Abhay K. My message to aspiring poets and writers is : write what you really want to express, heed to your inner voice, and bear in mind the Sanskrit adage 'Charaiveti, charaiveti,' which means keep going, keep going, without giving up. Read a lot and write a little every day, it could be just a sentence or a stanza. Word after word after word is a book.