Frontlist | Book REVIEW | A captain's frank perspective on an unjust and devious war
Frontlist | Book REVIEW | A captain's frank perspective on an unjust and devious war
on
Jan 18, 2021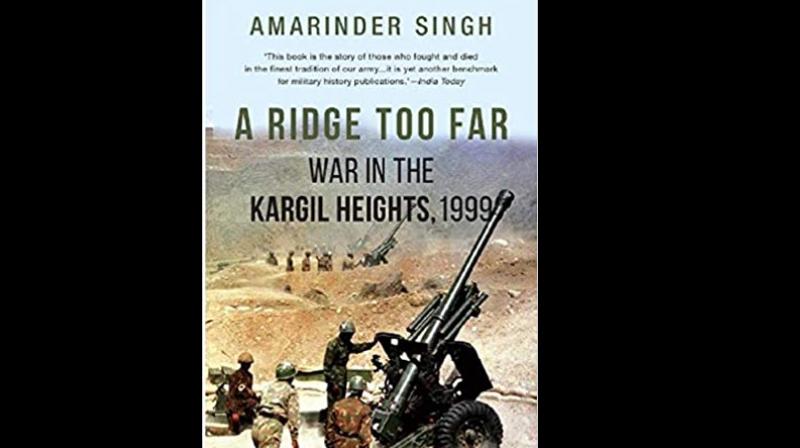 When Prime Minister Atal Behari Vajpayee made his bold and friendly gesture of travelling by bus to Lahore and signing a declaration on February 21, 1999, the Pakistan army's Operation Koh-e-Paima (Call of the Mountains) or Op. KP, was well under way. It would be another three months before the Indian Army's Op. Vijay would be launched to counter it. Whether then Pakistan's Prime Minister Nawaz Sharif had been kept in the dark about Gen. Pervez Musharraf's ambitious plan or not is a matter of conjecture, elaborated upon in the book. A diary of the Pak army's Lt Mohammad Maazullah Khan Sumbal, posted to 8 Northern Light Infantry (NLI), was recovered by the Indian Army from Point 4812 in the Batalik sector during Operation Vijay, copies of which were released to the media by Army Headquarters. The second entry of January 2, 1999, reads, "Reached Skardu at 1000 hrs and reported to the unit (8 NLI)." Quite obviously, preparation and mobilisation for Op. KP must have begun in 1998, at least, and when Musharraf was heading Mil Ops (DGMO). Attempts to project the intruding NLI troops as terrorists failed after a few days of Indian Army reacting to massive intrusions in area Kargil, which was six to eight months after Op. KP began. The intrusion was of the level and extent that could not have been achieved by terrorists.
A Ridge Too Far
 is a catchy but apt title reminiscent of 
A Bridge Too Far
 authored by Cornelius Ryan and made into a movie — based on the events of World War II's failed Operation Market Garden. Captain Amarinder Singh deserves praise to manage his time as senior political leader — presently chief minister, Punjab — to put together the complex story of the limited Kargil war in 1999, with great dedication and rigorous research, presenting a tome packed with details, analysis, comments and visuals, not only of all the battles, but also very informative on the historic background. The book is divided into four parts. Part I is an overview of the situation that gave rise to the war, covering the history of conflict between India and Pakistan. Part II describes the harsh terrain that exists on both sides of the LoC — the theatre of the war — in adapting to which the Indian soldier displayed exceptional valour and discipline, and great qualities of leadership. Part III details the build-up by the Indian Army before conducting offensive operations, and the actual conduct of battle from Corps to Brigade. And Part IV gives a stirring account of the heroic battles fought by ten infantry battalions. An alumnus of Doon School, National Defence Academy, Khadakvasla, and the Indian Military Academy, Dehra Dun, Amarinder Singh was commissioned in June 1963 into 2nd Battalion, The Sikh Regiment. His course-mates recall him as a fine person, good cadet, gentlemanly and with no airs about being the scion of an erstwhile powerful kingdom. During the 1965 Indo-Pak war he was the ADC to Lt Gen. Harbaksh Singh, VrC, GOC-in-C, Western Command, then a vast theatre, which included all of the current Northern Command, i.e. all of Jammu & Kashmir and Ladakh, which was raised in June 1972. Thereby, early in his service he had a wide overview of the undivided theatre of Western Command. Meticulously researched and skilfully narrated, this book also seeks to record for posterity the thoroughly professional response and gallant performance of all those who fought the war for India or were concerned with its direction, from the Chief of Army Staff to the youngest soldier. Important aspects of war/conflict, like historical background, topography/terrain conditions, enemy and own forces, intelligence, personalities and other related matters have been brilliantly described and analysed. And the volume of inputs on some of these aspects like many locations and events related to them is mind-boggling. Also what emerges from the book is the tremendous odds that advancing/attacking battalions had to face because of the very exacting terrain and the very heavy fire they had to face from an enemy who benefited greatly most of all, by getting a few months to effectively dig in and protect itself. The descriptions of various actions/battles amply brings out the extremely difficult aspects of steep mountainous terrain occupied by a well dug-in enemy and how costly these factors turned out to be for the Indian Army's attacking battalions in terms of casualties in the initial phases at least — and all because of reacting too late, owing to lack of vital and timely intelligence. Advancing 1,000 metres uphill took days and cost lives in many cases. While eventually Indian Army was victorious everywhere — from Batalik to Chorbatla, and Valdor to Shangrut — and Pakistanis were surrounded from all sides, in the 77-day Operation Vijay, 527 were killed (26 officers, 21 junior commissioned officers and 452 other ranks) and 1,363 were wounded. Pakistan army, known for trying to avoid committing its own troops whenever possible and "outsourcing", used about 13 battalions of NLI, largely comprising non-Sunnis, literally as cannon fodder. Unlike the rest of the Pakistan army, which is dominated by major ethnic groups like the Punjabis and Pashtoons, the NLI troops were drawn from eight major ethnic groups — Baltis, Shins, Yashkuns, Mughals, Kashmiris, Pathans, Ladakhis and Turks. The community composition of NLI is 49 per cent Shias, 23 per cent Ismailis, 10 per cent Noor Bakhshis and only18 per cent Sunnis. About 55 per cent hailed from Gilgit while 35 per cent hailed from Baltistan. Preparations for capturing Kargil were firmed up when Pervez Musharraf was heading the Pakistani army's directorate of military operations. NLI troops were made to dress in shalwar kameez, so that they could be projected as terrorists. So much so that Pak army, initially refused to acknowledge or accept the bodies of the first few NLI casualties. There were also reports of NLI's rations not getting replenished. This became obvious when sugar crystals were seen stuck to the lips of some fatal casualties. Bodies of many NLI casualties were transported in the dark and their graves and graveyards, too, were not given any pride of place. The NLI was not even treated as part of the regular Pakistan army till sometime after the Kargil war. Pakistan army's losses were hard to pinpoint. While Pakistan confirmed that 453 soldiers were killed, the American estimate was of about 700 fatalities. According to former PM Mr Sharif, there were over 4,000 fatalities. Indian estimates were of 1,042 Pakistani soldiers killed. Gen. Musharraf, in his book, 
In the Line of Fire
, differs from everyone in stating that 357 troops were killed and 665 wounded. While then Prime Minister Nawaz Sharif's figure may be exaggerated and his ultraconservative, the Indian estimate may not be far from the truth. In a number of cases, Indian Army units returned the bodies of enemy troops killed, saw bunkers being destroyed and were able to hear the Pak army's radio transmissions. Prime Minister Vajpayee's considered decision for the Indian Air Force not to cross the LoC proved to be very disadvantageous for IAF, but paid India diplomatic dividends. G8 nations supported India and condemned the Pakistani violation of the LoC at the Cologne summit, as did the European Union. Even China, Pakistan's long-time "ally", insisted on a pull-out of forces to pre-conflict positions along the line and settling of border issues peacefully. The Asean Regional Forum, too, supported India's stand on the inviolability of the LoC. India released taped phone conversations between the Pakistan army chief and a senior Pakistani general where the latter is recorded saying: "the scruff of the militants' necks is in our hands". Defeat at Kargil drove Pakistan's infamous Inter Services Intelligence to deviously plan and implement the 26/11 terrorist attacks on Mumbai. While many of the Kargil Review Committee Report's recommendations remain unimplemented, one very welcome change, albeit 15 years later onwards, is the political will to sanction special offensives which struck fear in the hearts of the Pak army and its terrorists.
Source: Deccan Chronicle