Frontlist | Comic Book Review: Star Wars – Operation Starlight
Frontlist | Comic Book Review: Star Wars – Operation Starlight
on
Jan 13, 2021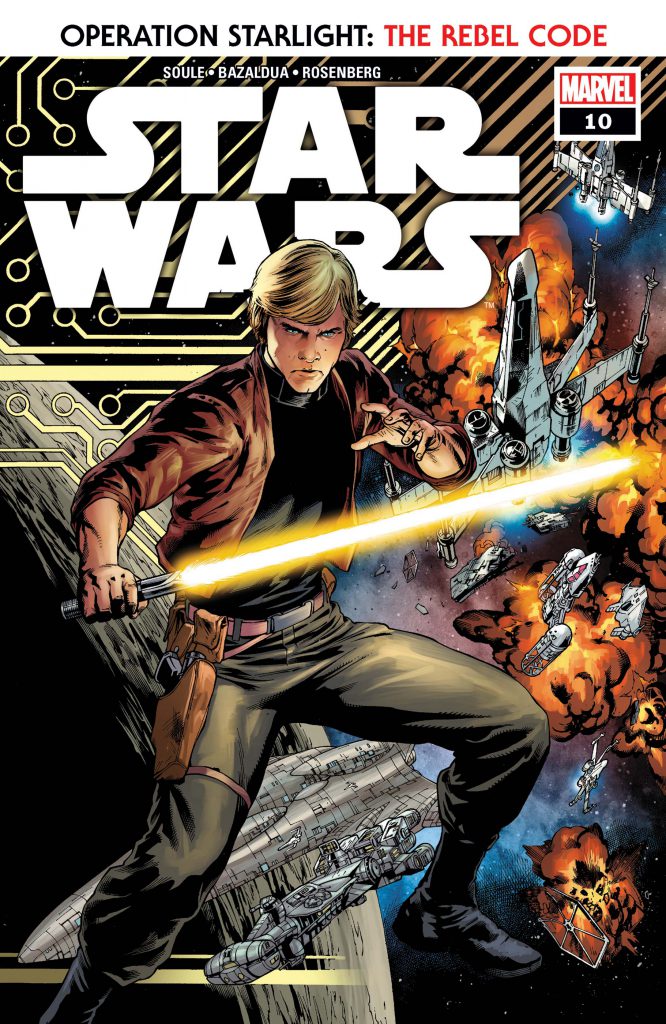 Well, the movies and TV shows are on a break right now, but that hasn't stopped more new Star Wars stories from happening. This past week Marvel Comics released its latest issue in their Star Wars comic series, Star Wars #10 – Operation Starlight: The Rebel Code! Written by Star Wars: Light of the Jedi author Charles Soule, this issue continues the Operation Starlight Arc and still gives us trust issues with Lando Calrissian.
Star Wars #10 – Operation Starlight: The Rebel Code
The Plot
Star Wars #10 begins with C-3PO and R2-D2 trying to repair an old protocol droid that could possibly help the Rebels encrypt their communications, while Leia, Lando, and Lobot look on. Once the droid is activated, it jumps off the table and begins to attack R2 and C-3PO. Unable to stop the attack Lobot steps in and is able to calm the robot down. Once the droid was calmed down, C-3PO tries to explain to the droid why he was reactivated. The droid being smarted then they thought, refuses to help in fear of being terminated after the information is extracted from it. So, then Lando comes into the room and negotiates a deal with the droid. Also during this time, we learn more about the history of Lando and Lobt and that we still might not be able to trust Lando! Now that the communications are encrypted, Leia gives the Starlight Squadron their new orders. When they arrive at their destination, what they find was not what they expected.
The Creative Team
Writer Charles Soule again did a great job with this comic series. The Star Wars #10 story flowed perfectly and transitioned well between the main storyline and side-stories. The Artistic team of Jan Bazaldua (Artist), Rachelle Rosenberg (Colorist), and VC's Clayton Cowles (Letterer) did a great job of bringing the pages to life. The colors were great in setting the mood for each panel. Also, the characters popping off the panels drew you into the important moments in the comic. The lettering again flowed throughout the pages without taking away or distracting you from the story.
Our Final Thoughts
Operation Starlight: The Rebel Code is what we need to keep our Star Wars fix going. While this was not one of the most exciting or action pack issues, it keeps you entertained with the little side stories and knowing that some of the characters will have a bigger role in future issues. I also loved that we finally got more of a back story on Lobot, cant wait to see where is current path leads. On a scale of 1 to 5, I give this issue a score of 3.5!
Source: Hashtag