Book Launch session of 'Acrobat' was held in loving memory of writer, poet and academic Nabaneeta Dev Sen on 26 July 2022
on
Jul 27, 2022
Oxford Bookstores in association with Juggernaut presented two intriguing sessions on Nabaneeta Dev Sen's book of poetry titled "Acrobat" at Oxford Bookstore, Kolkata and The Park, New Delhi respectively.
'Acrobat' by Nabaneeta Dev Sen is a collection of luminous poems that explore the joys and agonies of first love, motherhood, and decay with a restless, tactile imagination, both picking apart and celebrating the rituals that make us human. In addition, it shows Dev Sen—a fiery feminist, formidable academic and political activist—at her most human, most intimate. Stunningly translated with lightness and lyricism by her daughter Nandana Dev Sen, this radiant collection is at once compassionate and unsparing, conversational and symphonic.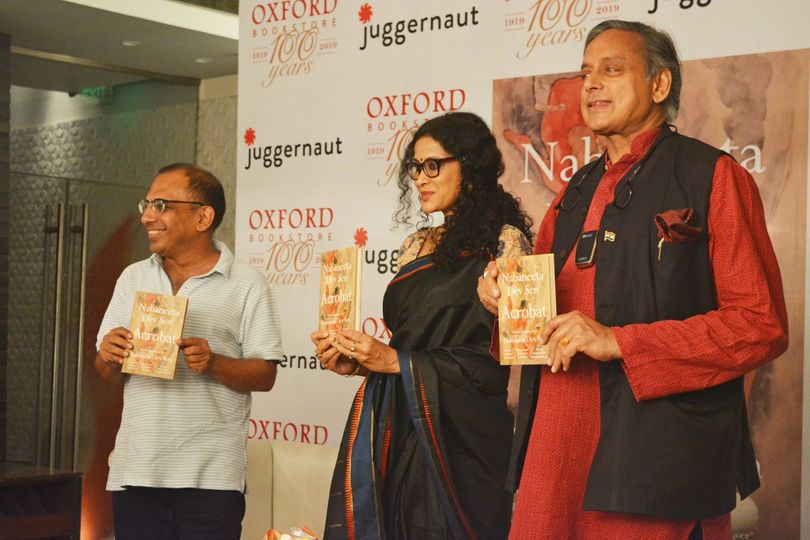 The session at The Park, New Delhi, on Monday explored various angles of the poetic translation while discussing the late poet's work and writing. Author, actor, activist and translator of "Acrobat", Nandana Dev Sen and Member of Parliament & author, Dr Shashi Tharoor engaged in a freewheeling conversation with renowned translator Arunava Sinha at the event. Each of the speakers read out their favourite poems from the book to a packed house at The Park. Nandana Sen narrated her emotional journey of translating her mother's work and also recollected how the title 'Acrobat' was a mutual decision of Nabaneeta Dev Sen and Nandana, because it not only reflected the multiplicity of identities that a woman goes through in her life, but also about the delicate balancing act of a poet.
On Wednesday, at the iconic Oxford Bookstore located in Kolkata, the event commenced with the projection of a video montage to invoke the presence of Nabaneeta Dev Sen, her life and work. Nandana Dev Sen delved in conversation with poet, lyricist and scholar Srijato Bandyopadhyay. The evening paid tribute to her late mother Nabaneeta Dev Sen and her cousin, Samantak Das, Pro-Vice-Chancellor of Jadavpur University, who passed away that day. The evening witnessed a poetic ambience as Nandana Dev Sen and Srijato Bandyopadhyay fondly recollected the memories of Nabaneeta Dev Sen, and read out some selective poems from Nabaneeta Sen's original works, and their translated versions. Nandana encouraged the audiences to translate the works of Nabaneeta Dev Sen because translating her works must not be a family project, but a community project.
About Oxford Bookstore:
Established in 1919, Oxford Bookstore is one of the oldest heritage bookstores in the nation. It is India's only bookstore to curate multiple literary festivals like Apeejay Kolkata Literary Festival, Apeejay Bangla Sahitya Utsob, and Hindi Sahitya Utsav. The Oxford Bookstore not only offers book lovers access to the very best books and ambience but also India's first-of-its-kind tea boutique, Cha Bar. At Oxford Bookstores, success is measured by the smiles on millions of happy readers that the brand has served over the last 100 years. Each time you walk into our iconic store in Kolkata, its old-world charm leaves you enchanted and desiring for more. Our fleet of 'happy to help' knowledgeable booksellers and conversant hosts, work round the clock to bring to our vendees world-class reading experience. Be it through our books or our fine teas we abide by the brand's motto – Much more than a bookstore – at every Bookstore.