Author Shouger Merchant Doshi | The Power of Make-Believe: Parenting Through Pretend Play | Interview
Author Shouger Merchant Doshi | The Power of Make-Believe: Parenting Through Pretend Play | Interview
on
Oct 18, 2021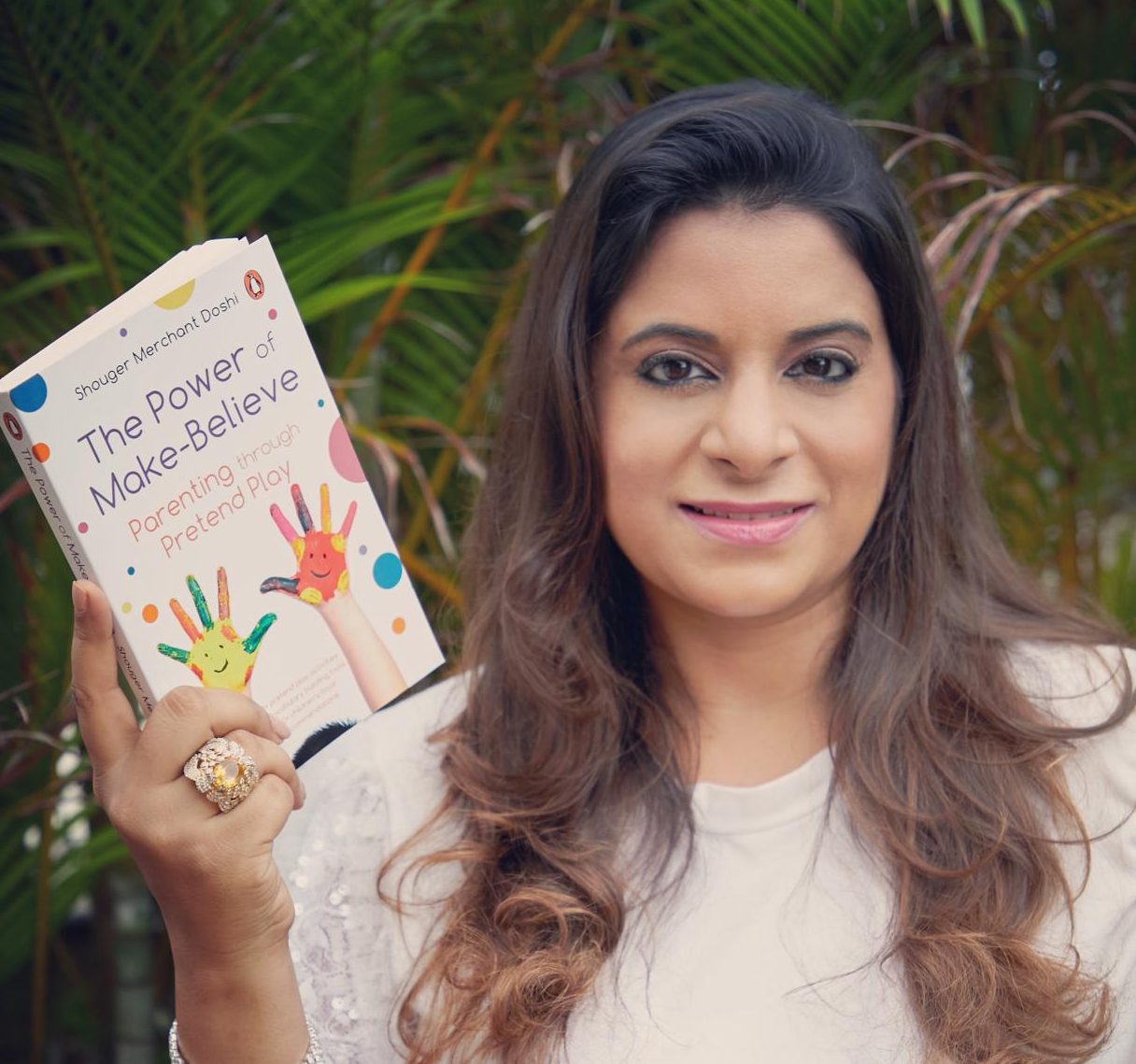 Shouger Merchant Doshi is the founder of The Story Merchants and The Pinwheel Project.
Ques - 'The Power of make - believe parenting through pretend play' outlines pretend play activities for a child's early development years. What is the meaning of Pretend Play?
Pretend play is not just play - it is play coupled with a vivid imagination and storytelling. Many researchers have said that it is the cornerstone of early development for children. Pretend play is not just frivolous - contrary to its name - it actually involves a deeper level of logical processing as a child views everything around him and then assimilates it as he plays.
Ques - How do pretend play activities that you mentioned in this book help parents to impart life skills?
According to me, good communication skills i.e., speaking well, reading well and writing well are the main accomplishments i want to achieve for my child. I feel that being able to speak well, speak confidently, and communicate proficiently will take you far in life - and help you conquer various situations from applications to colleges, job interviews, board meetings, presentations or simply dealings with others. Pretend play serves a lot of purposes and helps engender that confidence and espouse literacy skills. It also involves alot of creativity and imagination which is an essential life skill. Pretend play gives you the ability to confer with another and discuss which brings about the ideas of collaboration and competition - also essential life skills. It also gives you some sense of organization as you classify and sort the various materials for pretend play. Further, it enhances leadership skills as your child gets more confident. It helps with problem solving, decision making, self-regulation as your child endeavours to logically process and act out what he or she sees around you. Whilst engaging in cooperative play, it also enhances one's social and emotional skills. Interestingly, it can elongate a child's attention span as well. There are so many benefits to engaging in pretend play early - several studies have also pointed out that it has a positive correlation to later creative performance and also to higher academic achievement.
Ques - When did you decide to become an author and write a parenting book?
I have a degree in journalism and writing was always therapy for me. I used to write a column and i really researching and putting my thoughts together. But it has to be intermixed with practical experience. For me, i was just doing the activities with my child and penning them down to use later and i had curated a books list topic wise to read to him and i thought - why not share it with everyone?
Ques - How did being a mother help you to write the book? How did you apply the mentioned parenting principles to enhance the relationship with your child?
I definitely would not have written this book if I was not a mother . I looked at solutions for my son and i to bond, and spend time together without the stress of having to teach him specific things or hit certain topics or do phonics, numbers etc. Pretend play made it fun for me to introduce all of the above through play and by having casual discussions with him.
Ques - Why did you choose Penguin Random House India as your Publisher?
Penguin Randomhouse is one of the premier publishing houses in the world. It was a goal that one day they would publish a book i would write - i always thought i would write a fiction novel. And i did but i didn't finish it. During the first lockdown when i had the time all i was doing was the fun activities with my son and i decided to write it all down, put it together and share it with them. They loved the idea before even reading a word of the book my editor and publisher Meru Gokhale was on board.
Ques - How can we impart storytelling skills to children? Share your experience as you own 'The Story Merchants' that manufactures children's products for increasing skills among them through engaging games and visual storytelling?
The Story Merchants also operates on the principles of Pretend play - we provide tools and our own authored books to children who can use them to create and weave new stories. Storytelling is an important part of a child's early development because the more they dream and believe and speak and use what they have seen and heard around them to create and imagine.
Ques - What kind of approach parents should opt for to do better parenting?
I think every parent is always trying to do the best that they can. I personally believe that you are your child's own super power. There are many things one can do to better the relationship - such as including your child in your life, explaining everyday phenomena to them, keeping a good schedule, spending quality rather than quantity of time with them. Making those moments count with your child are the most important and drowning out the noise from all those people who say you have to do this and that and hit certain milestones. Believe that your child will be the best version that they can be with your guidance and love without comparing them to others.