Author of 'An Amalgamation', Devangshree Saini speaks with Frontlist about her book
on
Apr 18, 2022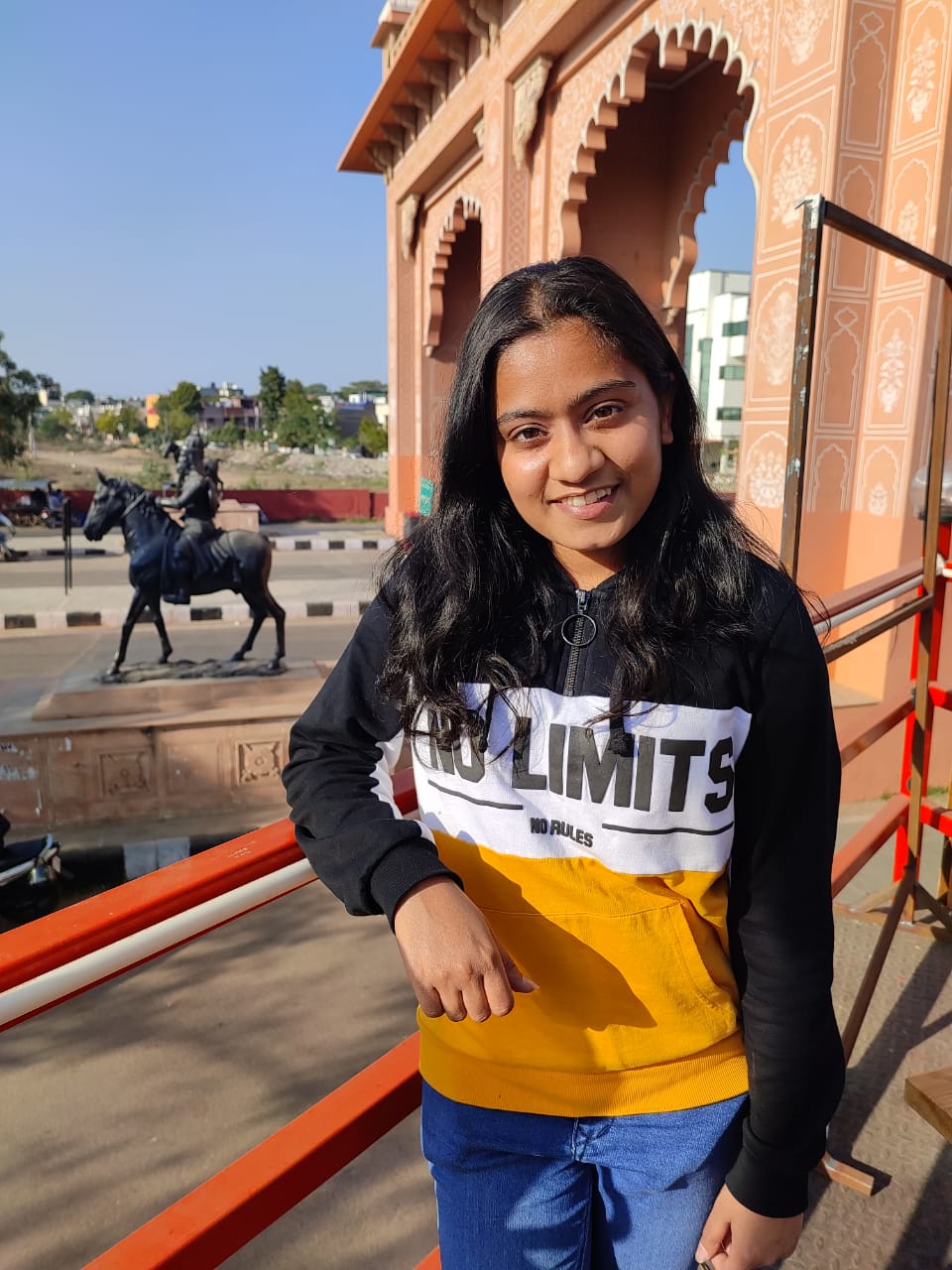 A budding poetess and author from Jaipur, Rajasthan - Devangshree Saini is pursuing B.A. Honours in english literature. Literature is love and writing is her passion, she writes stories too. It is her dream that, what she feels, what her thoughts are, what she experience, should reach to the people who have also lost themselves in this broken world.
1) Is the Poet's life different from normal human life?
Yes, indeed ! How a normal human describes or defines love, emotions, pain, rage and how a poet describes the same is altogether different. You may not know how to express what you feel, but a poet can certainly picturize not only his/her thoughts and pain but of others too. Moreover, normal people may at some point lie or be afraid of telling the truth, but a poet is always true. Even I as a human do lie many a time, but my pen never does.
2) Does poetry naturally come to people, or does something have to happen in their life?
I would like to answer this via one of my poems "A Poet".
'They asked me
How to become a poet?
I said - the way leaders are born,
Not made.
Similarly, everyone's born a poet,
Not made.
You just need to find
What stardust your soul has?'
Before coming to the earth, we were all embedded with various specialities by the universe and the moment life entered this mortal body, we forgot what we were embedded with. And so there's a need to find what charisma you were sent with in this world, and to recognize who you are?
Poetry is an art and without art this world has no existence. Therefore, for me everyone who's in love with 'art' is a poet, but in their own different ways.
3) What are some of your experiences that led you to write poetry?
I started my 'journey to poetry' in 2019 and at that time, I wrote to release my angst towards some people. Whatever they made me feel through their deeds, I realised, has been felt by many people. So I started writing and releasing it out, consoling and encouraging other people to fight or embrace the pain, like I did through poetry and writing. This journey has now become my 'journey to life'. Now whatever I absorb from life, I need to write.
4) According to you, what are the elements that make poetry great?
According to me, I don't think elements are necessary, only one element i.e. 'pain' is enough to make a poetry great. I'm not talking about any kind of physical pain, I'm talking about emotional pain that is much more capable of piercing a human heart terribly than any kind of physical pain. Here, not only poetry but any, any kind of writing needs only one element and i.e. pain.
5) Which poem in this book will always be close to your heart?
There's a poem "Holding Wrinkled Hands" in the "Family" section of the book. That was actually written after my grandpa passed away and being the eldest child in our house I have experienced everyone's love in the family. However, the one who loved me the most was my grandpa (though as a kid my favourite was my uncle). Doesn't matter what I have done and what I have not, he used to favour me only. Even when there was any quarrel between me and grandma or between me and my father, he used to scold them and pamper me. So as to express the love of both of my grandparents, I wrote this poem and I think this one will always remain close and will always have a special place in my heart.
6) How did you start writing poetry altogether? Are you also planning to write in different genres?
As I have mentioned before - I started writing in 2019. Before that I was fond of music (although I still am). I feel every emotion to its depth - whether it is anger, love, sadness, joy or any other emotion. I immerse myself in it completely and I don't know whether it's a boon or a curse to me. For instance, if I am in anger, I feel like burning everything into ashes. And because we are to control our bad tempers and are not able to fully express our good ones - I started writing and expressing my buried emotions in that way.
Anyhow, I am working next towards writing fiction and my plan for the future projects is to give a trial to both fiction and poetry altogether i.e. after a poetry book a fiction will be there and then again poetry and so on. But I don't have any plans in the present for other genres except these two.
7) As you are a budding poetess and an author, what are some of the best bits of advice you have received? And also, what advice would you give to all the budding poets?
My first advice was from my mother, she always tells me to have patience. She says patience and hope are the key to success. The same advice I would like to give other budding poets. If any work, whether it is difficult or easy-to-go, is done with precipitance it will go bad. Therefore, it is necessary to have patience and remember that where there is life - there is hope.