AFROZA SULTANA talks about her latest book "CONFESSION OF A WIFE" | AUTHOR INTERVIEW
AFROZA SULTANA talks about her latest book "CONFESSION OF A WIFE" | AUTHOR INTERVIEW
on
Aug 20, 2019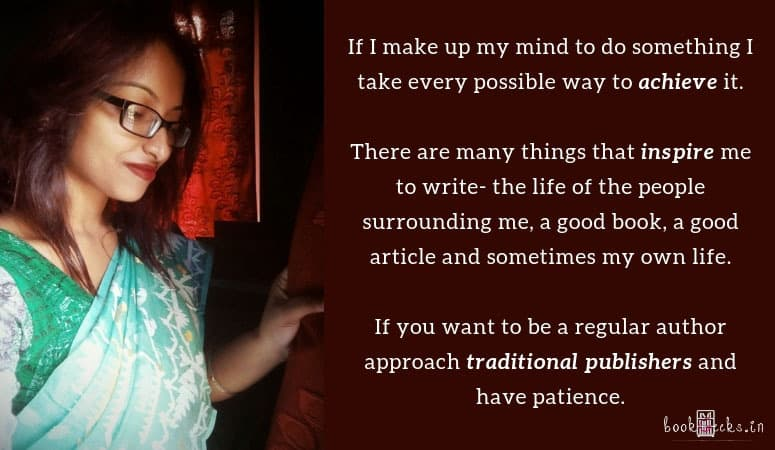 Currently working as a state government employee with the West Bengal government, ever since she was a kid 
Afroza Sultana
 had always wanted to be a published author. A short story titled, 
'Her Inbox World'
 which was published in an international bilingual magazine marked her official foray into the exciting world of writing. She soon published her first novella, 
'It's You and I'
; the story of which was inspired by her own friends and experiences in life. She often relies on her own experiences and on the stories of real-life people around her, and with the help of her creativity and imagination turns them into exciting tales. She is as humble and adorable as they come and doesn't let her success get to her. Afroza doesn't like to think of herself as an author and instead calls herself a scribbler. Her latest book, 
'Confession of a Wife'
 is the startling tale of a marriage that is both insipid and oppressing. It is the story of a woman who works relentlessly, cares passionately, loves unconditionally but still, all she gets from her husband is indifference. We at bookGeeks got a chance to interact with the author. Here's what she has to say about her latest, 
'Confession of a Wife'
and about writing in general.
| | |
| --- | --- |
| bookGeeks: | Tell us something about Afroza as a person. |
| Afroza: | Today, standing at this point in time I see myself as a totally transformed person. The impulsive and impatient fellow I used to be a few years back has no role today and has gone for an exile. Life has taught me to be calm and patient. Anyway, Afroza is a stubborn character. If I make up my mind to do something I take every possible way to achieve it. I believe in hard work because it never leaves you empty-handed. Not exactly an introvert, but I do have my comfort zone with limited people. I do not easily open up in front of new people. But my closed ones know to what extent my madness can go! |
| bookGeeks: | What inspires you to write and when did you first realize that you wanted to be an author? |
| Afroza: | There are many things that inspire me to write - the life of the people surrounding me, a good book, a good article and sometimes my own life. Well, I had this dream to be recognized as an author since childhood. Now that I have grown up and released a few books, I no more claim to be an author or writer. I call myself a scribbler. As I am never too vocal about what I feel and what I think, I prefer to write it down when something gets clouded up in my mind. I did this during my childhood days too. Giving these thoughts, imaginations and stories a physical get up in the shape of a book is an achievement itself! |
| bookGeeks: | Tell us something about your latest book, Confession of a Wife. |
| Afroza: | Well, the title definitely gives some hints here though. Rusha Banerjee is the main character. Not exactly an extramarital affair but it's about the tensional stretches between the brain and the heart when she falls in love with her colleague in spite of being married and mother of a child. |
| bookGeeks: | What are your other interests outside of writing? |
| Afroza: | I have a huge attraction towards language learning, may it be Indian or any other foreign language. If I am out somewhere roaming I make sure I pick up some of the regional languages. I keep listening to songs in other languages till I memorize them. I remember how I impressed the audience in a college function when I sang three songs back to back in Arabic, Tamil and Konkani. |
| bookGeeks: | If you get to choose a national or an international movie star to portray the character of Rusha Banerjee, who will it be and why? |
| Afroza: | I think this story doesn't exactly fit into any country other than India. So, I can't really choose any international star for it. Still, for an answer, I may go for Cameron Diaz. Yes, from Bollywood, it's definitely going to be Radhika Apte. I am always impressed by her acting. I think she won't disappoint anyone if she plays the character of Rusha Banerjee. Besides, if I take out Rusha from the book I see her in Radhika Apte and no one else may be suitable for the way she looks. |
| bookGeeks: | How do you strike a balance between a full-time job, your writing and your personal life? |
| Afroza: | To be very honest, after I return from work I don't really have my own-time as my child is too young and needs me every now and then. But if you are passionate about something you don't wait for a specific time, you make time for it. Like I said if I make up my mind to do something I make sure it is done sooner or later. My husband is a great support in between. |
| bookGeeks: | What are some of the disadvantages of going through a self-publishing channel? Do you have any tips for aspiring authors? |
| Afroza: | As you've asked only the disadvantages, I hope I don't get into trouble after answering this. Haha! See, it's the subtraction of money which disheartens you at the end of the day. In self-publishing platform, you have packages for every step you need. And the consequences are not as expected. Eventually, you feel you have lost a huge sum in order to release your book with poor outcomes because you can invest one time for one book but if you are coming up with innumerable stories crawling up in your mind, self-publishing is not a good choice except for the Ambanis! Tips for aspiring authors? I am no one to give any tips. Everyone is unique in his own thoughts. People will either agree with me or disagree with me. So just leave it. Keep writing. If you want to be a regular author approach traditional publishers and have patience. The selection process may be slow but a good content always gets selected. And of course, read good books. |
| bookGeeks: | Any new writing project that you are currently working on? |
| Afroza: | Yes. My third project is going on. This time it deals with a mystery. |
| bookGeeks: | If you ever get a chance to meet an author from the past, who will it be? |
| Afroza: | Satyajit Ray. |