Schools and Universities asked to pre-register for visits as Muscat International Book Fair is to begin soon
on
Feb 21, 2022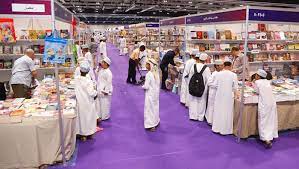 26th Muscat International Book Fair has requested schools and universities that wish to attend the fair to pre-register through an online link.
"Muscat International Book Fair welcomes the honorable visitors of the exhibition, and invites them to pre-register via the electronic link, to enhance the attendance mechanism and organize visits in a way that preserves the safety of everyone,"
The administration of the Muscat International Book Fair is taking precautions and preventive measures at the Oman Convention and Exhibition Centre building to make sure safety protocol is maintained in all the facilities of the exhibition. Therefore, everyone must observe the following:
1. Commitment to wearing a face mask at all times while entering the exhibition and in public places.
2. Presenting the vaccination certificate "two doses" upon entering the Oman Convention and Exhibition Center.
3. Maintaining a social distance of not less than one and a half meters inside the exhibition halls.
4. Avoid unnecessary contact with others, including handshakes and other greeting gestures.
5. Avoid coming to the exhibition if you have symptoms of COVID-19 or respiratory symptoms (cough, runny nose, and shortness of breath) even if he/she is vaccinated against COVID-19.
6. Wash hands or use hand sanitizer regularly