Book Cover reveal of the name - Book 2 (Sequel)
Book Cover reveal of the name - Book 2 (Sequel)
on
Aug 13, 2019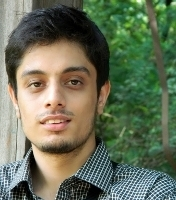 Event for Manik Ghawri
Date: December 25, 2019 11:00AM -- December 25, 2019 06:00PM
RSVP by: December 10, 2019 10:00AM
Venue: The Leela, New Delhi, New Delhi, IN
Type: author appearance
Website: https://www.vowelor.com
Added by: Manik Ghawri
DESCRIPTION
Manik Ghawri is Co-founder of Vowelor and a self-published author. He has been working on bridging the gap between talented authors and avid readers so that every author can have an equal opportunity to succeed. Before starting Vowelor, he had a career as a Java Developer with CSC (an International IT firm)
Upcoming event:
Manik Ghawri will be releasing the book cover for his upcoming book in a public meet-n-greet event for the readers.
This book is actually the sequel to the debut book by Manik Ghawri - The Name. Ethel and the final sacrifice made by him has given birth to a new story that takes the readers into the dark dystopia of life.
During the event, author Manik Ghawri will be revealing the book cover and announcing the release date of the sequel.
There will also be an interactive Q/A session where readers can ask their questions to the author and get answers.
Also, Manik will be signing the copies of his debut novel for the readers.