Ruchira Chaudhary, author of Coaching: The Secret Code to Uncommon Leadership in conversation with the CEO of Penguin Random House India & SEA at Kunzum CEO Book Club
on
Jun 10, 2022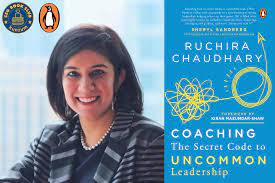 Kunzum CEO Book Club is an initiative by Kunzum where leaders from various eminent backgrounds talk about books that have shaped, inspired, educated, and entertained them. These conversations are meant to offer insights and learnings that individuals from the corporate world can adopt in their professional lives.
Author Ruchira Chaudhary says in the preface of her recently published book,
that when she returned to work after a mid-career MBA from the University of Chicago Booth School of Business, '…my association with a certain large corporation also gave me clarity on the kind of organization I never wanted to work for again. It made me think hard about leaders who ostensibly move forward by stepping on others and holding them back.'
On Thursday, May 26, around 7 pm, Ruchira Chaudhary, author of Coaching: The Secret Code to Uncommon Leadership, had conversation with Gaurav Shrinagesh, CEO of Penguin Random House India and Southeast Asia at Kunzum Book Club at 201, 2nd Floor, DLF Mega Mall (Popularly known as DT Mega Mall), Golf Course Road, Gurgaon 122022, Haryana. In the conversation, she discussed her book that how a leader brings out the best in people by coaching them. This book is for those aspiring leaders who covet to stand apart in the leadership world.

ABOUT GAURAV SHRINAGESH, CEO, PENGUIN RANDOM HOUSE INDIA AND SEA
Gaurav Shrinagesh is the CEO of Penguin Random House in India since the merger of Penguin Books and Random House in 2013. Since 2018 with the launch of Penguin Random House Southeast Asia, he is also leading the SEA region. Gaurav has been a part of Bertelsmann AG, the parent company, since 1999 and has donned several roles during this time. He has worked in M&A in Germany, launched digital businesses in NYC, headed the business development function and overall operations for member get member and member generation for Bertelsmann in China, and was also Managing Director for Random House in India prior to the merger.

ABOUT RUCHIRA CHAUDHARY
An alumnus of the University of Chicago Booth School of Business, Ruchira straddles the An alumnus of the University of Chicago Booth School of Business, Ruchira straddles the corporate and academic worlds – she is a leading executive coach, adjunct faculty at several top tier business schools, and runs a boutique consulting firm focused on organizational strategy solutions.
She is the author of the book Coaching: The Secret Code to Uncommon Leadership commissioned by Penguin Random House that released globally in July 2021 to much acclaim. Her book has been endorsed by luminaries like Sheryl Sandberg, and leading academics, executives, and sports personalities. Ruchira was recently facilitated as one of the "21 women leaders in 2021" by a leading women's platform in India.