Ramadan Book Fair from April 8-16
on
Apr 06, 2022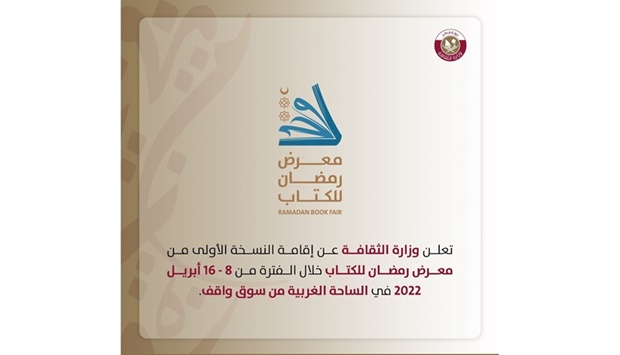 The first edition of the Ramadan Book Fair will be held at Souq Waqif from April 8 to 16, according to the Ministry of Culture.
The ministry is hosting the event in Souq Waqif's western square, which is represented by Qatar Centre for Cultural and Heritage Events. Qatar University House, Imam al-Bukhari, House of Culture, Samarkand Library, Dar al-Watad, Visual Arts Centre, Dar Nabja, Qatar Charitable Society, Dar Al Sharq, Qur'anic Botanic Garden, Akkas Centre, and the International Organisation for the Study of the Holy Qur'an will be among the participants.

The book fair will also feature 35 publishers from nine countries: Saudi Arabia, Kuwait, Lebanon, Syria, Jordan, Egypt, Turkey, India, and Australia. The event is a follow-up to the Doha International Book Fair, with the goal of promoting books and encouraging reading in Qatar.
It also aims to support Qatari publishers by marketing books and boosting their readership, taking advantage of the holy month's atmosphere to promote true cultural values through developing knowledge and celebrating Qatar's heritage.
Cultural and religious events and activities, theatrical performances, and a variety of children's activities will all be part of the book fair.