Pratibha Karan's The Book Of Dals Released At Olive Bar & Kitchen, New Delhi
This book is not limited by borders. It includes exotic dal recipes from the neighbouring countries like Nepal and Sri Lanka
on
Feb 06, 2023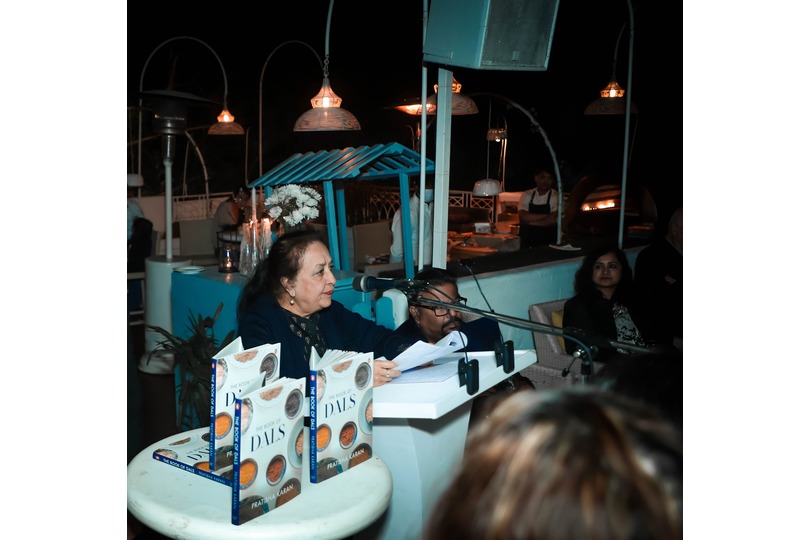 6th February 2023, New Delhi:
The Book of Dals by Pratibha Karan was released on 4th February at a function held at Olive Bar & Kitchen, New Delhi. The book, published by Penguin Random House India, was unveiled by the Chief Guest, Vir Sanghvi (India's best-known food writer, TV host, Author & Columnist), Guest of Honour Habib Rehman(Former Director, ITC Hotels, Foods, Travel and Tourism), Milee Aishwarya(Publisher, Ebury Publishing and Vintage Publishing, Penguin Random House India), and Peter Burleigh(Former Acting United States Ambassador to the United Nations).
The evening included riveting reflections from all the dignitaries and the author's experience in writing the book.
Speaking at the launch, the author Pratibha Karan remarked, "Dals are an intrinsic part of everyday meals in all Indian homes including us and cooking is about giving love, nurturing the loved ones and it gives me great joy to share these recipes with everyone."
Praising the book, Vir Sanghvi said, "Pratibha Karan is a brilliant cook, I don't think there is a better book on dals and I don't think there will be a better book."

Applauding the book, Habib Rehman said, "The book characterises the typical larger awareness of Pratibha about the heritage of Indian cuisine. She takes us on a tour of the country and beyond which she has already described and you will read it in the book. Dal is much more to a vegetarian and a non vegetarian as you will see in the book. You can see how Dal has been for ages and was appreciated by Emperors, Kings, Commoners and the poors."
Praising the book, Milee Aishwarya said, "Dal is like a comfort food for a lot of us and something that we all can relate to in various forms. The book has amazing recipes from all across India and some from outside India like Nepal and Srilanka and veg and non-veg and you can all take your pick."

Applauding the book, Peter Burleigh said, "The variety that Pratibha Karan covers in the book is simply amazing and I highly recommend it."

ABOUT THE BOOK
Dals have been an essential part of the human diet for centuries and they are an integral part of Indian cuisine. There are many enticing varieties of dals to choose from. In The Book of Dals, Pratibha Karan takes you on an incredible journey to different regions of the country and shows how locally available spices and herbs, vegetables and fruit impact the food of that region. The variety of dals and dal-based dishes that you can make with these are phenomenal and mind-boggling.
This book offers many varieties of beautiful, fragrant and beguiling dals that will have anyone savouring them in raptures. From southern India, you will find Telangana Sambar, Khatti Dal and Dalcha with Vegetables and Meat. They are made using delicious combinations of chillies, tamarind, cloves, cardamom, pepper, coconut, curry leaves and drumsticks. It also has recipes such as Kootu from Tamil Nadu and the famous Bisi Bele Huliyana from Karnataka.
You will also find Lentils in Coconut Milk, Katachi Amti and Moong Sprouts from Maharashtra, and Dhansak, a Parsi dish, from Gujarat in western India. Dals from eastern India such as Chana Dal Bengali-style and Assamese Mati Maa are included. From northern India, Delhi Rajma and Punjabi Dal Makhani find a place in the book.
This book is not limited by borders. It includes exotic dal recipes from the neighbouring countries like Nepal and Sri Lanka, and some delicious and wholesome dal-based soups too.
Announcing her third culinary book, the author says "Cooking is a creative art. I find joy in cooking just as I love working in the garden and also my office. After my last book, Biryani, my family urged me to write this third book on Dals as it is an intrinsic part of every meal in all Indian homes including ours. Cooking is about giving love and nurturing the loved ones. I love cooking a variety of lentil dishes for my family which they have always relished, and it gives me great joy to share these recipes with others."
Pratibha Karan studied economics at Lady Shri Ram College. She is an IAS officer of 1967 batch and retired as Secretary, Ministry of Food Processing Industries in 2003. She is the author of A Princely Legacy: Hyderabadi Cuisine covering the history, culture and cuisine of Hyderabad and Biryani-India's most beloved dish.

PRAISE FOR THE BOOK
'Displaying a high level of personal knowledge and painstaking effort, Pratibha Karan takes you on a tour of our country's various regions capturing the diverse flavours of dals. Enriched with beautiful photographs, this book is a celebration of dals.'
―Habib Rehman, Former Director, ITC Hotels, Foods, Travel and Tourism
'Pratibha Karan is a brilliant cook whose recipes are justly celebrated. In all her books, she brings Indian food to life in a way that no other food writer does. This is an important book; it is as brilliant as Pratibha's cooking. I learnt so much from it.'
―Vir Sanghvi, India's best-known food writer, TV host, Author and Columnist