PragatiE Vichaar Literature Festival (PVLF) 3.0
PragatiE Vichaar Literature Festival (PVLF) 3.0
on
Oct 05, 2021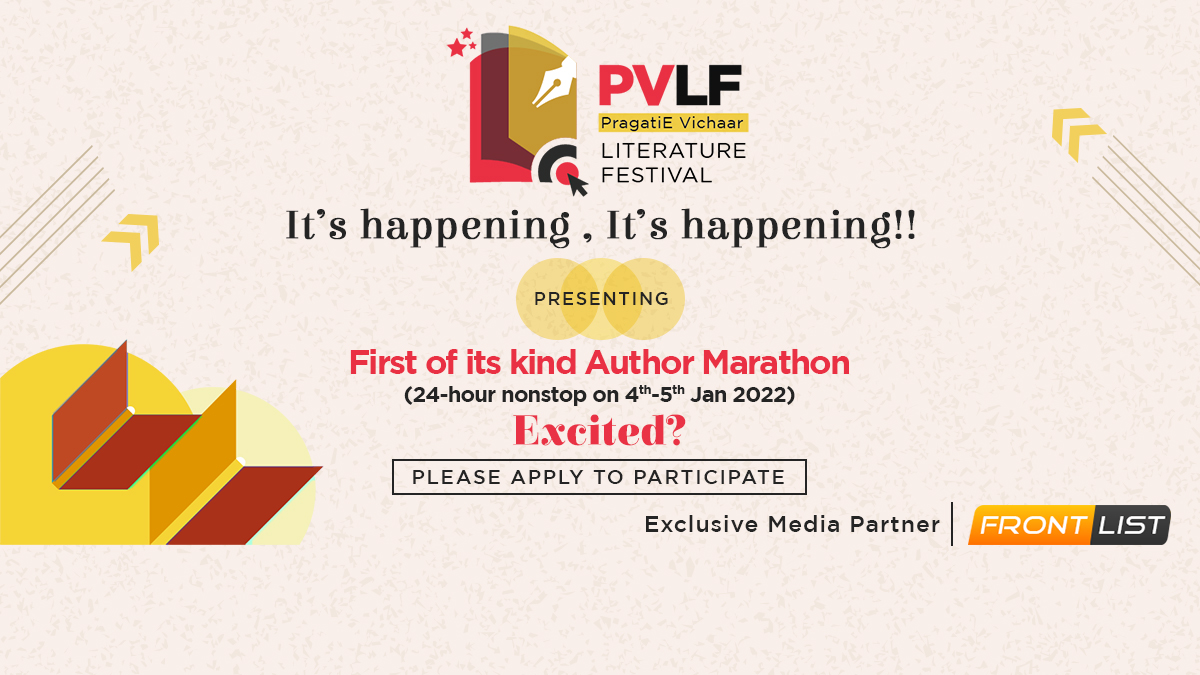 A literature festival outlined to capture and raise awareness or promote action in prominent social issues. It is a flagship conference that was established in the year 2020 during the 1st Virtual Delhi Book Fair. It aims to bring together the best of speakers from across the country & worldwide to initiate a forum of discussion and intellectual debates around various topics that concern the publishers, the authors, the readers and the society at large. PragatiE vichaar Literature festival (PVLF) has had two incredible editions alongside the Delhi Book Fair. And now for the first time probably in the history of the literature festival we are having a 24 hour Author's Marathon. PVLF is dedicated to enhancing Dialogue, Literature, Free Speech, Storytelling and promotion of the world's most powerful tool of communication that is writing. Introducing our Festival Director.
Pranav Gupta
Pranav Gupta is a third generation publisher working as MD of Prints Publications (his family business) and the Director of various new-age and technology based businesses like Frontlist Media, PragatiE, Advit Toys, Solh App. Pranav is also the Honorable Joint Secretary of The Federation of Indian Publishers and Executive Committee Member of International Publishers Association. He loves living to the hustle of taking things a notch higher. Be it building a publication from the ground up or heading countless international activities and making sure that they worked like clockwork, he has accomplished a lot. Pranav is a lifelong learner and he believes that the amalgamation of his experience can help shape the upcoming world that is brimming with digital innovation and make it seem a bit more sane.
Kapil Gupta
Kapil Gupta is an entrepreneur, both in thought and in style who believes that the power of a message & its delivery is what causes true revolutions. Kapil Gupta is a parallel entrepreneur who believes in providing true meaning to the various organizations he runs and builds them in sync with one another. He is the founder and the CEO of OMLogic (India's leading digital marketing agencies), PragatiE (a virtual exhibition platform), Frontlist (portal for the publishing industry), Solh (a mental wellness platform & his current passion project), Advit Toys (a board games company). He has also written a book called "India Vision: New Age Equality" that became #1 bestseller in sociology on amazon.in within a week of its release. It explores the concept of India, equality and what it means for different people.
MISSION
To achieve this fest, all three festival directors are promoting new authors to enhance their public visibility and promote Indian Literature across the world. We will have democratic, disciplined discourse throughout the marathon. The Mission is simply to inculcate the love of writing, the internal mind of authors and discussing and covering pivotal topics from all around the world. PragatiE vichaar Literature Festival will open its doors on 4th of December till 5th December 2021. Almost 48 authors from across the world will take part in this engrossing festival.
Awards Ceremony
We are very pleased to announce an awards ceremony also hosted this year online with PVLF To Celebrate the love of literature these are the following categories of awards:
1. Best debut fiction
2. Best debut non fiction
3. Best non fiction
4. Best fiction
5. Poetry