Oxford Bookstores@100 and Long Night of LiteratureS present an enthralling Literary Forum
A discussion on the 'Changing Literary Landscapes in India and Europe'
on
Sep 23, 2022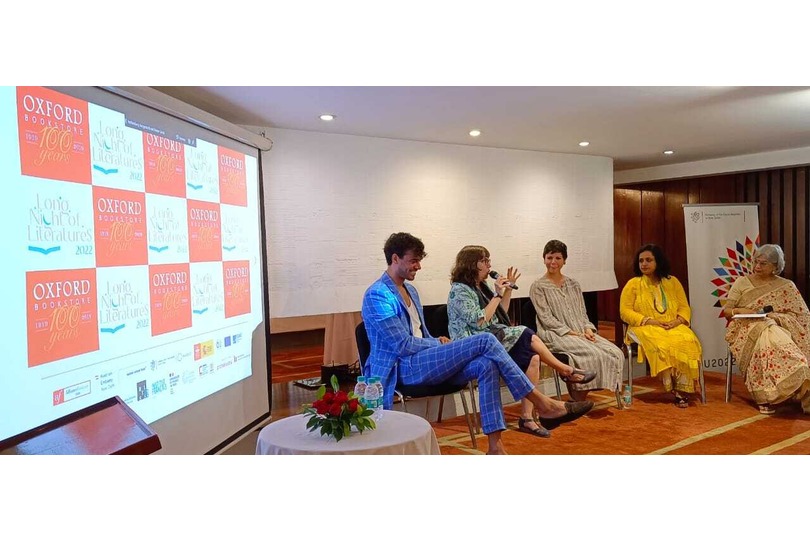 New Delhi, 22 September 2022: Commemorating 100 years of Oxford Bookstores, the iconic bookstore in association with Long Night of LiteratureS hosted a special literary session at the Embassy of the Czech Republic with eminent authors and publishers from India and Europe. This specially curated session titled 'Changing Literary Landscapes: India and Europe' featured a diverse mix of speakers like Janice Pariat, Storyteller, Poet, and Writer; Milee Ashwarya, Publisher, Penguin Random House India; Krisha Kops, Author, Journalist, and Philosopher; and Mercedes Cebrián, Spanish Poet, Writer, and Translator, who explored different aspects of transformation and development in Indian and European literary landscapes over the years. Author, Translator, and Poet Sutapa Basu beautifully moderated the session.
The engaging conversation threw light on mutually beneficial collaborations between publishing houses in India and Europe, the rising popularity of translations among global readers, and literature festivals and literary awards showcasing voices from regional literature and marginalized communities. The forum also discussed the challenges faced by publishers and bookstores, today.
This session was a special evening hosted to connect the literary and publishing fraternity from India to the European delegation of Long Night of LiteratureS. Scheduled for 23rd September, the Long Night of LiteratureS will host writers from all over Europe including celebrated authors like Krisha Kops (Germany); Martine Le Coz (France); Max Lobe (Switzerland); Mercedes Cebrián (Spain); Dora Nunes Gago (Portugal); Robert Prosser (Austria); Peter Szücs (Hungary) and Antti Tuomainen (Finland).
Oxford Bookstore is the official bookstore partner for the Long Night of LiteratureS. Through this association, Oxford Bookstores celebrates literature, culture, and books as it has been gloriously doing for the last 100 years.
About the Speakers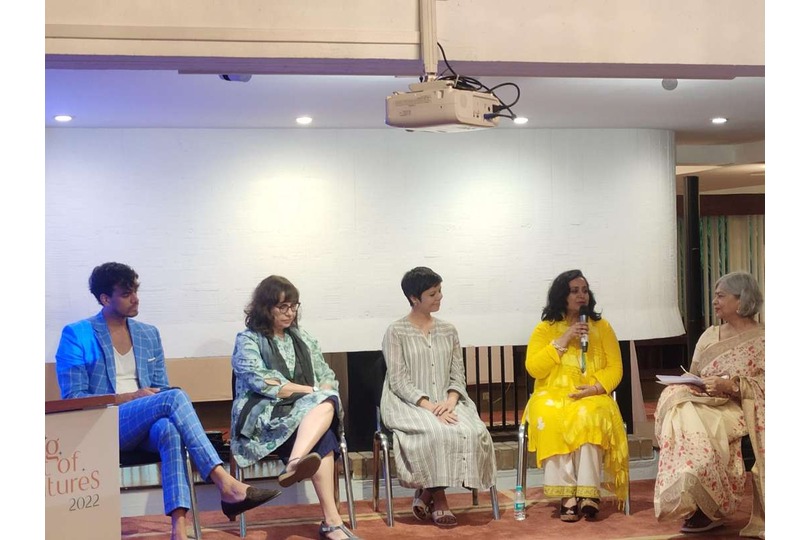 Janice Pariat
Janice Pariat is the author of Boats on Land: A Collection of Short Stories and Seahorse: A Novel. She was awarded the Young Writer Award from the Sahitya Akademi and the Crossword Book Award for Fiction in 2013. Her novella The Nine Chambered-Heart, bestselling in India, was published in the UK and in ten other languages including Italian, Spanish, French, and German. She studied English Literature at St Stephen's College, Delhi, and History of Art at the School of Oriental and African Studies, London. Her work—including art reviews, book reviews, fiction, and poetry—has been featured in a wide selection of national magazines and newspapers. In 2014, she was the Charles Wallace Creative Writing Fellow at the University of Kent, UK, and a Writer in Residence at the TOJI Residency in South Korea in 2019. Her novel Everything the Light Touches is forthcoming with HarperCollins India, Borough Press UK, and HarperVia USA in October 2022.
Krisha Kops
Dr. Krisha Kops was born in 1986 into a German-Indian family. He is an author, journalist, and philosopher with a proclivity for intercultural topics. He received his doctorate in intercultural philosophy with a thesis on the Bhagavadgītā. In addition to lecturing at Ludwig-Maximilians-Universität Munich (Indology) and other institutions, he writes on philosophical and literary topics. With his debut novel 'Das ewige Rauschen', a family epic in-between Germany and India, Kops won several prizes and scholarships. Krisha Kops lives in Munich and Madanapalle.
Mercedes Cebrián
Mercedes Cebrián was born in Madrid (Spain). She writes fiction, journalistic essays, and poetry and translates from English and French into Spanish. Her writing has been published in newspapers such as El País and La Vanguardia; and in journals and magazines such as "Diario de Poesía" (Buenos Aires), "Poetry London" and "The Indian Quarterly." Her literary universe explores, among other aspects of reality, the emotional ties that humans develop with objects. She has been a writing fellow at the Spanish Academy in Rome, and a writer in residence at the Civitella Ranieri Foundation (Italy), among other institutions. She holds an MA in Spanish and Latin American Studies from the University of Pennsylvania (USA). She has written two books about her food experiences: Burp. Apuntes gastronómicos (Punto de Vista, 2017) and Cocido y Violonchelo (Penguin-Random House Spain, 2022). In 2018 she was the guest editor of the imprint Caballo de Troya (Penguin Random House). She has taught Creative Writing workshops at NYU, Escuela Fuentetaja, and Warwick University. She also writes and presents the radio program "Música de Principio a Fin" on the Spanish National Radio (Radio Clásica).
Milee Ashwarya
Milee Ashwarya is a Publisher, of Ebury Publishing and Vintage Publishing at Penguin Random House India. Her focus has been on championing the best voices in fiction and non-fiction while publishing a range of bestsellers across segments. Her authors include Prime Minister Narendra Modi, Piyush Pandey, Hussain S. Zaidi, Yuvraj Singh, Hindol Sengupta, R. Gopalakrishnan, Karan Johar, Ravi Subramaniam, Anand Neelakantan, Navi Radjou, Shilpa Shetty, Novoneel Chakraborty, Amjad Ali Khan, Shradha Sharma, Emraan Hashmi, Sonali Bendre, Radhakrishnan Pillai, and Payal Gidwani Tiwari to name a few. A TEDx speaker, she is passionate about issues related to working women, parenting, and the environment. She was recently awarded the Women Achievers' Samman 2017 for publishing by the Global Organization of People of Indian Origin (GOPIO) and the Distinguished Alumni Award 2017 for Excellence in Publishing by Hindu College, Delhi University.
Sutapa Basu
Sutapa Basu is an award-winning author, poet, educationist, and writing coach. Her awards are Best Fiction Award, 2020 by AutHer Awards, nomination for Anupam Kher Award for Debut Novels, 2017, First Prize winner 2016 of TOI Write India Campaign, and Excellence in Publishing 2021 by the Public Diplomacy Forum. Her bestseller historical novel is Padmavati. Other books are The Legend of Genghis Khan, The Curse of Nader Shah, Out Of The Blue, The Anatomy of Affection, The Cursed Inheritance and Princesses, Monsters and Magical Creatures, a translation of the 100-year iconic Thakumar Jhuli. To be launched soon is her 9th book, The Birth Of My Nation. Her short stories and poems appear in Crossed & Knotted, Defiant Dreams, When They Spoke, Write India Stories, Kaafiyana, Muse India, The Dawn Beyond Waste, and Remnants of Loss. Her stories and poems have been published in textbooks for the K-12 segment. Sutapa coaches faculty, children, and aspiring writers on educational and creative writing skills. Find her works on websites, sutapabasu.com & Readomania.com.
About Long Night of LiteratureS
The Long Night of LiteratureS is a joint event of Goethe-Institut/Max Mueller Bhavan New Delhi, Alliance Francaise de Delhi, Institut Francais en Inde, Pro Helvetia New Delhi, Embassy of Switzerland, Instituto Cervantes New Delhi, Camões-Portuguese Embassy Cultural Centre, Austrian Embassy, Embassy of Denmark, Liszt Institute – Hungarian Cultural Centre Delhi, Embassy of Finland, Embassy of Czech Republic, Embassy of Ireland. It celebrates linguistic and cultural diversity across borders.
About Oxford Bookstore
Established in 1919, Oxford Bookstore is one of the oldest heritage bookstores in the nation. It is India's only bookstore to curate multiple literary festivals like Apeejay Kolkata Literary Festival, Apeejay Bangla Sahitya Utsob, and Hindi Sahitya Utsav. The Oxford Bookstore not only offers book lovers access to the very best books and ambience but also India's first-of-its-kind tea boutique, Cha Bar. At Oxford Bookstores, success is measured by the smiles on millions of happy readers that the brand has served over the last 100 years. Each time you walk into our iconic store in Kolkata, its old-world charm leaves you enchanted and desiring for more. Our fleet of 'happy to help' knowledgeable booksellers and conversant hosts work round the clock to bring to our vendees a world-class reading experience. Be it through our books or our fine teas we abide by the brand's motto – Much more than a bookstore – at every Bookstore.