Hospitality Icon Rattan Keswani Unveils His Memoir "Check-In, Never Check Out" at The Oberoi, New Delhi
Discover the captivating journey of Rattan Keswani in hospitality through 'Check-In, Never Check Out.' An inspiring memoir and industry guide
on
Sep 06, 2023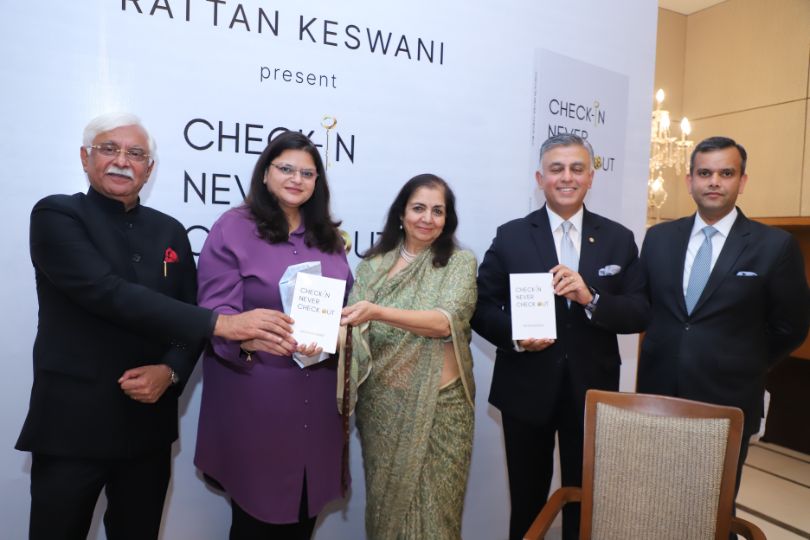 Leading hotelier Rattan Keswani's book, Check-In, Never Check Out, was released today at The Nilgiri, The Oberoi, New Delhi. The unveiling was followed by an engaging discussion between the author and award-winning screenwriter and author, Advaita Kala.
Speaking at the launch, author Rattan Keswani remarked: 'Within this journal, I have tried to capture the essence of my remarkable journey in the hospitality industry spanning over four decades. It took me across segments, from luxury and upscale to upper-midscale, midscale, and economy hotels. I have endeavoured to capture my memories and learnings and make them "industry-agnostic" in their application. The people I worked for, with, and led chiselled and honed my skills and personality continuously. I learned more from my team than they did from me. They were the catalysts for my success. I do hope I played a small role in their growth path. I hope you, the reader, are able to relate to some, if not all, of the chapters. If they make you introspect and provide you with food for thought about your voyage ahead, I would have achieved my objective.'
Praising the book, Mr. Panshikar, General Manager - The Oberoi, Gurgaon, said: 'While it is impossible to answer how long I have known Mr K for, let's just say his legend persisted even when I scrubbed at the pot wash while interning at the then Oberoi Towers in 1998. Mr. K is someone who is effortlessly charismatic and is simply always there to guide, correct, reason, and guffaw.'
Mr. Visheshwar Raj Singh, Senior Vice President & General Manager - The Oberoi, New Delhi, added: 'Trying to sum up Mr. Rattan Keswani's career, or my personal 20-year-long association with him, in a few words is daunting. I'd like to take this opportunity to thank him for teaching so many of us that our smiles are our logos and our personalities are our business cards. In fact, many of the chapters in his wonderful book are underlined by this very thought. I'm so glad he decided to record his experiences and learnings in this memoir - reading it reminded me of what a beautiful thing it is when a career and a passion come together in such perfect harmony.'
** The author's share of the proceeds from the sale of the book will go to Muskaan PAEPID - an NGO that trains and places differently-abled persons.
About The Book
Check-In, Never Check Out is a captivating and invaluable book that chronicles the extraordinary life of Mr. Rattan Keswani, a revered luminary in the hospitality industry. Seamlessly blending personal triumphs and challenges, this opus offers readers an intimate window into the inner workings of a hotelier's existence.
Beyond a mere account of his exploits, this literary masterpiece serves as an indispensable handbook, providing sagacious counsel for aspiring hoteliers and seasoned professionals alike. Through captivating anecdotes and real-life encounters, the book immerses readers in the multifaceted realm of hotel management, delving into leadership, customer service, staff management, marketing strategies, and innovation.
Check-In, Never Check Out is a testament to the transformative power of fortuitous paths and offers inspiration and erudition to those navigating the hospitality industry.
About the Author
Rattan Keswani stepped down from his positions as Deputy Managing Director of Lemon Tree Hotels Ltd and Director of Carnation Hotels last year, concluding a decade-long tenure. Prior to that, he served as the President of Trident Hotels, which is part of EIH Ltd-Oberoi Group. Over three decades, he held various roles within Oberoi Hotels and Resorts both in India and abroad. Throughout his 40-year career in the industry, Keswani collaborated with numerous renowned international brands, including Sheraton, Intercontinental, Holiday Inns, and Hilton Hotels. His professional journey encompassed all segments of the hospitality sector, from luxury to upper upscale, midscale to economy, as well as fractional ownership.
Currently, Keswani operates as an independent consultant and coach, offering guidance and expertise to a select group of entrepreneurs.