Frontlist | Headline celebrates five Neil Gaiman novels
Frontlist | Headline celebrates five Neil Gaiman novels
on
Jan 22, 2021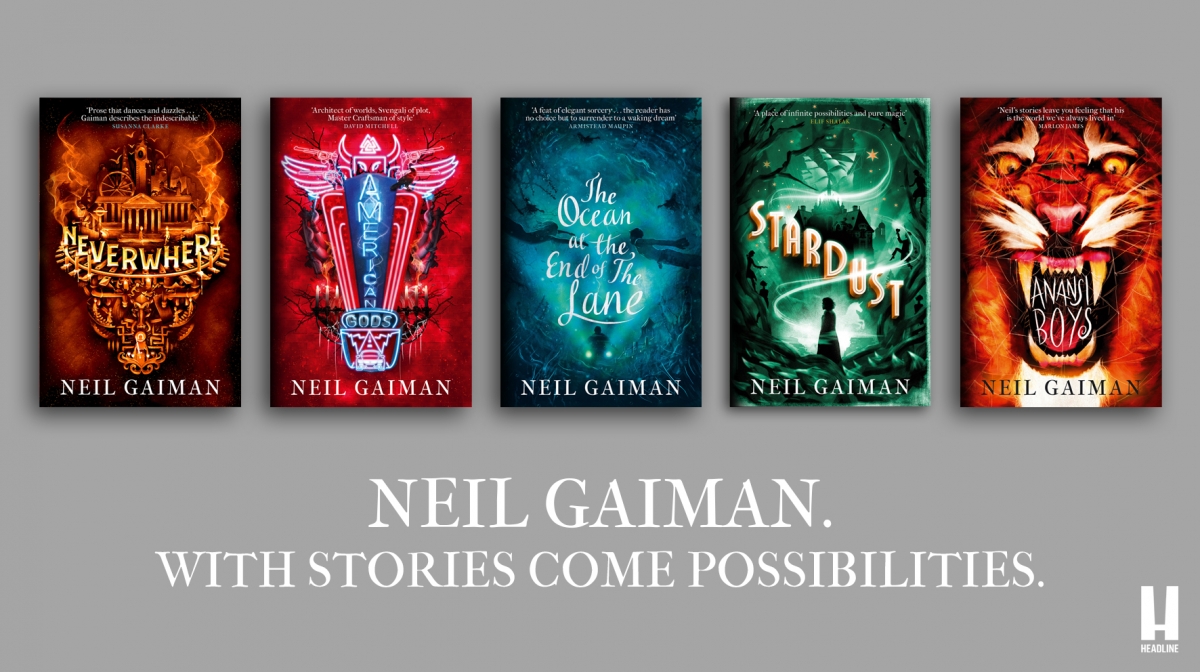 Headline is launching new editions of its five Neil Gaiman novels, 
Neverwhere, Stardust, American Gods, Anansi Boys
 and 
The Ocean at the End of the Lane, 
this spring. Designed by Leo Nickolls under the direction of Headline's art director, Patrick Insole, each book has been given fresh livery and new design features that aim to tell the story from the very first page. The launch comes as Gaiman's roadtrip novel 
American Gods
 celebrates its 20th anniversary. According to Headline, it has now sold a million copies of its published copies. Meanwhile, the Emmy-nominated TV adaptation has just entered its third season on Amazon Prime Video. The reissue of the novels is being supported by a creative marketing and publicity campaign including two celebratory virtual events with the author and special guests. Each of the novels features a new endorsement from a great, visionary writer–David Mitchell, Elif Shafak, Marlon James Armistead Maupin and Susanna Clarke–explaining what they love about Gaiman's work. The relaunch also follows a sell-out National Theatre production of The Ocean at the End of the Lane, due to transfer to the West End on 23rd October, and the TV production of Good Omens, adapted and show-run by Gaiman from the novel he co-wrote with the late Sir Terry Pratchett. Still to come is the release of the Netflix adaptation of Gaiman's comic book 
The Sandman,
 which was listed as one of the BBC's 100 Novels that Shaped Our World. Gaiman said: I suspect Headline attempted an impossible task. Taking several very different novels and creating a uniform edition while celebrating what made each book unique. It's fortunate that neither they, their designer or their artist knew that it was an impossible quest because they pulled it off! Insole said: For the repackaging of Neil's novels, we really wanted to celebrate each book's unique and distinct identity, so we were thrilled to invite the incredibly talented designer and illustrator Leo Nickolls to work on the entire set, creating a series of stunning artworks that are every bit as rich and diverse as the books themselves. Nickolls said: I began designing book covers in 2007. I remember getting the Tube to work reading 
Neverwhere
 and wishing one day that I might have the opportunity to design a cover for it. Neil Gaiman is my favourite author, and I'm humbled and honoured to have had the chance to work on this series, not least to have the freedom to try and evoke in these covers the distinct personality each of them have. Hopefully I've adorned these stories with the rich livery they deserve.
Source: The Book Seller