Frontlist | Four new books to read this March
Frontlist | Four new books to read this March
on
Mar 19, 2021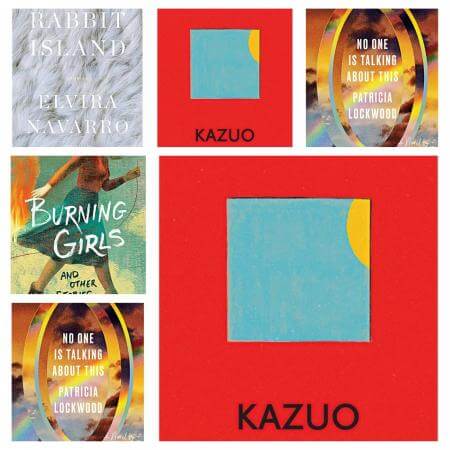 In this list, we highlight four of the very best releases of the past few weeks, featuring Nobel Prize winners, celebrated authors, debutantes and short story writers.
No One Is Talking
About This
Patricia Lockwood
(Riverhead Books, 2021)
In July of 2013, Patricia Lockwood wrote the decade's most immediate and pressing poem, Rape Joke. Already by then Lockwood had amassed prizes and praises enough to fill a few cabinets. Late last month, Lockwood released her debut novel, 
No One Is Talking About This,
 which as of this writing has been labelled transcendent and longlisted for the 2021 Women's Prize for Fiction. Concerning the nervous breakdowns of a social media influencer, and served in chopped-up fragments of prose-poetry text, Lockwood's first work of fiction is perhaps 
the
 book to read this March.
Klara and the Sun
Kazuo Ishiguro
(Knopf, 2021)
Ishiguro's first novel in six years sees science fiction's most humane writer return to themes of artificial intelligence, coming-of-age, apathy, and empathy. Echoing 
Never Let Me Go
 (Faber and Faber, 2005) in spirit, the Nobel Prize winning author's latest is centred on narrator Klara, an Artificial Friend, who observes human life through the display case of a store, hoping to one day be bought herself. To some extent as a writer you're always in dialogue with your earlier books, Ishiguro told 
TIME.
 Part of me wanted to reply to 
Never Let Me Go
, which is a very sad book. It's not pessimistic exactly, but it's very sad. So I wanted to reply to that vision.
Must Read -
Idris Elba to write a children's series
Mainak Dhar's latest book helps one build a professional winning edge
New children's book to tell story of Raja Ravi Varma
Burning Girls and Other Stories
Veronica Schanoes
(Tordotcom, 2021)
Schanoes' stories revolve around her research interests: fairy tales, folktales, fantasies, and feminism. The Shirley Jackson Award winning writer combines genres, disparate moods, and varying levels of vengeance in her debut short story collection, 
Burning Girls
. The 13 stories that comprise the book confronts anti-Semitism and American history, reimagines Bloody Mary and the Baba Yaga, dips its toes in politics and anarchy, and all throughout, Schanoes sets a smooth and eased path for her readers to navigate splendidly. Beautiful and horrible, 
Burning Girls and Other Stories
 may be the perfect read for fans of dark fantasy and genre fiction.
Rabbit Island
Elvira Navarro
(Two Line Press, 2021; transl. Christina MacSweeney)
Few directors, let alone writers, warrant comparisons to David Lynch, yet Navarro, Madrid's resident surrealist, through her stories on the absolute mundane has done just that. Of the nothing-special hotel cook of the book's eighth story, Navarro writes: Her features were so average, so unremarkable, that, on the rare occasion when she left the kitchen, the guests never noticed that a living being was crossing the dining room. The one thing that keeps the cook from quitting her job is that at night she dreams, and in it she inhabits the dreams of every hotel resident and employee. The heroes and heroines of 
Rabbit Island
 are Gregor Samsas and Laura Palmers—only they would wholly welcome whatever horrific things might come their way, if only just to feel.
Mehrul Bari S Chowdhury
is a writer, poet, and artist. His work has appeared in 
Kitaab, Sortes Magazine, 
and 
Marías at Sampaguitas
, among others.
Source: thedailystar.net