TCLP's Great Book Giveaway 2019
TCLP's Great Book Giveaway 2019
on
Sep 20, 2019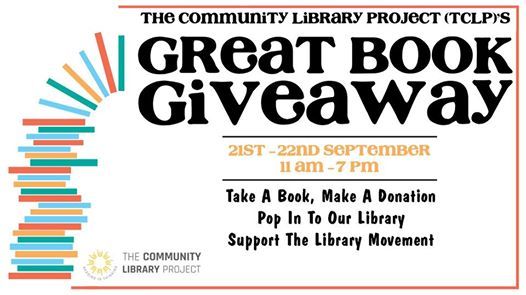 The Community Library Project (TCLP) brings you The Great Book Giveaway - an annual event with books to take home, loads of reading activities for children and adults, performances, workshops and more!
Come to the India Habitat Centre, Delhi, where over 2500 titles are up for grabs, from Toni Morrison, David Mitchel and Nabokov to Sartre, Khushwant Singh and Vikram Seth. Also in the stacks are lighter reads and popular titles from Danielle Steele, Jeffrey Archer and Dan Brown. For non-fiction lovers there's Malcolm Gladwell and Jared Diamond. If it's philosophy and theory you want, there's Zizek.
All we ask is that you support free libraries with as little as Rs. 100 or as much as you like. Oh, and bring your own bag!
TCLP will also be running a 'Pop-Up Library' at the event. So bring your kids (as young as 4 years old) for a read-aloud or a game of chess & checkers. For the older ones, there's poetry with Michael Creighton and Madhubani art with Aarti GuptaThe Great Book Giveaway will end on a rousing note on Sunday with rap performances by the members of TCLP and a drum performance by the Sunshine Ensemble.