Mathrubhumi Group Announces 'Book Of The Year' Literary Award
Mathrubhumi Group Announces 'Book Of The Year' Literary Award
on
Oct 23, 2019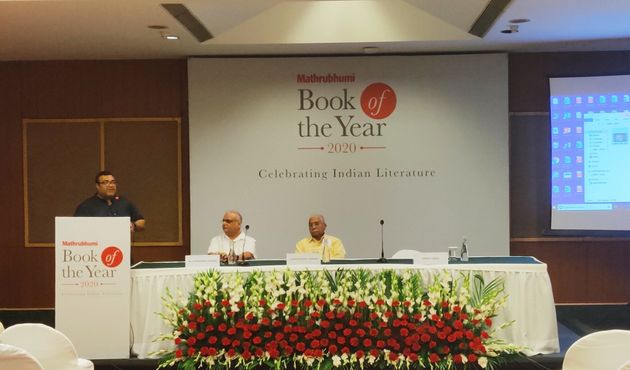 The Mathrubhumi Group's award, which comes with a cash prize of Rs 5 lakh, will be given to the best work of fiction in English published in the year.
India's evolving – and dare we hope, promising – 
literary award landscape
 has a brand new entrant. On Thursday, media and publishing group Mathrubhumi announced the institution of the 'Book of the Year' award to "honour and celebrate the best in Indian literature", in New Delhi. The award, which comes with a cash prize of Rs 5 lakh, will be given to the best work of fiction in English published in the year. The first edition of the prize will be awarded in 2020 during the Mathrubhumi International Festival of Letter which will be held in Thiruvananthapuram from January 30 to February 2. The award is open to Indian writers whose books have been published in the country, whether originally written in English or translated to English from other Indian languages. The Mathrubhumi media group, which established itself in 1923 with a daily newspaper, currently includes magazines, events, television, radio and book publishing under its umbrella. The group's Joint Managing Director, MV Shreyams Kumar, claims the prize is a further step in an old mission. "We have been promoting literature since 1933 when we started our magazine 
Mathrubhumi Illustrated Weekly
 which was a platform for all budding writers then, as well as now. All the big names of Malayalam literature have grown through this magazine," he told 
Huffpost India
, adding, "We have also been at the forefront of translating literature from Bengali and Kannada to Malayalam." While the group has been a key player in Malayalam language publishing, the establishment of a pan-India literary award reveals larger cultural ambitions, which began with the establishment of the Mathrubhumi International Festival of Letters in 2018, featuring sessions with Malayalam authors as well as those from other parts of India and the world. Last year, Shreyams Kumar said, the festival hosted nearly 100 Indian speakers from outside Kerala, and 45 speakers from other countries. "For a discerning Malayali reader, geography is not a barrier," he said, adding that several books in languages other than English are read in the state. "Mathrubhumi started as a part of the national movement – it's only natural that we go across India." The group has been presenting an annual literary award, the Mathrubhumi Sahitya Puraskaram, since 2001 to recognise the overall contribution of writers to the Malayalam language but its first book-focused English language prize sits in the company of other prominent literary awards for fiction in the country such as the 
JCB Prize for Literature
 and the 
DSC Prize for South Asian Literature
. India's newest and third richest literary award for fiction has entered the fray at a time when other literature festivals and awards are going through a funding crisis. Both the Times LitFest Mumbai and the Hindu Literature Festival (which presents the Hindu Literary Award) have
 reportedly been indefinitely postponed
 due to a lack of sponsors during an economic slowdown. The Mathrubhumi International Festival, meanwhile, has added an extra day of programming to its schedule in its third edition next year. "Our business model of how we finance the festival is different," Shreyams Kumar said. "Our number of clients is large – small business groups fund it – so we spread it across. They don't feel the pinch as much." Adding that it's not meant to be a "profit-making venture", he said that the festival and the literary award are a way to "give back to readers who have made the business group grow." It's a welcome addition to a historically parched space, but the Mathrubhumi 'Book of the Year' award appears to have set itself up with some challenges. It has a rather narrow window to select its inaugural winner, to be announced in a little over three months from now. The award will begin inviting submissions from publishers immediately, out of which a selection by a "team of experts" will be handed over to a three-member jury chaired by 
Shashi Tharoor
, who is also a patron of the Mathrubhumi literature festival. Kannada poet and playwright, and president of the Sahitya Akademi, Chandrashekhara Kambara will occupy the second spot while the third jury member is currently being finalised – the prize revealed that it will be a "non-Malayali woman writer". Its submission guidelines, much like the frequent criticism leveled against the 
Booker Prize's rules
, seem to be stacked in favour of big corporate publishers, with a weighted scale in place. The prize will only accept entries from publishers who bring out more than 15 titles in the year. Those publishing between 15 to 50 books will be able to make one submission, between 50 to 100 can enter two titles, and so on, with publishers with a list of over 200 titles eligible to enter four books. Small and independent publishers are likely to suffer with these rules. Above all, however, as the waning Crossword Book Awards, once among the most prestigious literary awards in the country, and the heavy publicity focus of the sophomore JCB Prize for Literature shows, there's a lot that goes in achieving the ultimate goal for a literary prize – supporting writers and finding them more readers. We've got our fingers crossed.