Myth Of The Entrepreneur | Ravi Kailas and Kathy Guo | Book Review
Myth Of The Entrepreneur | Ravi Kailas and Kathy Guo | Book Review
on
Sep 20, 2019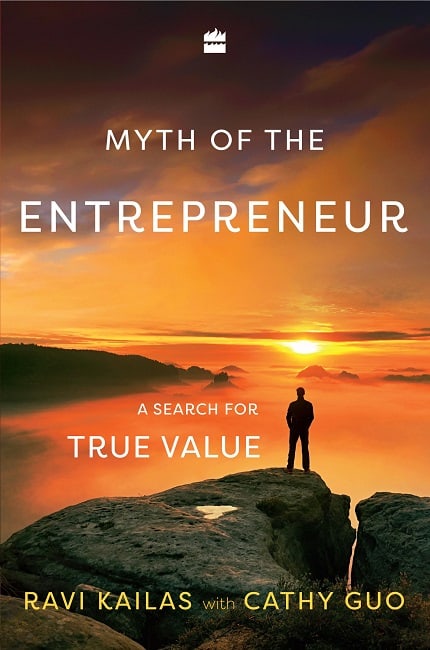 My musings
Since the last two months, I've been quite interested in reading books on spirituality. Gaur Gopal Das and Sadhguru are two authors whose books I've been meaning to read for quite some time now. I got a chance to read a book about entrepreneurship recently and quite unexpectedly, it turned out to be a read that was all about the mind, the soul and about achieving a balance in life. Ravi Kailas and Cathy Guo's 
Myth of the Entrepreneur
 is a book that made me reflect a lot on my life and the work that I do, albeit in a positive and profound way. It is on this book that I am going to be sharing my thoughts on today. So, read on to know more about what I think of this amazing book and my reasons for you to read it.
What to expect?
Expect a book that is part memoir part self-help. Expect a book that makes you ponder and reflect on the true meaning of value creation and on the purpose of life. Expect a book that is full of anecdotes and life experiences of a successful serial entrepreneur. Finally, expect a book that calls for a paradigm shift in the way the entrepreneurial ecosystem works in India and abroad.
Who can read?
The book is written in a simple and easy to understand language and can be easily picked up by even a beginner level reader.
What is the book all about?
Myth of the Entrepreneur
 is a book that tells us the story of its author Ravi Kailas, a serial entrepreneur who has successfully set-up and run many profitable companies in his life. The book though talking about business lessons and experiences focuses more on the author's search for true value and its creation while setting up and running such business. The author explores the real meaning of being an entrepreneur which entails creating value not for one's personal self but also for society and the entire ecosystem. The author also focuses on spirituality and the need to maintain a healthy balance between work and personal life.
The entrepreneur's dilemma
Today's world is such that entrepreneurs have become the real heroes of the globalized world. While there is definitely more development and more money in the world, one simply cannot oversee the crude fact that the income disparity is on an ever-increasing trend. The rich are becoming richer and the poor are still struggling for one square meal a day. Is this indicator of the ever-widening rich-poor divide a healthy one? In the face of such sharp contrasts, can the entrepreneur afford to think only for himself and not for the society as a whole? How long can such an unjust system be sustained? And what is the true meaning of value creation? This is the 
Myth of the Entrepreneur
; the entrepreneur's dilemma – how to create value that benefits not just one but all?
How good is the writing style?
Right from page one, the book sets the tone for a very candid and frank read. The author doesn't shy away from his personal experiences including the life-changing heart attack at the young age of thirty-eight, a subsequent quest for meaning and purpose, a kind of mid-life crisis that made everything he'd achieved so far seemed futile, and a very painful yet respectful separation from his then-wife. An effortless camaraderie is soon established with the reader which makes the journey ahead easy and fruitful for the reader.
Let's talk about the research
That a decent amount of research has gone into the creation of the book is visible as one gently turns those pages. From economics to business, from happiness to spirituality – 
Myth of the Entrepreneur
 takes lessons from a number of books and research papers. A section of detailed notes and bibliography at the end also provides a good list for future reading and references.
Is the book interesting to read?
Had the book been only about business or spirituality, it would not have turned out to be such an interesting read. 
Myth of the Entrepreneur
, on the other hand, manages to create just the right blend of philosophies, life lessons, business insights, personal experiences and anecdotes to bring to us a book that scores quite high in maintaining the reader's interest. A memoir like this one seldom comes and when it does, it would be a shame to not read it.
In the end
In the end, I believe that 
Myth of the Entrepreneur
 is a book that is a must-read for every single businessman, entrepreneur and business graduate. It is a book that gives us some serious points to reflect on while influencing our thought process for the greater good. Written in a crisp and a no-nonsense manner, the book is as interesting as it is informative.
The Final Verdict
Go for it!
Pick it up if
You are an entrepreneur.
You are a management student or a professional who is looking for motivation and inspiration in life.
You enjoy biographies and memoirs.
You enjoy books that talk about balance and the right way to lead one's life.
You are looking for a book that perfectly blends happiness, self-love, and business.
You want to learn from the experiences of a serial entrepreneur.
Skip it if
Read More:
https://www.bookgeeks.in/myth-of-the-entrepreneur-ravi-kailas-cathy-guo-book-review/