10 books by Indian Authors to look out for
10 books by Indian Authors to look out for
on
Aug 13, 2019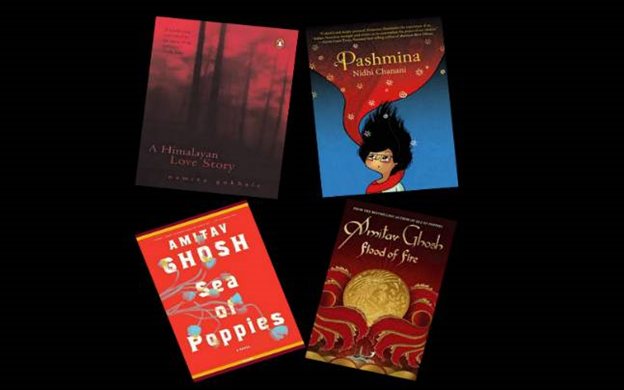 Here are 10 books by Indian authors you might want to read up!
More often than not Indian authors are ignored into oblivion in order to make space for their international counterparts. There are populations in India that experience gut wrenching experiences on a daily basis. These stories deserve to be told.Here are 10 books by Indian authors to look out for:
PALACE OF ILLUSIONS by Chitra Banerjee Divakaruni
The Palace of Illusions is an award winning novel penned by famous novelist Chitra Banerjee Divakaruni. The book is a rendition of the Hindu epic Mahabharata from Draupadi's (Panchaali's) point of view. The writer elaborates the Mahabharata with modern twist as it narrates the story from the perspective of Draupadi. The story takes us to a world that includes half-history, half-myth and full magic. The novel is a completely human novel about a woman born in this patriarchal society, the world full of agony and the ever manipulating hands of destiny.
The story reflects the facts about Draupadi's life, like born from agni or fire of yagna, friendless childhood, where her adorable brother is her only true friend; her complex friendship with the mysterious Krishna; to marriage, maternity and her secret attraction to the undisclosed man who is her husbands' most dangerous opponent.
THE WHITE TIGER by Aravind Adiga
The White Tiger: Booker Prize Winner 2008 is a classic novel which lays light on a person of the deprived section of the society, who is desperate to come out of his misery and lead an independent life. In order to free himself from the clutches of social and financial misery, he indulges in the negative and shady activities and is unapologetic about them as he pompously justifies them. The protagonist, Balram Halwai, was born and brought up in a small village. Though he was a bright student, Balram had to discontinue his studies due to bad financial position of his family.
He starts working at a tea shop with one of his cousins. Being an ambitious person, he learns to drive cars and becomes a chauffeur. As a result he moves to the capital, Delhi for his new job. Coming from a small village and suddenly moving into a metro city is a cultural shock for him. Experiencing corruption and the likes, he gets influenced by the negativity and murders his owner for money. He then shifts base to Bangalore, starts own business with the stolen money and becomes well-to-do. With such an account as its background, this book is narrated in a dark yet hilarious way.
PASHMINA by Nidhi Chanani
Priyanka Das has so many unanswered questions: Why did her mother abandon her home in India years ago? What was it like there? And most importantly, who is her father, and why did her mom leave him behind? But Pri's mom avoids these questions?the topic of India is permanently closed.
For Pri, her mother's homeland can only exist in her imagination. That is, until she find a mysterious pashmina tucked away in a forgotten suitcase. When she wraps herself in it, she is transported to a place more vivid and colorful than any guidebook or Bollywood film. But is this the real India? And what is that shadow lurking in the background? To learn the truth, Pri must travel farther than she's ever dared and find the family she never knew.
In this heartwarming graphic novel debut, Nidhi Chanani weaves a tale about the hardship and self-discovery that is born from juggling two cultures and two worlds.
THE WINDFALL by Diksha Basu
From actress Diksha Basu comes a sparkling comedy of manners about social climbing, social rivalry and social anxiety in the New IndiaAnil Kumar Jha has worked hard and is ready to live well. After thirty years in a modest flat, he and his family are moving to Gurgaon, one of Delhi's richest areas. But his wife, Bindu, is heartbroken about leaving their neighbours and doesn't want to wear designer saris or understand interior decoration. Meanwhile their son, Rupak, is failing business school in the US - and secretly dating an American girl.
Once installed in their mansion, the Jhas are soon drawn into a feverish game of one-upmanship with their new neighbours, the Chopras, as each couple seeks to outdo the other with increasingly lavish displays of wealth. As an imitation Sistene Chapel is pitted against a crystal-encrusted sofa, Bindu wonders where it will all end.
A sharply observed tale of social aspiration and anxiety, The Windfall is a thoroughly modern comedy of manners about family, friendship and what it means to belong in a rapidly changing India.
NO ONE CAN PRONOUNCE MY NAME by Rakesh Satyal
In a suburb outside Cleveland, a community of Indian Americans has settled into lives that straddle the divide between Eastern and Western cultures. For some, America is a bewildering and alienating place where coworkers can't pronounce your name but will eagerly repeat the Sanskrit phrases from their yoga class.
Harit, a lonely Indian immigrant in his mid forties, lives with his mother who can no longer function after the death of Harit's sister, Swati. In a misguided attempt to keep both himself and his mother sane, Harit has taken to dressing up in a sari every night to pass himself off as his sister. Meanwhile, Ranjana, also an Indian immigrant in her mid forties, has just seen her only child, Prashant, off to college. Worried that her husband has begun an affair, she seeks solace by writing paranormal romances in secret. When Harit and Ranjana's paths cross, they begin a strange yet necessary friendship that brings to light their own passions and fears.
Rakesh Satyal's No One Can Pronounce My Name is a distinctive, funny, and insightful look into the lives of people who must reconcile the strictures of their culture and traditions with their own dreams and desires.
THE GUEST by Mitali Meelan
Eighteen-year-old Neha Ranade is perfectly content with her life-a singer boyfriend, a group of loyal friends and with the college annual festival around the corner, her days are full and exciting.
But when her father's Canadian colleague arrives home, Neha's grand plans are uprooted. What could be the intentions of this curious guest's sudden visit-for better or for worse?
A HIMALAYAN LOVE STORY by Namita Gokhale
Parvati is young, beautiful and seemingly doomed; blooming early yet unable to find lasting love. Orphaned in adolescence and adopted by her headmaster uncle, Parvati escapes the constraints of this temporary home but, like many young women before her, finds a new prison in marriage. For, while there is passion to be found in early encounters, she is soon married to someone she can never truly be satisfied with. So when Mukul Nainwal, the local boy who has always loved her, returns to Nainital, he finds Parvati changed-she is a new challenge to his ideals, despite all his worldly success.
The tale of these two exiles is a study in unrequited love, with its terrible irony and tragic urgency. Here is a master class in the vagaries of the human heart, from a fine novelist who understands its workings better than anyone else.
THE IBIS TRILOGY by Amitav Ghosh
The Ibis trilogy is a work of historical fiction by Amitav Ghosh. The story is set in the first half of the 19th century. It deals with the trade of opium between India and China run by the East India Company and the trafficking of coolies to Mauritius. It comprises Sea of Poppies (2008), River of Smoke (2011), and Flood of Fire (2015).
The trilogy gets its names from the ship Ibis, on board which most of the main characters meet for the first time. The Ibis starts from Calcutta carrying indentured servants and convicts destined for Mauritius, but runs into a storm and faces a mutiny. Two other ships are caught in the same storm-the Anahita, a vessel carrying opium to Canton, and the Redruth, which is on a botanical expedition, also to Canton. While some of the passengers of the Ibis reach their destination in Mauritius, others find themselves in Hong Kong and Canton and get caught up in events that lead to the First Opium War.
The novels depict a range of characters from different cultures, including Bihari peasants, Bengali Zamindars, Parsi businessmen, Cantonese boat people, British traders and officials, a Cornish botanist, and a mulatto sailor. In addition to their native tongues, the novels also introduce the readers to various pidgins, including the original Chinese Pidgin English and variants spoken by the lascars.
LANKA'S PRINCESS by Kavita Kane
Surpanakha, Ravan's infamous sister-ugly and untamed, brutal and brazen. This is how she is commonly perceived. One whose nose was sliced off by an angry Lakshman and the one who started a war but was she really just perpetrator of war? Or was she a victim? Was she Lanka's princess? Or was she the reason for its destruction
Surpanakha, meaning the woman as hard as nails was born as Meenakshi-the one with beautiful, fish-shaped eyes. Growing up in the shadows of her brothers, who were destined to win wars, fame and prestige, she, instead, charts up a path filled with misery and revenge.
Accused of manipulating events between Ram and Ravan, which culminated in a bloody war and annihilation of her family, Surpanakha is often the most misunderstood character in the Ramayana. Kavita Kane Lanka's Princess tells the story from the vantage of this woman more hated than hateful.
RAJ by Gita Mehta
A sprawling, extravagant saga, Raj is at heart the story of Maharani Jaya Singh. Spanning nearly half a century, the novel takes in its sweep both Jaya's coming of age as the ruler of her state, Balmer, as well as the drama of India's struggle for independence. Powerful, enlightening and compulsively readable, Raj is one of the great historical novels of our time.