Book Launch: 'Pioneers of Modern India' - Eight-title monograph series, organised by Niyogi Books
on
Aug 04, 2022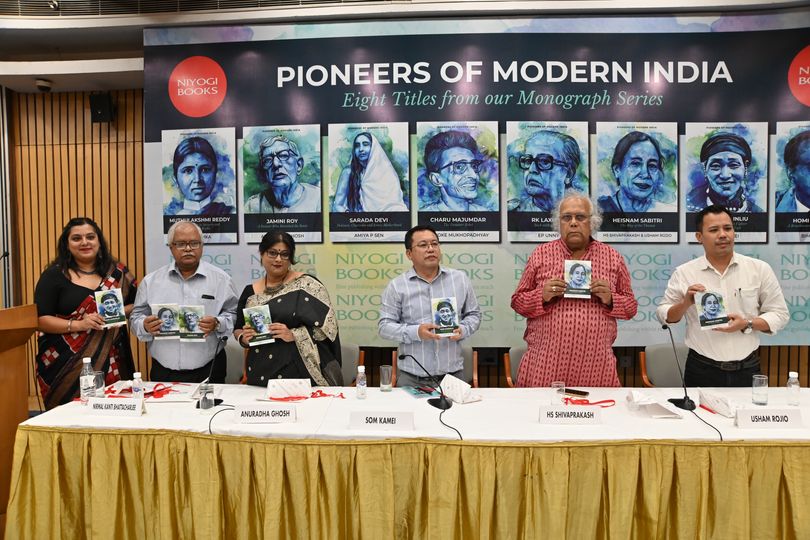 Niyogi Books takes pride in announcing its first ever endeavour in releasing a series of monographs on stalwarts who treaded the world of Science, Art, Culture, Spirituality, and Politics, who in their own way were instrumental in their contributions to society at large, in shaping Modern India.

The titles were launched in presence of authors VR Devika, Anuradha Ghosh, Amiya P Sen, Ashoke Mukhopadhyay, EP Unny, HS Shivaprakash, Usham Rojio, Som Kamei, and Editorial Director of Niyogi Books Nirmal Kanti Bhattacharjee, who also coordinated the event.
Professor Nirmal Kanti Bhattacharjee opened the proceedings by thanking all present. He said that these monographs were conceptualised to be inspiring reads for the young generations of readers. He also stated that the goal with these books was to make them extremely well-researched, yet accessible to the average readers.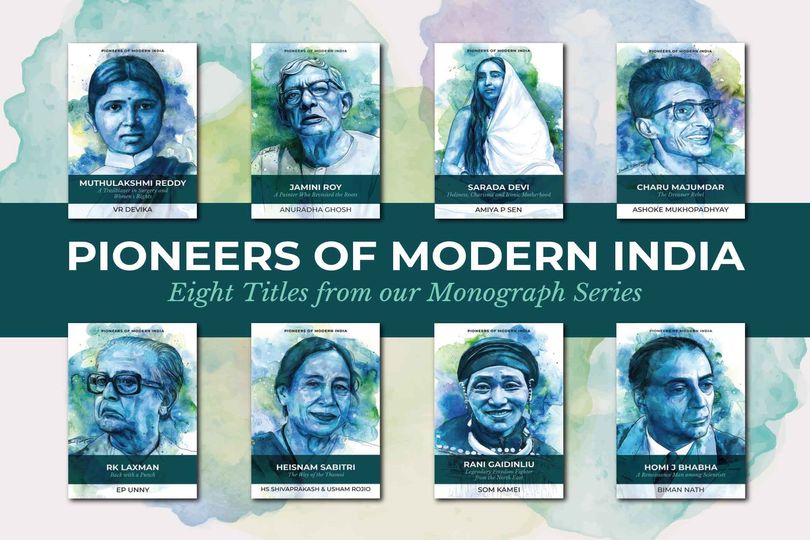 Muthulakshmi Reddy: A Trailblazer in Surgery and Women's Rights by VR Devika.
This is the story of a pioneer path-creator for women. She was the first girl student in Maharaja's School for Boys in Pudukkottai, the first Indian woman surgeon from Madras Medical College, the first Indian member of the Women's Indian Association, the first woman member of legislature of Madras Presidency, the first woman deputy speaker and the first alderwoman. In this book, the author describes the indomitable spirit of a woman who campaigned to get rid of the practice of wet nurses, fought for girls' education, widow remarriage, equal property rights for women, education reform, and rural healthcare for women. She took up the case of getting the practice of dedicating young girls as Devadasis abolished. This monograph describes how Dr. Reddy established Avvai Home for poor and destitute girls, from where thousands have graduated and found their feet.
Author VR Devika is a well-known storyteller, educationist, and Gandhi scholar, with a Ph.D. on MK Gandhi's communication strategies. She is known as a cultural activist, having been associated with the inception of Chennai's Dakshinachitra Heritage Museum and Tamil Nadu INTACH. She is the founder trustee of The Aseema Trust linking traditional performing arts and education, to bring Mahatma Gandhi's ideals of non-violence to children.
While speaking on the book she described that she encountered a strange paradox when she realised that while the teaching/medical world worshipped Muthulakshmi Reddy, the dance academies saw her as a villain who had taken away dance from the devadasis; and it was only when the author went to the Avvai Home and met the beneficiaries of the devadasi system abolition that she understood the true impact Dr. Reddy's works.
RK Laxman: Back with a Punch by EP Unny
The fourth book is again a concise monograph on the life of RK Laxman as he caricatured the personalities and events that made modern India. It analyses the influences that led Laxman to become a much-loved cartoonist, such as the impact of the city of Mumbai on his life and work, and also exploring the reasons for the enduring popularity of Laxman's work, including his most famous creation—the Common Man.
Written in Unny's succinct style, this monograph offers a concise chronicle of the master cartoonist's journey, as Laxman's pen captured modern Indian history for readers in India and across the world.
EP Unny's first cartoon appeared in Shankar's Weekly in 1972. He has worked with The Hindu, Sunday Mail, The Economic Times, and The Indian Express, where he is Chief Political Cartoonist. His work has featured at the Asian Cartoonists Conference in Tokyo and at the International Cartoon Festival in Carquefou, France. In 2009, Unny won the Lifetime Achievement Award of The Indian Institute of Cartoonists.
EP Unny while giving an exclusive commentary on RK Laxman, shared with us some of the great images from the pen of RK Laxman on screen. He said that R.K. Laxman's cartoons depict how power messes up everyday life. He did not urge us to fight authority, but to distrust it at all times.
Sarada Devi: Holiness, Charisma and Iconic Motherhood by Amiya P Sen
This monograph of the book presents how Sarada Devi, while remaining well within the confines of patriarchal society and despite severe economic and physical hardships, played the roles of the caregiver in her family and a spiritual guide for her followers with equal perseverance.
This book is about understanding religious charisma associated with an unschooled but dynamic woman who had ample courage, common sense, and conviction, deftly combining in her person the roles of a social counsellor, a spiritual preceptor, and a popular cultic leader. Sarada Devi has been the inspiration behind the Sarada Math and Mission that, quite uniquely, combines the world of feminine spirituality and active social work for Indian women. This work is a study in the social and historical processes that made this possible.
Author Amiya P. Sen retired as Professor of Modern Indian history from Jamia Millia Islamia, New Delhi. That apart, he has served Delhi University and Visvabharati, Santiniketan. He has been Agatha Harrison Fellow at the University of Oxford, Zimmer Chair at Heidelberg, and Fellow at the IIAS, Shimla, and the NMML, New Delhi.
While speaking on the book during his presentation, he said that his book is a historical biography of Sarada Devi, rather than a spiritual one as he wanted to free Sarada Devi from the stereotypical mould that hagiographic biographies cast her in.
Charu Majumdar: The Dreamer Rebel by Ashoke Mukhopadhyay
The third book in this series is also the first ever monograph on Charu Majumdar in English. A concise biography that traces the life of Charu Majumdar as he incited a burning fire of revolution into his young mind that reshaped the political journey of modern India, it. It also unearths the birth of Naxalism in Bengal and traces its journey through different parts of India. A well-researched book on the legendary rebel of the 1970s, who, besides calling for an armed revolution, taught many to dream.
Ashoke Mukhopadhyay, made a foray in the arena of literature with a host of startling research-based articles and insightful documentation. With eight books to his credit of an art collector). Mukhopadhyay won the coveted Ananda Snowcem Award twice for his articles. His novel Abiram Jwarer Roopkatha (A Ballad of Remittent Fever), which was long-listed for the JCB Award 2020.
In his presentation, Ashoke Mukhopadhyay mentioned that he was thrilled that the book was released on 29th July, the day after Charu Majumdar's 50th death anniversary.
Jamini Roy: A Painter Who Revisited the Roots by Anuradha Ghosh
A concise biography that traces the life of Jamini Roy, the person, and the journey of Jamini Roy, the artist. Tracing the rural, anonymous sources of Bengal folk art and its journey towards a global platform through Jamini Roy, it also shows how the rural folk moulded Roy's artistic outlook.
The humble man who began his early meditation in the narrow, serpentine lanes of a North Calcutta neighbourhood, became a silent revolutionary. Inspired by the folk traditions of Bengal, he created a unique artistic vision. Such was the euphoric trajectory of Jamini Roy, the first native genius to have connected rural art to the global.
Told in a simple and engaging mode, the book explores the multiple facets of a man for whom art was both a livelihood and a meditative journey, and follows his life of disciplined simplicity along with his quirks and idiosyncrasies
Anuradha Ghosh is presently Associate Professor in English at Dinabandhu Andrews College, Kolkata. She began her career as a journalist in Business Standard and then in Ananda Bazar Patrika, before moving to her present position in 1996. She has spoken and written extensively on art and aesthetics, and cultural studies. Her previous book, The Afterlife of Silence: Still Lifes of Jogen Chowdhury, has also been published by Niyogi Books in 2020.
In her presentation on the book and its significance, she highlighted that Jamini Roy's enduring charm stems from the fact that he made use of enduring folk art traditions that people of all ages and all walks of life in India could relate to, that he tried to mainstream what was always marginal.
Rani Gaidinliu: Legendary Freedom Fighter from the North East
by Som Kamei
Rani Gaidinliu was a well-known freedom fighter, remembered fondly by the people and given recognition and honour by the Government of India. Her struggles and legendary exploits against the mighty British Empire in North East India are well documented. Her contribution to the freedom struggle is being taught as part of the history syllabus in schools and colleges in India.
This monograph is an insightful analysis of Rani's growth and journey as a Naga spiritual leader who fought for the preservation of her indigenous tribal way of life by reforming the ancient Zeliangrong religion.
Som Kamei is a member of the Indian Postal Services. A sports enthusiast, he also enjoys travelling and reading. His interests include tribal studies and ethnic movements and he writes on cultural and social issues of North East India. This is his first book.
Explaining the significance of Rani Gaidinliu's exploits, Som Kamei said that the immediate inspiration to write the book was the strange hostile reaction that sparked in Nagaland when the government of India announced in 2015, the year of Rani Gaindinliu's birth centenary, that a cultural museum would be opened in Kohima in her honour. Rani Gaindinliu's exaltation by the Indian government on one hand and the hostility back home in Nagaland on the other motivated the author to write the real story of Rani Gaidinlu.
Heisman Sabitri: The Way of the Thamoi by H.S. Shivaprakash and Usham Rojio
The book offers a genuine insight into the world of Manipuri theatre, particularly that of Heisnam Sabitri and Heisnam Kanhailal, the founders of Kalakshetra Manipur. An invaluable addition to theatre and performance studies, it delineates the first-hand perspective of Heisnam Sabitri, as well as her husband, Heisnam Kanhailal—two great legendary innovators of 20th-century Indian theatre. It views the different aspects of theatre in the light of 'thamoi'—a Meitei-specific concept.
H.S. Shivaprakash, Professor, School of Arts and Aesthetics, JNU, is an award-winning poet, playwright, novelist, and critic, writing in Kannada and English, and is a multifaceted scholar. He became closely associated with Sabitri and Kanhailal during the finalization of another book on their theatre.
During his turn, while presenting he shared that he wanted to write an 'un-academic' book on these trailblazing artists from the perspective of a theatre enthusiast, rather than a theatre scholar.
Co-author Usham Rojio, with a Ph.D. in theatre and performance studies from the School of Arts and Aesthetics, JNU, is a playwright and theatre director, and also an English teacher. He has acted as the interpreter between his co-author and Sabitri.
He said as a young theatre enthusiast, he was deeply moved by Heisnam's Sabitri's performance as 'mother pebet' in Pebet, and that he remembers Heisnam Sabitri as a deeply observant artist who learned from the environment.
Homi J Bhaba: A Rainnaisance Man among Scientists by Biman Nath

The only monograph that sheds light on H.J. Bhabha's rich scientific legacy and vision for India, shows Bhabha's foresight in setting up high-quality research facilities for nuclear energy in our country, such as TIFR and BARC, and brings to light Bhabha's passionate interest in art, architecture, drawing, painting, and classical music, which made him a true renaissance man!
Comprehensive and reflective, this monograph encapsulates Bhabha's vision for India and sheds light on his rich legacy. His legendary leadership in organizing scientific research in India, his drive and passion continue to inspire generations of students in India.
The author of the Book, Biman Nath, who could not be present at the launch due to prior commitments, is an astrophysicist at the Raman Research Institute. His research interests include the evolution of galaxies and the interaction of galaxies with diffuse gas in the universe. He is interested in the popularization of science and has published several books and articles in Bengali and English.
When asked earlier what inspired him to write this book, says, Bhabha has left a rich legacy in Indian science that enriches us even today. He recognised what India needed to gain a foothold in world science in its post-Independence era and had the determination to push through his ideas. The rare combination of calibre and confidence in Bhabha made him the icon that he was, and this is what makes us look back at his life and work even after half a century of his passing away.
Professor Nirmal Kanti Bhattacharjee concluded and thanked everyone in the audience and the authors to make time to attend the event.
About the Publisher

An internationally acclaimed publishing house, Niyogi Books, established in 2004, has more than 500 titles today. We not only specialize in textual context but also strive to give equal importance to visuals. We purvey a wide range of content on art, architecture, history, culture, spirituality, memoirs, and every aspect, which connects with our rich heritage. Under our umbrella, we have fiction and non-fiction that cover books on social science, cookery, and self-help as well as English Translations of modern classics from different Indian languages. Niyogi Books have launched four new Imprints: Olive Turtle (English fiction), Thornbird (English Translation from Indian Languages) and Paper Missile (English non-fiction), and Bahuvachan (Hindi Translation: Fiction & Non-Fiction). Also, we have co-published a number of critically acclaimed books with reputed institutions like the British Library, Rietberg Museum Zurich, IGNCA, National Gallery of Modern Art, and Ministry of Culture (Govt. of India), National Manuscript Mission, Sahitya Akademi, among many others.
With an aim to provide fun reading to children and young adults, Niyogi Books will be launching its youngest imprint Perky Parrot in November 2022. Our aim is to inform, educate and entertain a new generation of book lovers.
Niyogi Books' commitment to serve everyone better has prompted us to open our first outlet at the heart of a well-known book centre in Kolkata.