Bodour Al Qasimi emphasizes the importance of changes in Publishing to face the future
on
Apr 12, 2022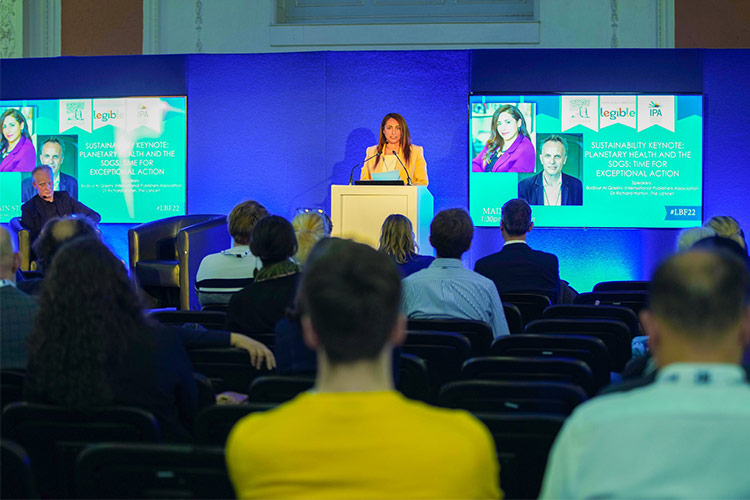 Among the key issues addressed by Bodour Al Qasimi, President of the International Publishers Association (IPA), during her discussions with industry stakeholders at the recently concluded London Book Fair were the roles of publishing, and more broadly culture, in achieving lasting peace during times of global conflict (LBF 2022).
The President of the International Publishers Association also discussed how publishers and the broader publishing ecosystem are uniquely positioned to drive progress toward achieving the United Nations Sustainable Development Goals set out in the 2030 Agenda (UN SDGs).
Delivering a keynote at a discussion organized by Publishers Association UK, titled The Role of Publishing and Culture during Global Conflict, Bodour Al Qasimi highlighted that during times of conflict, IPA sees its role as most effective in working with member publishers to build their resilience, ensure freedom to publish, and support them as they play a pivotal role of keeping books accessible to readers, especially out of school children and refugees.
Furthermore, she highlighted the role of publishers as peace builders and community healers as they mobilize resources to keep books in the hands of readers and rebuild institutional collections.
Alongside discussing the role of the global publishing community as agents of peace, IPA also leveraged LBF's prestigious global forum to turn the world's attention on how the sector can be a key catalyst for driving progress to accomplish the 2030 UN Sustainable Development Goals (UN SDGs).
At one of the three-panel sessions jointly organized by the IPA and Elsevier, Bodour Al Qasimi underlined ways publishers can contribute practically and effectively to achieving the UN SDGs – not just for humans but the planet.
The IPA, she said, was going beyond words to action, to promote sustainable publishing through initiatives like the SDG Publishers Compact, which recently passed the milestone of attaining 200 signatories.
Bodour Al Qasimi also shared insights from the IPA's recently held INSPIRE Symposium, noting that participating industry experts agreed that tangible progress on sustainability was a supply chain-wide effort that required commitment from all value chain participants.
The IPA president delivered the keynote speech and welcomed LBF's global audience. during the opening ceremony of the book fair, The recently-concluded book fair which ran its 49th edition from April 5 -7, hosted Sharjah as its Market Focus.
Earlier, the Emirates Publishers Association (EPA) marked its presence at the London Book Fair, where Sharjah was celebrated as "Market Focus" - the first representative of an Arab city to receive this honour, with a standalone stand featuring the works of three prominent publishing houses in the UAE: Kalimat, and Liberty Education United Kingdom - UAE Branch. As well as the wide participation of workers in the field of copyright and copying, content creation and publishers from all over the world.
Recently, Bodour Al Qasimi, said: "We believe that books go a long way towards helping countries and cultures understand each other, and they are needed now more than ever. In times of peace, books have a powerful uniting force. But, in times of conflict, books are even more critical in fostering hope, supporting reconciliation, and cementing peace."
"Indeed, the world needs more books, not bombs", she emphasized.
Bodour also expressed her pride in representing her home city on LBF's platform, where Sharjah is at the center of global attention as a Market Focus. "This is an opportunity to share our homegrown talent and culture, and demonstrate our love for books and their power to build bridges."
In the keynote speech, Sheikh Fahim Al Qasimi said: "We have spent the better part of five decades building out the vision of His Highness Dr Sheikh Sultan Bin Muhammad Al Qasimi, Supreme Council Member and Ruler of Sharjah to design our city as a hub of reading, culture and publishing, and shape a knowledge economy rooted in the consolidation of Arabic literature's place in the world. Today, we reap the fruits of these efforts with honours like the one we've been offered here – to showcase our cultural leadership and achievements in publishing as the London Book Fair Market Focus."