Bhagvad Gita: The Story Way
on
Apr 11, 2022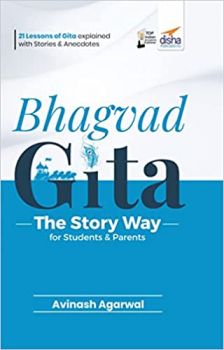 'Bhagvad Gita: The Story Way', in a nutshell, is India's
Biggest Bestseller, Retold in a Fun Way with the help of stories and anecdotes!
Bhagvad Gita, the essence of all spiritual knowledge, offers an unbiased perspective of major truths of life as well as of the universe.
But most of the readers are quite apprehensive about picking up the Gita, as it encompasses a mammoth reading with meanings hard to grasp and even more difficult to implement.
This book is a humble attempt at simplifying the profound knowledge contained in it.
The book explains the key lessons of the Bhagvad Gita with the help of stories, anecdotes, and real-life experiences. To make it further relevant and easy to implement for students, each lesson is followed by 'Student Takeaways' and 'Points To Ponder'.
Additionally, the book aims at instilling the spirit of courage, determination, and hard work in readers, so that they can take on the challenges of life head-on and be thankful to the mentors who helped them on their way to success.
To buy this book, click here