Chitra Banerjee Divakaruni
Chitra Banerjee Divakaruni
on
Aug 19, 2019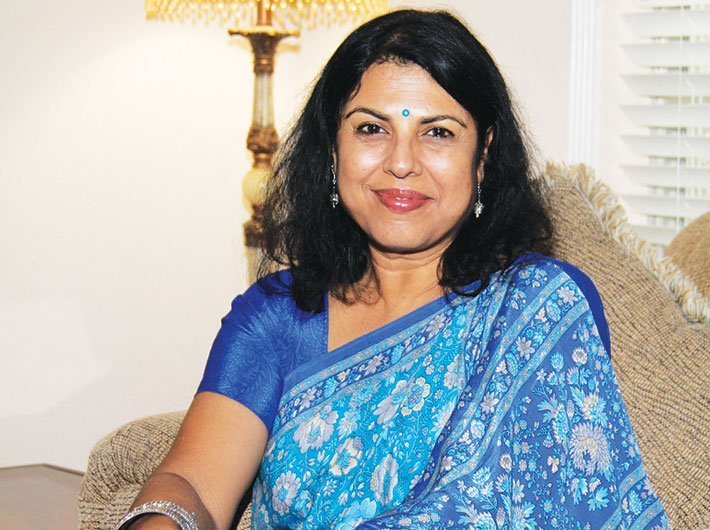 About
Chitra Banerjee Divakaruni (born Chitralekha Banerjee, July 29, 1956[2]) is an Indian-American author, poet, and the Betty and Gene McDavid Professor of Writing at the
University of Houston
Creative Writing Program. Her short story collection, Arranged Marriage won an American Book Award in 1995, and two of her novels (The
Mistress of Spices
and
Sister of My Heart
) as well as a short story The Word Love were adapted into films. Mistress of Spices was short-listed for the Orange Prize. Currently, Sister of My Heart, Oleander Girl, Palace of Illusions, and One Amazing Thing have all been optioned to be made into movies or TV serials. Divakaruni's works are largely set in India and the United States, and often focus on the experiences of South Asian immigrants. She writes for children as well as adults and has published novels in multiple genres, including realistic fiction, historical fiction, magical realism, myth and fantasy.
Work
Fiction and poetry
Divakaruni's work has been published in over 50 magazines, including The
Atlantic Monthly
and
The New Yorker
and her writing has been included in over 50 anthologies including the
Best American Short Stories
, the
O. Henry Prize Stories
, and the
Pushcart Prize
anthology. Her fiction has been translated into 29 languages, including Dutch, Hebrew, Indonesian, Bengali, Turkish and Japanese. Divakaruni began her writing career as a poet. Her two latest volumes of poetry are Black Candle and Leaving Yuba City. She won several awards for her poems, such as a Gerbode Award, a Barbara Deming Memorial Award and an Allen Ginsberg Award. Divakaruni's first collection of stories Arranged Marriage, which won an American Book Award, a PEN Josephine Miles Award, and a Bay Area Book Reviewers Award, greatly increased her visibility. Her major novels include The Mistress of Spices, Sister of My Heart, Queen of Dreams, One Amazing Thing, Palace of Illusions, Oleander Girl and Before We Visit the Goddess. Although the greater part of her novels are written for adults, she has also written a young adult fantasy series called The Brotherhood of the Conch which, unlike many of her adult novels, takes place wholly in India and draws on the culture and folklore of that region. The first book of the series, The Conch Bearer was nominated for the 2003 Bluebonnet Award. It was listed in the Publisher's Weekly Best Books of the Year, Book list Editor's Choice, Pacific Northwest Young Reader's Choice Award Master List and the Rebecca Caudill Award Master List. The second book of the series, The Mirror of Fire and Dreaming came out in 2005 and the third and final book of the series, Shadowland, was published in 2009. Divakaruni's novel The Palace of Illusions, was a national best-seller for over a year in India and[9] is a re-telling of the Indian epic The Mahabharata from Draupadi's perspective.[10] Her book The Palace of Illusions has also been included among a list of 12 books of Indian authors you must read now released by Indiatimes.
Film, television, theater and opera
Divakaruni's novel The Mistress of Spices was released as a film of the same name in 2005. It was directed by Paul Mayeda Berges, with a script by Berges and his wife, Gurinder Chadha. The film starred Aishwarya Rai and Dylan McDermott. In addition, her novel Sister of my Heart was made into a television series in Tamil and aired in India, as Anbulla Snegithiye (Loving Friend). Her story Clothes from the collection Arranged Marriage was adapted into a play and performed by the Sacramento Theater Company in 2010 and won an award. It is being performed in May 2006 by Ryerson University in Toronto. In 2013 Divakaruni wrote a chamber opera for the Houston Grand Opera titled River of Light about the life of an Indian woman in Houston. It was performed by Houston Grand Opera (HGOCo) in 2014 and received excellent reviews. It was performed by Festival Opera in the San Francisco Bay area in 2015. Her novel One Amazing Thing has currently been optioned by the Hollywood production company Gillen Group. Source: 
https://en.wikipedia.org/wiki/Chitra_Banerjee_Divakaruni