Dr. Stuart Ledwith
Dr. Stuart Ledwith
on
Jan 14, 2021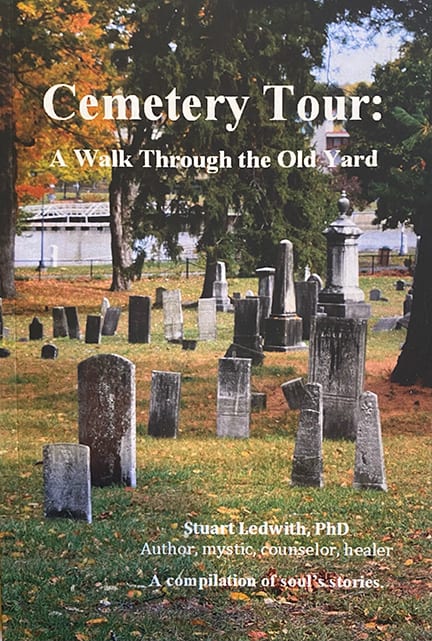 As a baby, Dr. Stuart Ledwith shared a room with his great-grandfather. After his great-grandfather died when Ledwith was 2, Ledwith said he could still communicate with him.
"It's a gift and a curse at the same time. I have a sense of knowing. Souls have it and that's how souls communicate," said Ledwith, who is a counselor, healer, painter, author and mystic.
A Vietnam veteran who has suffered several strokes, Ledwith said he finds reading difficult, but he is a prolific writer. He has written several books in the voices of souls — or ghosts — from religion and history, from John the Baptist and Mary Magdalene to Sarah Tarbell, an ancestor of Ledwith's who was abducted by Akwesasne Mohawks in Massachusetts in 1710. He recently released "Cemetery Tour: A Walk Through the Old Yard," which tells the tales of people buried in Riverside Cemetery. Staying at home during the pandemic gave him plenty of time to work on the book.
"I was in literal hibernation here. Riverside Cemetery is almost across the road from me," he said.
Strolling through the cemetery, Ledwith said he asked the spirits there if they would like to be in a book.
"I couldn't catch anything from them," he said with a nod to the pandemic. "I had been writing so many deep things — the last two books were just so deep and heavy — [I wanted to write] a nice, light read."
Ledwith began work on the book in April 2020 and released it Oct. 31, 2020.
Talking with his subjects, Ledwith said, is "just like I'm chatting with you — no different."
"Sometimes I see them. I suppose if other people would see them, they would call them a ghost," he said, adding that the souls appeared to him as their younger selves dressed in the fashions of their times.
"All of the souls in this book had memories of different names for Baldwinsville: Baldwin's Crossing, Baldwin's Bridge. I've read a couple of historians' views on Baldwinsville and some of it matches, some of it doesn't," he said.
The accounts in "Cemetery Tour" might not necessarily match up to the historical record, but Ledwith said he wanted to bring his readers "a little bit of what the American dream used to look like for foreigners" and some "lightness of soul" during difficult times.
"I want people to feel uplifted … especially in these dark times of COVID and fear," he said. "I would like them all to stay well and healthy … by wearing their masks. I've lost too many friends this year. I don't want to lose any more."
"Cemetery Tour: A Walk Through the Old Yard" and Dr. Stuart Ledwith's other works are available for purchase on Amazon.
Source: Eagle News Online