Devdutt Pattanaik
Devdutt Pattanaik
on
Aug 28, 2019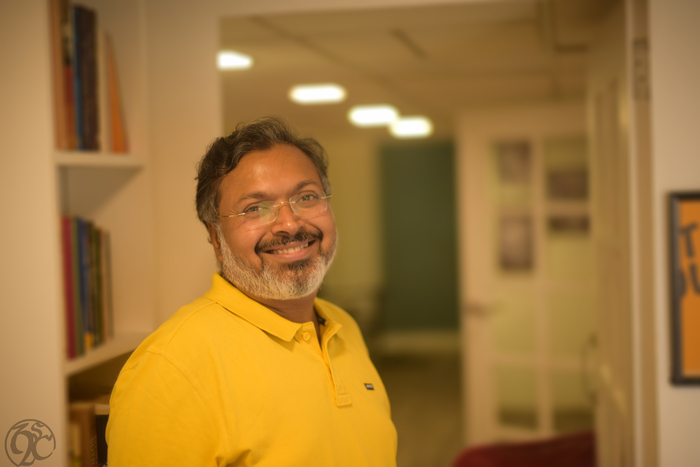 About Devdutt
Devdutt Pattanaik writes on relevance of mythology in modern times, especially in areas of management, governance and leadership. Trained in medicine, he worked for 15 years in the healthcare and pharma industries before he focused on his passion full time. He is author of 41 books and over 1000 columns, with bestsellers such as My Gita, Jaya, Sita, Business Sutra and the 7 Secret Series. He was a speaker at TEDIndia 2009 and spoke on Myths that Mystify, East versus West. His TV shows include Business Sutra on CNBC-TV18 and Devlok on Epic TV. He consults organisations on culture, diversity and leadership and also consults various television channels and filmmakers on storytelling.
Myth and Mythology
He opines that "no society can exist without myth as it creates notions of right and wrong, good and bad, heaven and hell, rights and duties". To him, mythology tells a people how they should see the world... Different people will have their own mythology, reframing old ones or creating new ones. His desire is to get Saraswati out of the closet. Saraswati belongs everywhere, she has to flow everywhere and his body of work is aimed to make knowledge accessible.
Business
Devdutt believes that leadership is about paying attention to the other, and enabling people not to mimic or pretend, but to be genuine/authentic about their fears. If a leader cannot sense fear in people around him, if a leader feels good when people around him are frightened into pretending, there is a problem. Power flows towards the leader or, rather, boss rather than towards the organization. In his book, Business Sutra: An Indian Approach to Management[, "the central theme … is that when individual beliefs come into conflict with corporate beliefs, problems surface in organisations. Conversely, when institutional beliefs and individual beliefs are congruent, harmony is the resultant corporate climate. It is when people are seen as mere resources meant to be managed [read manipulated] through compensation and so-called motivation; it is when they are treated like switches in a circuit board; it is then that disharmony descends causing disruption."
Fiction
Devdutt distinguishes between mythological fiction and mythology. He notes that mythological fiction is very popular as it is fantasy rooted in familiar traditional tales. Mythology itself is about figuring out world views of cultures, essentially how people think in a particular cultural ethos. "Most writers I know focus on mythological fiction. Study of mythology still remains rather academic," Pattanaik told IANS in an interview.
Performing Arts
Focusing on Natyashastra, a Sanskrit Hindu text on the performing arts written by Bharata Muni, Devdutt has answered questions on the origins of the text and why it was referred to as the Panchama Veda. "By dancing, Hindu Gods differentiated Hindu faith, they drew attention to time, space, rhythm, vibration and body," explains Pattanaik. He notices dance as part of religion. He speaks of how, over the years, the general gaze of looking at dance and dancers has changed. He states, Calling someone naachnewali or naachnewala has become a way of putting them down. We need to understand that dance is about seduction. For me, the story of Lord Vishnu taking the form of Mohini and dancing to seduce Bhasmasura is one of the most powerful stories. We don't understand that the story of Natraj also relates to seduction. But somehow, the word seduction has taken a negative connotation now. Through dance, we can understand a lot about Indian culture, history, geography and more. It's about time we did that.
Political Stance
Devdutt is known to avoid partisan views and points to the strengths and weaknesses of the Left and the Right, the secular as well as religious, the capitalists and the communists, the patriarchs and the feminists, as indicated on his many articles on beef ban, vegetarianism, and Ramayana. He is wary of the influence of 'white saviours' on liberals as well as religious radicals. He has been rather contemptuous of the hyper-nationalism of a section of American Hindus who are clueless about Indian realities. He also frowns on secularists and atheists who deny their own missionary zeal and mythic structure, and see themselves as 'rational'.