Amrita Pritam
Amrita Pritam
on
Aug 23, 2019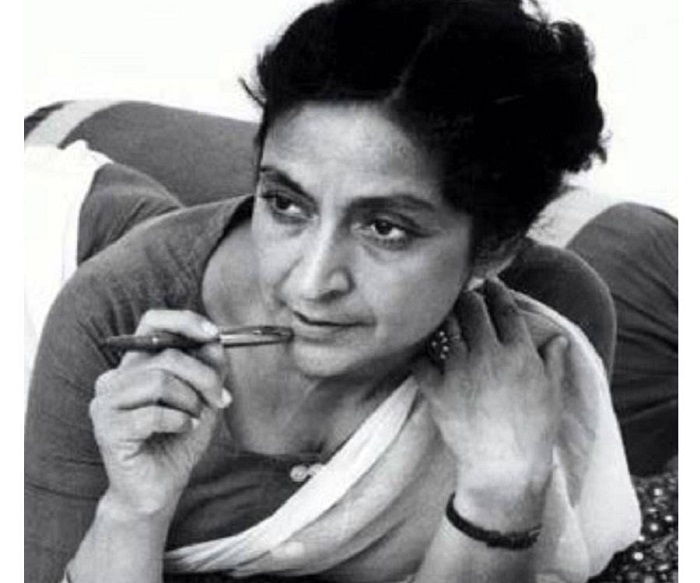 About
Amrita Pritam was an Indian maverick writer and poet. She is considered the first eminent female Punjabi writer, novelist and poet of the 20th century. Her writing is equally loved by the people of India and Pakistan. In her over 6 decades long career, she produced over hundred works, including poetry, essays, novels, biographies, etc. She was honoured with prestigious awards like the 'Sahitya Akademi,' 'Bharatiya Jnanpith,' and 'Padma Vibhushan' among many others. One of her most famous novels titled 'Pinjar' was made into a movie of the same name. She also penned an autobiography, in which she expressed her audacity by writing about her personal life, which might be considered 'controversial' by many, even in contemporary India. Amrita Pritam is most remembered for her poem, 'Ajj aakhaan Waris Shah nu.'
Childhood & Early Life
Amrita was born Amrit Kaur on August 31, 1919, in Gujranwala, Punjab. She was born into a Sikh family to Raj Bibi, who worked as a teacher at a local school and Kartar Singh Hitkari, who worked as the editor of a literary journal. Kartar Singh Hitkari was a respected man as he served as a preacher during his free time, apart from being an esteemed scholar. Though born into a traditional Sikh family, Amrita lost faith in God at the age of 11, when her mother Raj Bibi passed away. After her mother's demise, Amrita moved to Lahore, where she was raised by her father. Post her mother's death, Amrita found solace in writing and began to write at a very young age. She became a published writer in 1936, when she was barely 17 years old. After releasing her maiden anthology of poetry titled 'Amrit Lehran' (Immortal Waves), she went on to publish at least six more collections of poems from 1936 to 1943. The loss of her mother turned her into a strong and independent woman, who expressed audacity in her writing. Not surprisingly, she joined the 'Progressive Writers' Movement' to inspire people through her literary works. The movement was started in pre-partition British India and the members were mostly left-oriented and anti-imperialistic. Subsequently, she came up with a collection of works 'Lok Peed' (People's Anguish) in 1944, which criticized the British Raj for the 'Bengal famine of 1943' and the then war-torn economy of the country. She was also an active member of many non-profit organizations, which worked towards charity. Apart from inspiring people through her literary works, Amrita also chose to connect with people directly by working in the 'Lahore Radio Station' for a brief period, before the partition of India, in 1947.
Facts
Birth:
 31 August 1919
Place:
 Gujranwala, British India
Death:
 31 October 2005
Place:
 Delhi, India
Profession:
 Writer
Father:
 Kartar Singh Hitkari
Mother:
 Raj Bibi
Spouse:
 Pritam Singh (divorce 1960)
Partner:
 Imroz
Children:
 Navraj Kwatra and Kandala
Awards & Honors
Amrita Pritam was honoured with a number of prestigious awards in her illustrious career.
Punjab Rattan Award
 – Amrita became the first recipient of this prestigious award, given by the government of Punjab. This award is given to achievers in the field of art, literature, science, technology, culture, and politics.
The Sahitya Akademi Award
 – In 1956, Amrita Pritam became the first woman to receive the 'Sahitya Akademi Award' for one of her poems titled 'Sunehade' (Messages). 'Sunehade' is considered to be her magnum opus.
Bhartiya Jnanpith Award
 – Amrita received the 'Jnanpith Award,' considered as India's highest literary award, in the year 1982. The award was bestowed upon her for one of her books titled 'Kagaj te Canvas.'
Sahitya Akademi Fellowship
 – In 2004, the 'Sahitya Akademi' (Indian National Academy of Letters) bestowed upon her 'Sahitya Akademi Fellowship,' the highest literary award given by the academy.
D.Litt. Honorary Degrees
 – In 1973, the 'Jabalpur University' and the 'Delhi University' bestowed upon her D.Litt. honorary degrees for her contribution in the field of literature. In 1987, she received the D.Litt. honorary degree from the 'Vishwa Bharati University.'
International Recognition
 – In 1979, the Republic of Bulgaria honored her with the 'International Vaptsarov Award,' named after a Bulgarian poet and revolutionary. The French Government recognized her works in 1987, when she received 'Ordre des Arts et des Lettres.' She was also honored by Pakistan's 'Punjabi Academy' during the later stages of her career.
Padma Awards
 – In 1969, she received India's fourth highest civilian award – Padma Shri – for her contribution towards arts and literature. In 2004, she was honored with Padma Vibhushan, the country's second highest civilian award.
Personal Life & Legacy
Amrita was betrothed to Pritam Singh, the son of a wealthy businessman from Lahore. The wedding took place in 1935, when Amrita was still in her mid-teens. In her autobiographies, which were written years after her wedding, Amrita confessed that she did not have a healthy relationship with her husband and that her marriage was an unhappy experience.
In 1944, she met Sahir Ludhianvi, a fellow poet, who would later turn into a prominent film lyricist. Though she was already married to Pritam Singh, Amrita was strongly attracted to Sahir, the reminiscence of which she would later write down in her autobiography 'Rasidi Ticket.' She finally left her husband Pritam Singh in 1960, when her fascination for Sahir had reached its peak. However, Amrita always knew that it was almost impossible for her to establish a workable relationship with Sahir Ludhianvi. Amrita later found love through Imroz, a prominent artist and writer. Though the couple never officially married, they spent more than four decades together. Amrita became the inspiration for some of his paintings and he would design the front cover of all her books and novels. Their love life was immortalized through a book titled 'Amrita Imroz: A Love Story.' During her illustrious career, Amrita penned a total of 28 novels, 18 anthologies (prose), 16 miscellaneous volumes of prose, and five short stories. Many of her works continue to serve as an inspiration to many. Many of her works have been adapted into films. In 2007, eminent Indian lyricist Gulzar released an album, which was basically a collection of Amrita Pritam's poetry recited by Gulzar. Amrita passed away on October 31, 2005, in New Delhi. At the time of her death, she was survived by her long-time partner Imroz, her daughter, Kandala, and son, Navraj Kwatra (later murdered in 2012), and her grandchildren Aman, Noor, Taurus, and Shilpi.