A Dazzling Literary Event Muktadhara 2023 Struck the Right Chord with the Book Lovers of the City
Exceller Books Hosts Literary Talk, Book Launch, Poetry Readings & More in the Distinguished Presence Actor, Filmmaker, Social Reformer & Journalists
on
May 26, 2023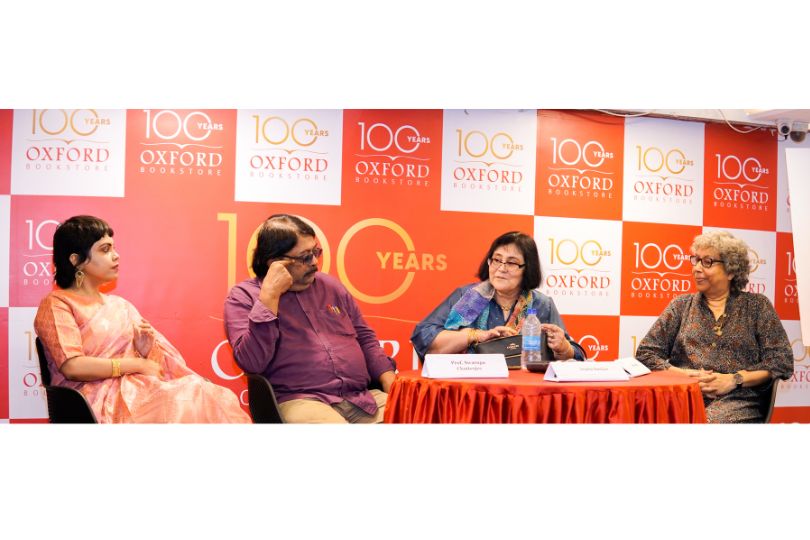 Like last year, the literary event' Muktadhara 2023: A Tribute to Tagore by Exceller Books' reeled in huge love and appreciation from just about everyone. Kolkata-based global publisher Exceller Books initiated the event to celebrate the birth anniversary of India's most notable literary and cultural icon, R. N. Tagore. Dignitaries assemble to discuss 'Freedom of Thought and Expression' as engraved in Tagore's work and life. Century-old book hub and also a collaborator of the event, Oxford Bookstore was throbbing with luminaries, literary enthusiasts, and culture buffs who lent the event its warmth and glory.
In his opening speech, Dr. Sudipta Kumar Ghosh, Founder & Chief of Exceller Books, said, "Freedom of thought also means imbibing in us the ability to appreciate others beyond the boundary of nation-caste-race. The Multicultural osmosis that Tagore talked about is still relevant in this era." Surrounding us on this warm celebration of Tagore's 162nd birth anniversary were renowned journalist and ex-sheriff of Kolkata, Mr. Utpal Chaterjee, national award-winning filmmaker Asoke Viswanathan, whose erudite words filled us all with happiness, wisdom, and enthusiasm. The publisher also conferred the 'Tagore Samman 2023' on a few eminent personalities for their spectacular contributions in their respective fields. And the list contains - Sujata Sen, CEO of Future Hope, India; Pew Roy, renowned journalist; Rahul Banerjee, eminent actor; Debolina Dutta, national award-winning actress, and Prof. Swarupa Chatterjee, distinguished educationist.
No time seems more fitting than this glorious evening for launching two anthologies - 'A Place Called Utopia,' 58 poetic utterances voicing the need to break free from a world tainted by dark ambition, power, and greed. 'A Feeling Called Hope,' featuring a collection of 42 poems and 16 illustrations by the children of Future Hope, India, and GEMS Modern Academy, Dubai. In her address, Ms. Anjita Ganguly, the Co-founder of Exceller Books, rightly points out, "Both these books resonating Tagore's philosophy inspire us to dream for a better tomorrow."
The event was taken to a new height with a stimulating poetry-reading session by some notable poets of the time and the children of Future Hope, India. Their performance left an indelible mark on the audience. The radio partner of the event was 92.7 Big FM.