5 Books to Read by Vish Dhamija
Do you love reading thrillers and police procedurals? You must have heard Vish Dhamija's name for sure. Here are a few recommendations for thriller lovers who should fasten their seat belts and enter a world where the law is perplexed and concluding seems impossible.
on
Jul 20, 2022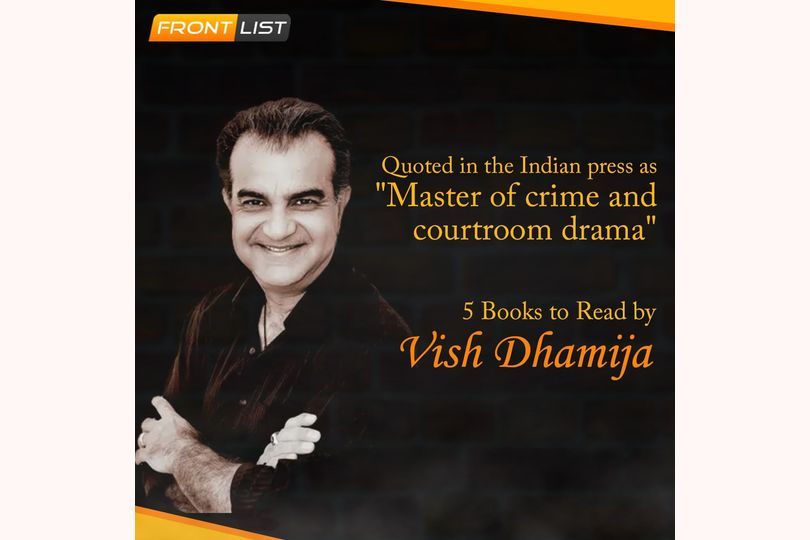 Best-selling author Vish Dhamija has made a name in the crime thriller genre and is the only Indian-origin writer listed among the prominent legal thriller authors of the world. His work stands out from the rest because, besides creating engaging storylines, his characters are multi-layered and relatable, which isn't seen much in the genre.
To familiarise yourself with his works and dive into the world of crime and legal thrillers, here are 5 books by Vish Dhamija which are guaranteed to keep you hooked till the last page.
DCP Rita Ferreira Series (Bhendi Bazaar, Doosra, Lipstick)
The trilogy features Rita Ferreira, a police commissioner in Mumbai, who is assigned to solve murder cases related to each other. This book does a brilliant job of making the reader guess what would happen next. Also, the main protagonist being a woman in a male-dominated field of police is a unique concept seen in both fiction and reality. The book series has been noted for its ingenious plot and rich characters by many critics and is Dhamija's most popular one so far.
Nothing Else Matters
Released in 2010, Nothing Else Matters is Vish Dhamija's debut novel involving the underworld in the crime thriller genre. Luv, an assassin, is tasked to kill someone who is seen accompanied by his ex-girlfriend from college, Zoya Merchant. He is then revealed to be his husband and promises to save his life despite the risk of the mafia. Alternately moving between the past and present, this is a heart-breaking romance of a love that never dies with its flawed characters and crime setting, making it an engaging read.
Deja Karma
Jay Singh, the best defence lawyer in New Delhi, never loses a case – until he gets this one that can destroy him. Deja Karma is about him fighting a life-and-death situation in his career and his past, which continues to haunt him today. Unlike lawyers in Bollywood movies, he is anything but honest and perfect with his inner demons and dishonest nature, making him a unique and interesting personality. This book is a must-read for all crime lovers.
Prisoner's Dilemma
Vish Dhamija's Prisoner's Dilemma is about best friends, Bipin Desai and Anuj Shastri, who rob a van full of cash but get arrested later with the money nowhere to be found.
The officer-in-charge, Senior Inspector Arfy Khan, has only forty-eight hours to make them confess to their crime by convincing one of them to go against the other, testing their friendship.
Based on the classic theory of Prisoner's Dilemma, this book is a page-turner with a curiosity about what would happen in the end and whether the case would get solved or not, along with the past of the characters revealed adding to the story.
Cold Justice
His latest novel, Cold Justice, is about a lawyer Akash Hingorani who one day gets a call of help from Shilpa, a judge, and his ex-lover, who gets arrested at the crime scene and gets charged with first-degree murder. With his friend and fellow lawyer Vansh, they jointly take up the case but get pitted against one of the sharpest prosecuting brains in the country, Ravi Nanda, to reach a seemingly impossible verdict.
As per reviews by critics, this book is said to be a gripping, heart-stopping novel and delves into a murky and sinister situation that is assured to keep you grabbed to your seat, just like his previous works.
Conclusion
Considered to be India's John Grisham, his works are a fresh breath in India's literary space with his crime genre books set in India. Readers can enjoy the suspense and mystery of a crime thriller genre in an Indian setting with his works which capture brilliant writing and interesting characters guaranteed to win the hearts of the readers.