15 New Books to Watch For in April
15 New Books to Watch For in April
on
Mar 26, 2021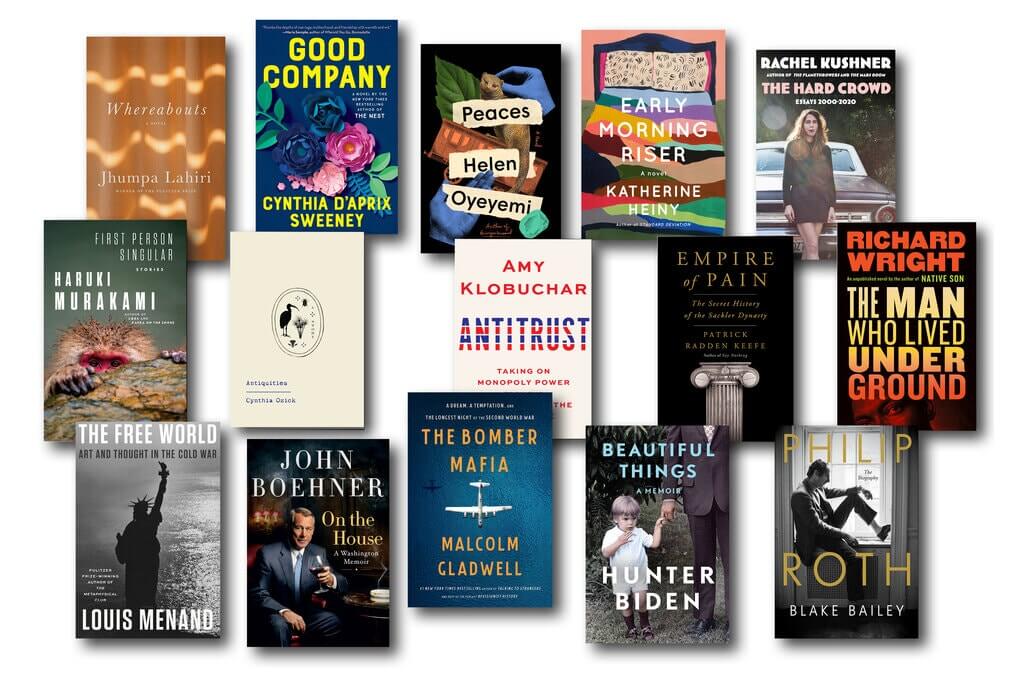 Dive into a long-awaited biography of Philip Roth, an exposé of the Sackler family and novels from Cynthia D'Aprix Sweeney, Jhumpa Lahiri and Katherine Heiny.
'Antiquities,' by Cynthia Ozick (Knopf, April 13)
It's 1949 and Lloyd Wilkinson Petrie has set out to write a memoir of his years at the Temple Academy for Boys. As he grapples with his fading memories, he focuses on a former classmate, Ben-Zion Elefantin, and on his own fascination with archaeology.
'Antitrust: Taking on Monopoly Power From the Gilded Age to the Digital Age,' by Amy Klobuchar (Knopf, April 27)
Klobuchar, the senior senator from Minnesota, is the chair of the Senate subcommittee overseeing antitrust enforcement. Here she gives a sweeping look at the history of antimonopoly laws in the U.S. and outlines a plan to better enforce the fight against monopolies, particularly those in the tech and pharmaceutical industries.
'Beautiful Things: A Memoir,' by Hunter Biden (Gallery Books, April 6)
Biden's younger son tells his story of addiction and sobriety — and the relentless scrutiny of growing up in the public eye. He doesn't hold back details of his family life, including his relationship with his older brother's widow, is candid about his lowest lows and offers a peek at his life in Los Angeles, with a new wife and young child.
'The Bomber Mafia: A Dream, a Temptation, and the Longest Night of the Second World War,' by Malcolm Gladwell (Little, Brown, April 27)
Readers of "The Tipping Point," "Outliers," "Blink" and Gladwell's other books will recognize his approach in this account of the bombing of Tokyo in 1945. He focuses on two American generals — Haywood Hansell and Curtis LeMay — and how their differing approaches to air warfare left a profound military legacy. In his prologue, Gladwell mentions his personal connection — he lived in England as a child, surrounded by reminders of the war, which nurtured a lifelong obsession.
'Early Morning Riser,' by Katherine Heiny (Knopf, April 13)
It's 2002 and Jane, who has moved to a small Michigan town to teach elementary school, falls for a local woodworker: Duncan looked "like the Brawny paper towel man, and no less handsome." It feels like her new boyfriend has been involved with nearly every woman in town, and he's still on very friendly terms with his ex-wife. The novel follows them for over a decade, as their lives become more entwined and Jane puts down roots.
'Empire of Pain: The Secret History of the Sackler Dynasty,' by Patrick Radden Keefe (Doubleday, April 13)
The Sackler family and their company, Purdue Pharma, have played an outsize role in the opioid epidemic. Purdue, which recently pleaded guilty to charges related to the way it marketed OxyContin, will pay roughly $8.3 billion to settle the case; the Sacklers have agreed to pay civil penalties of $225 million. Keefe, a staff writer at The New Yorker and the author of "Say Nothing," a history of the Troubles in Ireland, examines the family's impact on American society and health.
'First Person Singular: Stories,' by Haruki Murakami. Translated by Philip Gabriel. (Knopf, April 6)
A man recounting a one-night stand and a monkey who steals the names from Tokyo residents are among the narrators of the eight stories collected here, by the author known for his novels "1Q84," "The Wind-Up Bird Chronicle" and "Norwegian Wood." You'll find meditations on baseball and jazz, along with Murakami's signature magical realist style.
'The Free World: Art and Thought in the Cold War,' by Louis Menand (Farrar, Straus & Giroux, April 20)
In his Pulitzer Prize-winning 2001 book, "The Metaphysical Club," Menand offered an intellectual history of America after the Civil War by looking at a group of men whose ideas and discussions helped shape American thought. Now, he focuses on the years after World War II through the Vietnam War, when American culture was exported more broadly to the world. "If you asked me when I was growing up what the most important good in life was, I would have said 'freedom,'" he writes. "As I got older, I started to wonder just what freedom is, or what it can realistically mean. I wrote this book to help myself, and maybe help you, figure that out."
'Good Company,' by Cynthia D'Aprix Sweeney (Ecco, April 6)
"The Nest," D'Aprix Sweeney's best-selling debut novel, followed four siblings bickering over an expected family inheritance. Now she tells the story of Flora, a voice actor in Los Angeles, who is upended after she finds her husband's wedding ring — the one he claims he lost years earlier — tucked in an envelope. The lie about the ring is, perhaps unsurprisingly, a sign of betrayal, and as Flora considers how to respond, the narrative revisits their early courtship, the years spent raising their daughter and the jealousy Flora feels toward her best friend, Margot, an actress in a hospital soap.
'The Hard Crowd: Essays 2000-2020,' by Rachel Kushner (Scribner, April 6)
"I am the one who lived to tell," Kushner writes in the title essay of this collection, which includes memoir, journalism and criticism from the past 20 years. As she moves from her rough-and-tumble adolescence in California to her musings on artists and writers like Jeff Koons and Marguerite Duras, the settings leap from a motorcycle race down the Baja Peninsula to a Palestinian refugee camp.
Must Read -
Top 10 novels set in villages
Vice President of India M Venkaiah Naidu launches book "Bringing Governments and People Closer"
Imogene Nix's erotic romance novels on love, sex and aliens to make Moon debut
'The Man Who Lived Underground,' by Richard Wright (Library of America, April 20)
This previously unpublished novel from the author of "Black Boy" and "Native Son" follows a Black man who is tortured by the police until he confesses to a crime he did not commit. "I have never written anything in my life that stemmed more from sheer inspiration," Wright said of the book.
'On the House: A Washington Memoir,' by John Boehner (St. Martin's, April 13)
In the folksy manner he honed over decades in Washington, the former speaker of the House shares memories from his time in government. Boehner opens with a golf-course anecdote about Donald Trump, years before he became president, and expresses dissatisfaction about the direction his party took.
'Peaces,' by Helen Oyeyemi (Riverhead, April 6)
Two lovers, Otto and Xavier, set out on a train voyage with their pet mongoose — and that's only the start of this vivid, magic-infused fairy tale. As the trip progresses, they realize their lives and histories are linked in ways they never could have imagined.
'Philip Roth: The Biography,' by Blake Bailey (Norton, April 6)
"I don't want you to rehabilitate me," Roth told his biographer. "Just make me interesting." Bailey obliged, and in this 900-page history, he delves into the artistic, intellectual and occasionally lurid private life of one of the country's most famous writers, tracing his childhood and five-decade career.
'Whereabouts,' by Jhumpa Lahiri (Knopf, April 27)
Lahiri — the Pulitzer Prize-winning author of "Interpreter of Maladies" and "The Namesake," among other books — moved to Rome in 2012 and immersed herself in Italian. She wrote this new novel, which follows an unnamed woman throughout her solitary life, in Italian and translated it into English herself.
Source: nytimes.com