Frontlist | 10 New Books We Recommend This Week
Frontlist | 10 New Books We Recommend This Week
on
Feb 05, 2021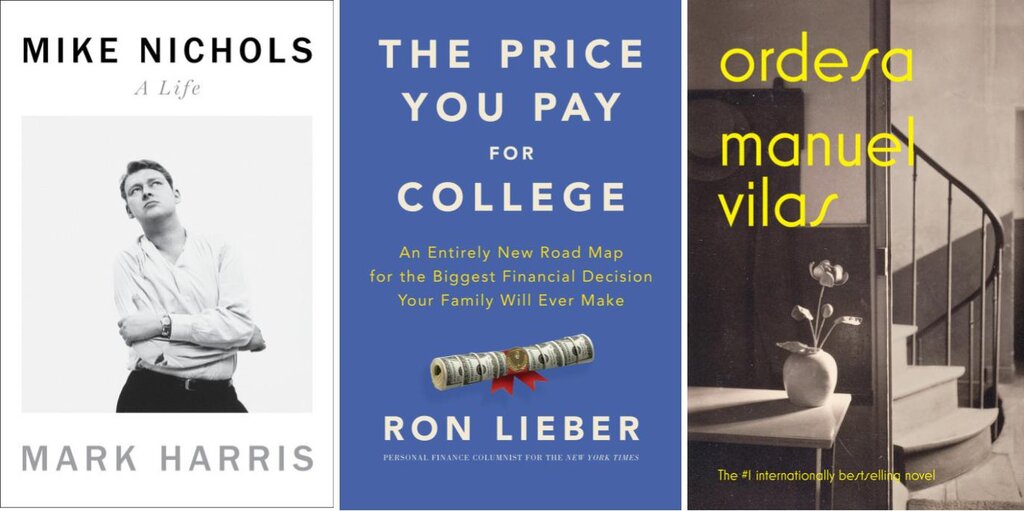 It's rare for a self-help book to crack our list of recommended titles. But Ron Lieber's guide to the financial side of higher education, "The Price You Pay for College," made the cut for a couple of reasons. First, on the face of it, it's an impressively thorough and genuinely useful manual for people staring up the sheer cliff of college tuition payments. (I am one.) Second, and more relevant for an audience of general readers, it also contains an implicit analysis and critique of higher education as a system, by acknowledging the inequities that exist at every level from recruitment to admissions to financial aid. It's a how-to book that will also make you think, "But why?"
Other books on the to-read pile this week: A biography of the renowned director Mike Nichols, a history of the ties between religion and economics, a look at culture's role in mental illness and a writer's celebration of learning new skills as an unabashed amateur. In fiction we suggest a gender-fluid story of love and parenthood, along with one novel from England, another from Spain, one set in Senegal and a story collection by the Irish writer Kevin Barry (whose novel "Night Boat to Tangier" was one of our 10 Best Books in 2019).
MIKE NICHOLS: A Life, by Mark Harris. (Penguin Press, $35.) The writer and director Mike Nichols first became famous for his improvisational comedy routines with Elaine May. His first two films were "Who's Afraid of Virginia Woolf?" and "The Graduate" — the first furious, daring and adult, the second zeitgeist-defining. He directed four consecutive hit plays at nearly the same moment. He became friends with people like Jacqueline Kennedy, Leonard Bernstein and Richard Avedon. Harris, the author of two previous books and also a longtime entertainment reporter with a gift for scene-setting, is "at his best" in this biography, our critic Dwight Garner writes, "when he takes you inside a production. His chapters on the making of three films in particular — 'The Graduate,' 'Silkwood' and 'Angels in America' — are miraculous: shrewd, tight, intimate and funny. You sense he could turn each one into a book."
TRIO, by William Boyd. (Knopf, $27.95.) An alcoholic novelist, a closeted film producer and a movie star with a terrorist ex-husband converge in this madcap novel set in 1960s England. It's a satisfying and entertainingly retro production, chock-full of subplots and buoyed by dotty humor. "It would be hard to think of a living novelist whose books encompass more history, more settings, more professions, more varieties of individual fate, than William Boyd — at least with anything like his assurance," James Lasdun writes in his review. "His new book, 'Trio,' delivers much of the same set of literary goods, with perhaps a lighter touch than usual."
THE PRICE YOU PAY FOR COLLEGE: An Entirely New Road Map for the Biggest Financial Decision Your Family Will Ever Make, by Ron Lieber. (Harper/HarperCollins, $27.99.) A comprehensive guide to the trying process of paying for higher education, Lieber's book explains in detail how to save money, apply for aid and bargain with colleges, all while carefully acknowledging the sometimes conflicting perspectives of the parties involved. "Understood as a self-help book, 'The Price You Pay for College' represents an extraordinary achievement," Daniel Markovits writes in his review. "It is comprehensive and detailed without being tedious, practical without being banal, impeccably well judged and unusually rigorous. But the main title hints at a sensibility deeper than friendly advice."
ORDESA, by Manuel Vilas. Translated by Andrea Rosenberg. (Riverhead, $28.) This meditation on midlife yearning and solitude is many other things: autofiction, something between a novel and poetry, a collage of memories and ancestry, a treatise on a changing country. The Spanish writer Vilas plumbs emotional depths, but with a light touch. "Despite the melancholy at its heart, this is ultimately a book of light — of sunlight streaming through Manuel's ghost-filled apartment, of magical summer holidays in a place called Ordesa in the foothills of the Pyrenees, of the lost paradise of his parents in the flush of youth," Anderson Tepper writes in his review. "'Ordesa' does, indeed, feel skittish and fragmentary, and that's also part of its charm."
THAT OLD COUNTRY MUSIC: Stories, by Kevin Barry. (Doubleday, $23.95.) Optimism and sorrow anchor the stories in this collection, where relationships take unexpected turns and characters befuddle one another and themselves. Barry's writing sparkles, as ever, moving speedily between pathos and humor to great effect. "The first two stories in the book feature most of Barry's emotional interests: yearning, hope, self-loathing, other-loathing, maybe just a dash more of hope, heartache, resignation," John Williams writes in his review. "It's a classically Irish palette, balancing the turfy and the moony."
RELIGION AND THE RISE OF CAPITALISM, by Benjamin M. Friedman. (Knopf, $37.50.) In this prodigiously researched and enlightening book, Friedman argues that if we are to understand the American capitalist system and modern economics, we have to look for their roots in early Protestant theology. Alan Wolfe, reviewing it, praises the depth of Friedman's analysis: "He covers not only the main thinkers in both economics and theology, but also the less-well-known ones who helped shape their thought. He can credibly discuss the philosophy of John Locke and the science of Isaac Newton. As one reads Friedman, words like 'magisterial,' 'masterpiece' and 'magnificent' floated through my thoughts."
BEGINNERS: The Joy and Transformative Power of Lifelong Learning, by Tom Vanderbilt. (Knopf, $26.95.) Jealous of all the new skills his child is learning, Vanderbilt decides to see what he is capable of picking up as an adult. Trying to gain some proficiency in chess, singing, surfing, juggling and drawing teaches him a lot about the process of acquiring new knowledge when your brain is not so flexible anymore. "As we spent most of 2020 increasingly cut off from the outside world, turning more and more to the easy diversion of the digital to compensate for the persistent sting of loss, 'Beginners,' which documents a time before the pandemic arrived, unintentionally provides a primer of sorts for re-engaging with life," Cal Newport writes in his review.
NOBODY'S NORMAL: How Culture Created the Stigma of Mental Illness, by Roy Richard Grinker. (Norton, $30.) Grinker shows how a society's needs and prejudices shape its approach to mental conditions, from the regrettable asylums and lobotomies of past centuries to the recent corporate trend of recruiting employees with autism. "Grinker makes an edgier point, too: that cultural circumstances — whether in combat or on a college campus — can influence how someone expresses psychological pain," Virginia Hughes writes in her review. "The book sings with the empathetic and authoritative voice of Grinker, whose studies have investigated how autism is perceived across the world."
DETRANSITION, BABY, by Torrey Peters. (One World, $27.) Following three central characters — a trans woman who wants a baby; her ex, a man who's recently detransitioned; and the cisgender woman he's impregnated — this debut novel suggests there are many different ways to be a parent, or a person. As "the characters shift in their desires and identities, we remain hooked on their every word," Ginny Hogan writes, reviewing the book alongside two other debuts. "Delivered with heart and savvy, their deliberations upend our traditional, gendered notions of what parenthood can look like. By the end of 'Detransition, Baby,' questions remain unanswered, but still the reader somehow feels satisfied."
Source: The New York TImes