Frontlist | Writing the Books You Needed as a Kid: Rajani LaRocca
Frontlist | Writing the Books You Needed as a Kid: Rajani LaRocca
on
Feb 04, 2021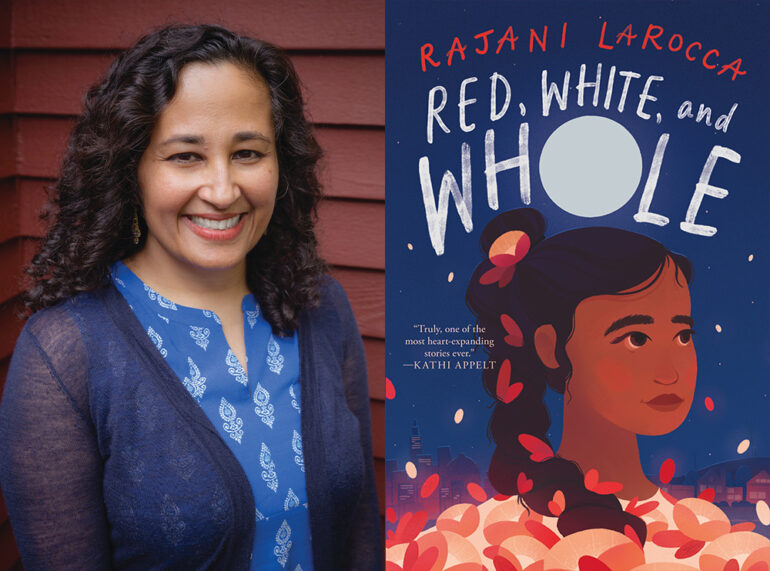 Rajani
LaRocca
's debut middle grade novel, MIDSUMMER'S MAYHEM (little bee books), was a Kirkus Best Book of 2019, an Indies Introduce Selection, and an Indie Next Pick. She has forthcoming picture books with Candlewick, Abrams, and Lee & Low. 
Rajani
 was born in India, immigrated to the U.S. when she was a baby, and grew up in Louisville, Kentucky. A graduate of Harvard College and Harvard Medical School, she practices medicine and lives outside Boston with her family. Rajani's new novel 
Red, White and Whole
 releases on February 2nd 2021. For as long as I can remember, I have always loved books. I was an early reader, and I read everything I could get my hands on, from novels to nonfiction to comic books to comic strips. When I was eight years old, I read a book called 
Ouch! All About Cuts and Other Hurts
, and it made me want to study medicine when I grew up.
In 4th grade, I went to my school library, closed my eyes, and spun around with a finger pointed. When I stopped, it had landed on The Westing Game by Ellen Raskin, which became the favorite book of my childhood, one that I read over and over. I loved the mystery and the sense of America being made of people from many different places. I loved the idea of a smart kid solving a puzzle that no one else could. Turtle Wexler, the braid-wearing, shin-kicking protagonist, was my hero.
I also loved almost everything written by Madeleine L'Engle—A Wrinkle in Time, for sure, but also her other books, including one of my favorites, The Arm of the Starfish, where I couldn't tell where the science ended and the science fiction began. In L'Engle's books, I loved the close families, the love of science and literature, and the sense that there's something greater than us at work in the world.
Every few years, my family and I would go to India for the summer, and I would get to spend time with my extended family, especially a big group of cousins who were all near my age. But my cousins' school schedules in India were different from mine, and they had to go to school while I was visiting. And so, during the day, when they were all at school, I would go to a local lending library and grab everything I could, especially Agatha Christie (although I had no idea how to pronounce any of the French words Hercules Poirot loved to toss around). I also loved Indian comics called Amar Chitra Katha that depicted stories from Indian mythology, history, and literature.
I read stories about Americans in America, and Indians in India. But I never found any books about Indian American kids like me. I kept loving books. During my years studying medicine and raising kids, books continued to be my lifeline when things were hard, and ways to celebrate when things were good. I loved how they made me laugh and cry and think, and I loved getting lost in them. And one day, as an adult, I finally saw something of myself and my experience reflected in a book: The Namesake by Jhumpa Lahiri. And that story touched me in a way nothing else had. So it won't surprise you to learn that I write books with mysteries and smart kids, science and speculative elements, families and friendship. But I also write about immigration, and trying to navigate two cultures, and missing family who live far away. Most importantly, I write about Indian American kids, kids like the one I used to be, at the center of stories—happy stories and poignant ones, stories where they feel different because of where their families come from, and stories where it's not really an issue, and they go off on grand adventures. I'm so fortunate to write for kids today—and for the kid I used to be. And kid me, if she knew, would be pretty pleased, I think.
Source: Nerd Daily