Women employees get appreciated for their contribution to the education sector
Women employees get appreciated for their contribution to the education sector
on
Mar 06, 2020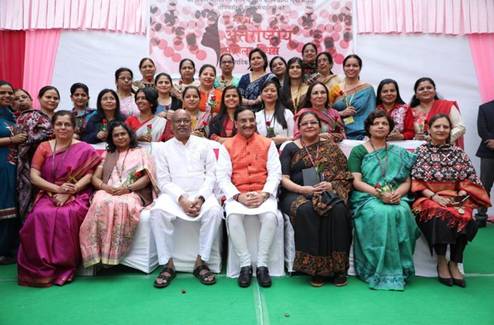 Shri Ramesh Pokhriyal, Union Human Resource Development Minister,
congratulated the women working in the ministry at the
International Women's Day celebration
event that took place on 3rd of March. He expressed his gratitude to all the women employees and appreciated their contribution and hard work for the education sector. Speaking on the occasion, Shri Pohkriyal said that the potential and abilities of the women are undeniable. They are skilled enough to balance both professional and personal life in an exceptionally easy way. He said that women have always been portrayed as the most powerful and supreme goddess in our history because of their ability to face any difficulty with ease. The Minister said that under the leadership of the
Prime Minister Shri Narendra Modi
, the government is taking various women-centric
policy measures for the empowerment of girls and women
. The female employees were overwhelmed with the felicitation by the HRD Minister
Shri Ramesh Pokhriyal.
Read More news of the industry at
Frontlist.in