Frontlist | Why attendance at DU colleges is under 40%
Frontlist | Why attendance at DU colleges is under 40%
on
Feb 11, 2021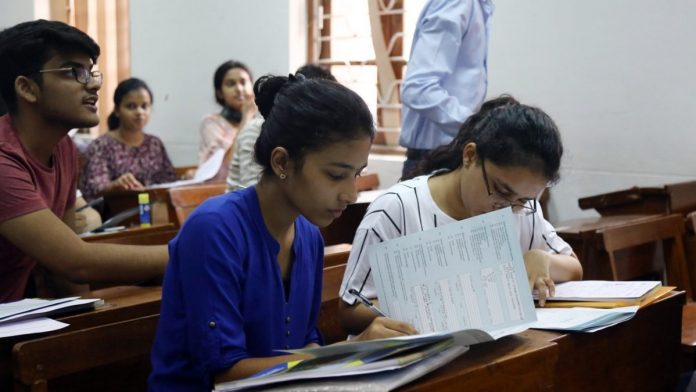 The reopening of Delhi University colleges for final-year science students — undergraduates as well as postgraduates — to finish their lab work has drawn a lukewarm response.
Many colleges at the premier central government university told that attendance has hovered at 10-40 per cent since the institutes reopened on 1 February.
Among the primary reasons, according to college administrations, is that students from other parts of India are still reluctant to return to Delhi. Many students are also said to be unwilling to juggle online and offline lessons, and prefer to stick to digital classes until colleges reopen in full swing. Along with schools and colleges across the country, Delhi University shut down in March 2020 as the Covid-19 pandemic took hold in India. Classes subsequently moved online to avoid disruptions in the academic calendar. While vaccination for Covid began in India last month, the vast majority of Indians likely face a wait of several months before they can access a shot. As a result, distancing still remains key to avoiding Covid-19 transmission. While some colleges have reopened for students, DU has currently only called back students who need to finish their lab work to complete their courses.
---
Also Read: 
Study points to learning loss due to Covid school closure
'Response has not been very good'
Anju Srivastava, the principal of Hindu College, said they started physical classes for social science and pure science students on 1 February but the attendance has only been 20 per cent. "Physical classes were resumed mainly for science students and we also opened it for social science students who need interactive sessions. The response has not been very good because a large student demographic is from outside Delhi," she told ThePrint. "For example, our Physics department has 100 students but only 15 of them, who are from Delhi, are turning up.
"We had prepared our online platforms very well, it seems like students have found the real-time online practical sessions more viable. A combination of online and offline classes is not something that students seem to be comfortable with," she added.
Asked about accommodation for returning students, she said the government has issued no standard operating procedure for reopening hostels. "Most of the rooms are shut in our hostels but students who chose to live there (during the Covid lockdown) haven't been asked to vacate yet, keeping in mind the need of the hour," she added. "Once some indication is given on hostel management, we will get our hostels cleaned and will create a plan for accommodation of students who turn up." Ramjas College Principal Manoj Khanna blamed the poor turnout on students being too afraid to come to Delhi yet. "Although the news of the vaccine has been encouraging, till the time there is an absolute reopening of colleges, I don't think students will return in big numbers," he said. At Swami Shraddhanand College in West Delhi, Principal Praveen Garg said, the attendance was about 20 per cent over the last one week. The response has been mixed at Deshbandhu College, but Principal Rajiv Aggarwal said he had a fair idea why one science discipline has an attendance of 80 per cent, while that for others is no more than 40 per cent. "Our Zoology department has seen an astounding 80 per cent attendance. Presumably, the reason for such a positive turnout is that most of the students in the batch are from Delhi," he added. "Our Physics, Chemistry and Botany departments have seen a 30-40 per cent attendance but we are expecting them to improve in the coming week," he said.
Hybrid model
At Delhi University, as in many other colleges around India, a "hybrid model" of education is in place to cater to online as well as offline classes. At Deshbandhu College, for example, professors have been instructed to take the help of non-teaching staff and set up workstations from which science experiments are broadcast live for students at home. "Professors first brief the students regarding the experiment, after which the students physically present set up online means for the rest of the students to view the experiment," said Principal Aggarwal. Principal Gyantosh Jha of Atma Ram Sanatan Dharam College (ARSD) said they have two faculty members present in every class. "We are making sure that online and offline learning happens in tandem. Our professors start a live broadcast of the lab classes so that students at home do not miss out. Theoretical classes are still happening via online means," he added. The fact that online classes are still available has been a godsend for many students. "My father lost his job during the pandemic. Earlier, I was living at a PG near my college. With limited finances, making the shift to another state is not a burden my family can afford," said a final-year science student who didn't want to be named. "And since the option of studying the material online is available, I am relying on it." Delhi University Students Union President Akshit Dahiya said a "lot of students living in other states do not feel equipped to come back yet". "The combined online and offline mode of instruction is not something they seem to be keen on. Most of them say they will come back either when the vaccine is rolled out or when colleges reopen fully," he added.
'Priority vaccination for teachers'
College principals across DU say teachers ought to be considered among frontline workers and thus accorded priority in Covid vaccination. Frontline workers — comprising security personnel, among others — are one of the four priority groups identified for Covid vaccination. The others are healthcare workers, those aged over 50 years, and those with comorbidities, irrespective of age. "College principals and professors have been going the extra mile to ensure that all means of education are up and running, even during the height of the pandemic," said Manoj Khanna of Ramjas College. "In order to build confidence among the teaching and non-teaching staff and students, it is important that we get vaccinated." Rajiv Aggarwal of Deshbandhu College said college principals are in the process of writing an official letter to the DU vice-chancellor on the issue. "We are in talks for writing to the vice-chancellor to include college teachers in the list of frontline workers eligible for the Covid-19 vaccine. We are hoping the conversation will be taken forward to the Ministry of Health and the Department of Higher Education," he added.
Source: The Print