Frontlist | What To See at the Virtual Edition of the Texas Book Festival
Frontlist | What To See at the Virtual Edition of the Texas Book Festival
on
Nov 06, 2020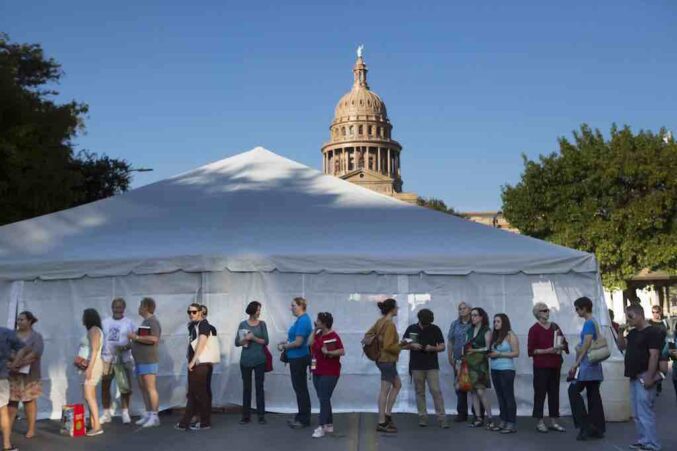 After months of coronavirus cancelations in the world of arts and entertainment, we've learned to look on the bright side. While it's a shame that the Texas Book Festival has to be held virtually this year, it's not so bad for bookworms who live in Dallas: the annual event, typically held in Austin at the Capitol and along Congress Ave., is now available for the entire Lone Star State to enjoy online. The two-week-long affair kicked off on Halloween and runs through November 15, bringing together more than 150 authors, including Julia Alvarez, Nick Hornby, Dean Koontz, Kevin Kwan, Matthew McConaughey, Jodi Picoult, Natasha Trethewey, and many more. You'll find plenty of authors with Dallas ties taking part, like Doug J. Swanson, Jamie Thompson, Katherine Sharp Landdeck, Julia Heaberlin, and José R Ralat. Highlights include a (virtual) Literary Gala on Friday, Nov. 6 with some of the headlining authors and emcee Michael Ian Black. It's a great way to support the non-profit organization if you have the means; tickets start at $500. Three of the festival's authors with Dallas ties, Doug J. Swanson and Jamie Thompson, and Brittany K. Barnett will be featured in a discussion on Tuesday, Nov. 10 at 10 a.m. called Race, Policing, and Law in Texas: Past and Present. Swanson will be talking about his latest book, 
Cult of Glory: The Bold and Brutal History of the Texas Rangers;
 Thompson will be discussing her book, 
Standoff
, about the 2016 Dallas police shootings; and Barnett will be discussing 
A Knock at Midnight: A Story of Hope, Justice, and Freedom
, her memoir detailing her journey through the nation's criminal justice system. There is an intriguing session with the 2020 Texas Writer Award recipient, Stephen Graham Jones about his latest tale 
The Only Good Indians
, taking place on Sunday, Nov. 15 at 2 p.m. That event is free to attend with RSVP. And this weekend, one of the festival's more playful events, Lit Crawl Austin, will open up to the whole state. There will be storytelling sessions, spoken word performances, panel discussions, and virtual brunches for the Lit Crawl, which takes place Nov. 7 to 15. You can find the full schedule here, but we've singled out some highlights. The festivities begin with the Literary Death Match on Saturday, Nov. 7 at 7 p.m. The event is a comedic read-off competition pitting writers against each other. This year, contestants Deesha Philyaw, Richard Z. Santos, Don Tate, Isabel Quintero, Juli Delgado Lopera, and Charlie Clark will battle it out. Read more about that event here. Later Saturday evening, you'll want to tune into a poetry performance, Chicon Street Poets Presents Natalie Diaz and Deborah Paredez. The two authors will be reciting their work live at 8:30 p.m. with emcee Sam Treviño. This event is also free with RSVP. Questions will be taken at the end of the session. If you're interested in poetry, you should also check out the book festival's 5:30 p.m. session featuring the 2020 Whiting Award Winners in Poetry. Next Friday, Nov. 13, Austin Batcave presents Story Department, a themed storytelling evening with authors Kelly J. Baptist, David Biespiel, and David Marquis. The writers will be telling true stories with the 2020-appropriate theme "Pivoting." The final event of Lit Crawl and our last recommendation is a special, virtual brunch hosted by 
Texas Monthly
. Authors José R. Ralat, Liara Tamani, Raúl the Third, and Jardine Libaire will participate in a roundtable discussion wrapping up the festival. Come equipped with your own brunch bites and questions for the authors.