Want to know all about Jim Hardman series?
Want to know all about Jim Hardman series?
on
Feb 19, 2020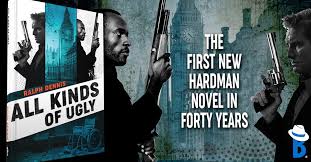 Book lovers have a keen interest in the famous series of books. A classic series of books is the dream gift for any book lover. The bibliophiles always look for the new and old editions of books to add in them in their collection. One of the most desired classic book series by book lovers is the "Jim Hardman series." The original book series of Jim Hardman is written by the late author Ralph Dennis. The first novel of the series was published in the year 1974.
The other books of the series are -
Atlanta Deathwatch The Charleston Knife's Back in Town The Golden Girl & All Pimp For The Dead Down Among the Jocks Murder's Not an Odd Job Working for the Man The Deadly Cotton Heart Deadman's Game The One-dollar Rip-off The Last of the Armageddon Wars The Buy-Back Blues Hump's First Case The author of the book, Ralph Dennis was an American crime fiction writer. Atlanta Deathwatch was the first book of his career which introduced his amazing writing skills in the literature industry. The books of the series are described as the hardboiled fiction genre. Denis died in the year 1988 because of kidney failure. In the year 2014,
authors Lee Goldberg and Joel Goldman
started their publishing house named
"Brash Books".
Their thought behind establishing the publication is to republish the award-winning and critically acclaimed novels. Both of the authors share the same passion for crime writing.
The Jim Hardman series attracts them as it's the classic crime series of the retro era.
Barsh books purchased the copyright of Dennis's work and then received a box of manuscripts of Dennis's work.
There was also a rumour in the industry that a box filled with manuscripts of Dennis's work has been missing after his death.
So Goldberg took the charge to find out if there is any truth in the rumour. He started tracking down Dennis's friends and asking about the missing box. Later he also went to the place where denis used to live and write. The Jim Hardman series is about a Jim Hardman who is depicted as an ex-policeman kicked out of the force being in a relationship which was later revealed to have involvement in a money-laundering scheme. He was a clean cop, but the moment that he was sacked, he turned to any job as long as it could cater to his bills.