Frontlist | Vishwa Rang (Tagore International Literature & Arts Festival)
Frontlist | Vishwa Rang (Tagore International Literature & Arts Festival)
on
Nov 11, 2020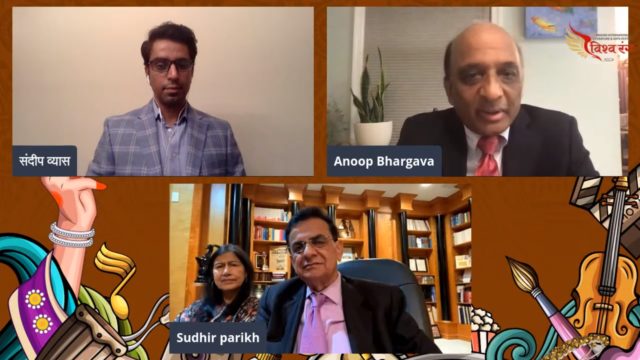 Three days of Indian culture celebrated in 16 countries. Padma Shri Dr. Sudhir Parikh recognized with Lifetime Achievement Award
November 6
th
, 7
th
 and 8
th
 2020, will forever be embedded in the minds of hundreds of people who logged on to participate and enjoy Indian arts and culture in 16 countries around the world. The Vishwa Rang festival held its second three-day festival, all of it virtually because of COVID-19. While it was extremely different from the in-person event of 2019 in Bhopal, where tens of thousands of attended, organizers are certain it was an experience like never before on the virtual platform. In Bhopal, where the Chancellor and founder of the Rabindra Nath Tagore University, Santosh Chaubey was the mastermind, organizers estimated 50,000 people came to watch more than 100 events, presented by some 1,000 participants. This time round, Jhilmil, an arts and culture organization in the U.S., joined hands with Chaubey to present a three-day experience where participants hailed from Australia and Canada apart from the U.S. and a host of other countries, Anoop Bhargava, founder and president of Jhilmil told Desi Talk. A rich menu of events, all online, were presented daily, such as Kahani Manch, dances, discussions and theater, to name just very few of all the events which according to organizers, made it a "global cultural affair." "When Chaubeyji approached me two months ago, to have a Vishwa Rang festival this year in the middle of a pandemic, we could only visualize it virtually. And since we were calling it "Vishwa" I suggested we go global," said Bhargava who led the Vishwa Rang USA chapter and coordinated all the remaining 15 country-specific chapters, apart from India and USA, such as Vishwa Rang Canada, Vishwa Rang Singapore, Vishwa Ranga Australia, Vishwa Rang Netherlands, to name a few. Other countries included Russia, Sri Lanka, Ukraine, Kazakhstan, Sweden, Trinidad, and United Arab Emirates. Each country had its own director. "Across the globe, whenever you wanted to log on, some country was running its program in some different time zone," Bhargava said. "You can go to a website and choose the country or you can go to each day in every country, whichever way you want to see events, you can," he noted, saying it was a unique event.
Vishwa Rang USA
For Vishwa Rang USA, Bhargava and his team wanted to be inclusive and approached several organizations to join in making the event a success. They included the Indian Consulate in New York, Parikh Worldwide Media and ITV Gold, Bharatiya Vidya Bhavan, TV Asia, among others. "The main objective was the bring the best talent America has, whether it is dance, poetry, etc. And we also wanted to gather the largest audience possible," Bhargava said. "So we approached media organizations and also those who have been promoting art and culture."
Awards
On the last day of the festival Nov. 8, Vishwa Rang USA held an awards ceremony where the Vishwa Rang Shikhar Samman Award was given to few selected people, among them the highest award to Padma Shri Dr. Sudhir Parikh. While the selection of the awardees was made by Jhilmil, the award was given, virtually, by Chancellor Chaubey of Rabindranath Tagore University in Bhopal.
Dr. Parikh was selected, "For his lifetime achievements in promoting Indian art & culture in the USA" In his acceptance speech, Dr. Parikh said, "I am humbled and privileged to receive the award. My sincere thanks to Santosh Chaubey ji for his vision and dedication. I am delighted to be part of Visha Rang. The scope and spirit of this festival is inspiring. We need unity and harmony in the world. Such artistic, creative and literary celebrations create a positive energy which is very much needed in this world." Dr. Parikh thanked the organizers on behalf of ITV Gold and Parikh Worldwide Media and pledged to continue to support Vishwa Rang and Jhilmil. "Thank you for this honor. I will cherish it for my lifetime," he added. The other recipients were Padma Shri H.R. Shah, founder and chairman of TV Asia, and Dr. Naveen C. Mehta. Chancellor Chaubey simulated the award-giving ceremony on the video from Bhopal. Talents Showcased Bhargava said organizers hoped to repeat the marathon three-day event annually. This year, more than 30 sessions took place and more thana 100 artists and performers participated. They included classical and contemporary dance, such as Kathak, Kuchipudi, Bharat Natyam, Bhangra, and folk; The music segment showcased classical, semi-classical as well as light Indian; There was Hindi and English theater; Under the Literature category, there were Kavi Sammelan, Mushaira, and Kahani Path; Discussions included panels on Cinema and Literature, Tagore & Iqbal, a Book Launch and meet-the-author events. Some of the prominent artists who participated included Padmashri Awardee Pandita Tripti Mukherjee (Classical Vocal); Dance performers, Archana Joglekar, Kathak,  Suba Parmar,  Bharat Natyam, and Kuchipudi dancer Swathi Atluri; Singers Sanjeev Rambhadran, Astha Shukla, and Sanjukta Sen showed their mastery; Discussants on art and culture included Jonathan Hollander, Shila Mehta, Purva Bedi, and Pranjali Sirsao; and poets who showed their craft included Anoop Bhargava, Abhinav Shukla, Dr. Vinod Tewary, Dr. Abdullah Abdullah. Bhargava led the Vishwa Rang USA segment along with members of the core committee made up of Sandeep Vyas, Abhinav Shukla, Maneesh Gupta, Vandana Vyas, Avani Shah, and Neerja Apte.