Vice President Venkaiah Naidu launches the book on Prime Minister Narendra Modi Turbulence and Triumph – The Modi Years"
Vice President Venkaiah Naidu launches the book on Prime Minister Narendra Modi Turbulence and Triumph – The Modi Years"
on
Dec 24, 2019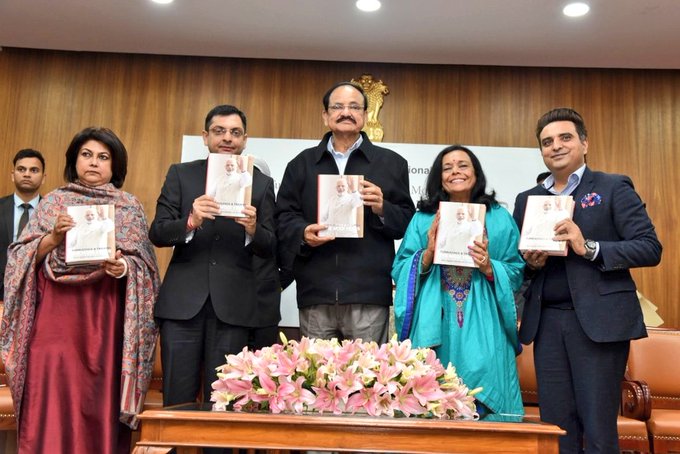 Authors Rahul Agarwal and Bharathi Pradhan recently released their book, 'Turbulence and Triumph – The Modi Years'. The book was launched by the Vice President of India, M Venkaiah Naidu. 
While launching the book, he praised the work of Prime Minister Narendra Modi. He quoted the reference of Narendra Modi by the former president of the USA, Barack Obama where he described him as 'reformer-in-chief'. He also acknowledged the work of Narendra Modi by saying that he is transforming the vision of national father, Mahatma Gandhi into reality
Venkaiah Naidu mentioned government schemes like Swachh Bharat, Make in India, Skill India, Beti Bachao-Beti Padhao, etc which change the dynamics of our country and take it towards the path of growth. He also admired the prime minister for taking better initiatives for agriculture productivity. He said, "Modi Ji gave a new impetus to the economy through a number of initiatives such as the Goods and Services Tax (GST). Sabka Saath Sabka Vikas Sabka Vishwas is an eloquent expression of his world view".
He also added that the world is now recognizing India and respecting it. He said that India is now building up under Narendra Modi's leadership. Prime Minister's Mantra of, 'Reform, Perform and Transform' has impressed and made an impact on Naidu. He said, "Transformation of the nation is the need of the hour and that is what is happening now."
He also addressed the ongoing protests in several states for CAA. He appealed to the guests of the event that people should get into violence and put their national interest at the center of their actions.