Union HRD Minister Shri Ramesh Pokhriyal 'Nishank' launches #MyBookMyFriendcampaign on World Book Day
Union HRD Minister Shri Ramesh Pokhriyal 'Nishank' launches #MyBookMyFriendcampaign on World Book Day
on
Apr 24, 2020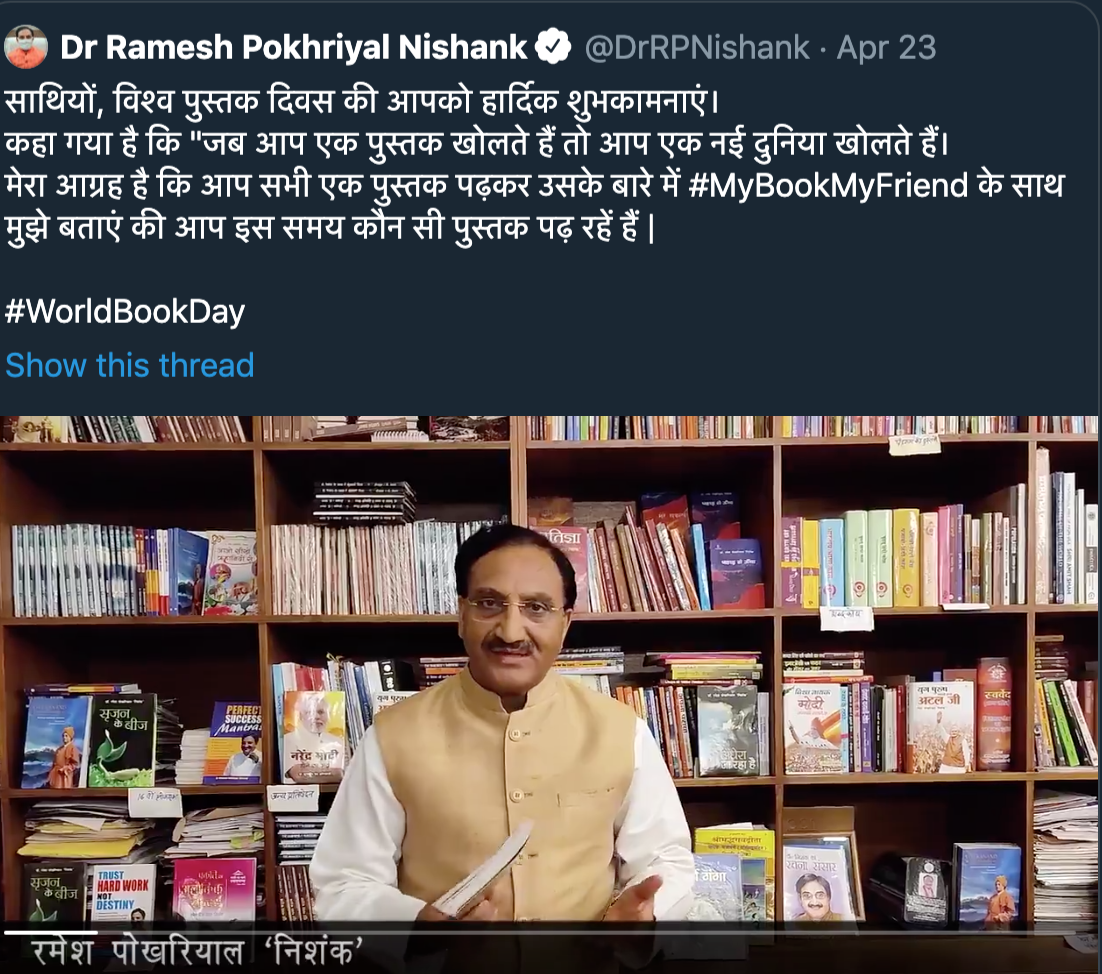 The world book day is still on the run as the
HRD minister Ramesh Pokhriyal Nishank launches #MyBookMyFriend campaign on twitter.
He asked students to share the name of the books which are on their reading list on their social media platforms using the campaign hashtag. He also asked students to pick their favourite book which can be their best friend. Union Minister of Human Resource Development, Shri Ramesh Pokhriyal 'Nishank' extended greetings to everyone on the occasion of World Book Day and launched the
#MyBookMyFriend
campaign so social media on the occasion. Shri Pokhriyal has shared a video message on social media saying that when you open a book, you open a new world. He said that books are a person's best friend.
Books inspire everyone and provide a new way of thinking. Shri Nishank added that books serve as a guide in difficult times of life.
The Union Minister said that this time World Book Day is being celebrated with the lockdown.
He appealed to all the students that at the time of lockdown, they must read some books of interest in addition to course books. There will be an opportunity to learn something new. He urged all the students to read a book and share with him about the book which they are reading at the moment using #MyBookMyFriend on social media.
Shri Pokhriyal has appealed to various Union Ministers on social media by tagging them to join the #MyBookMyFriend campaign.
Along with this, the Union Minister has also appealed to prominent personalities from various parts of India to join this campaign so that it can inspire all the countrymen.
Shri Pokhriyal told that the #MyBookMyFriend campaign will run for the next 7 days, during this time all people to join this campaign.
In this time of lockdown, books are the best company for us! They provide us with mental support. As we are bounded to spend quarantine in this COVID-19 pandemic, books open the doors of travelling through our thoughts. The lockdown extension has bought more time to explore the literature world.