Under a new regulation, Russia forbids LGBTQ-friendly content.
The purpose of this rule, which has been in effect for a little over a month, is to penalize what is referred to be the promotion of "nontraditional sexual interactions
on
Jan 30, 2023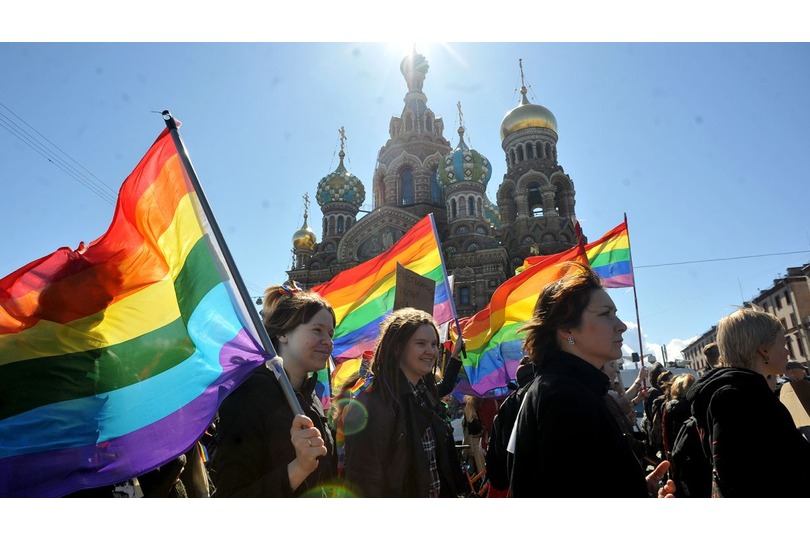 The distribution of any information seen as an attempt to encourage same-sex couples and homosexuality is punishable under Russia's new law against "LGBTQ propaganda," which has been in place since December. The act has led to a constant stream of book and film prohibitions across the nation, effectively outlawing any public representation of LGBTQ conduct or lifestyle.
Anyone who expresses their support for love between two males may be required to reach deep into their pockets and pay a fee. Anyone who openly encourages a buddy to think about changing their gender, particularly on social media, is breaking the law. And anyone who applauds a movie where two ladies kiss may find themselves in court.
These actions and several others are now prohibited in Russia and are subject to fines of up to 5 million Russian rubles (about $65,000/$70,700).
The purpose of this rule, which has been in effect for a little over a month, is to penalize what is referred to be the promotion of "nontraditional sexual interactions." Dissemination is prohibited through publications like books, movies, and media. The Russian authorities define "nontraditional" as any sexual interaction involving two men or two women.
According to the Moscow-based newspaper Vedomosti, Roskomnadzor, which regulates communications and media, has been creating criteria for this kind of propaganda. Any goods containing material that complies with these criteria will be registered in a separate database and rendered unavailable to the general public. Anyone who distributes the goods may face legal action.
A book or television program will be removed from bookstores or television screens if it "depicts same-sex relationships as attractive," "presents a distorted idea of the social equivalence of traditional and nontraditional sexual relationships," or "contributes to changing negative attitudes towards nontraditional sexual relationships into positive ones."
According to Vedomosti, a preliminary list of films that fit this description has already been created. The different streaming providers have already received this list. Naturally, movies like "Brokeback Mountain" and "Call Me by Your Name" as well as specific episodes of the television series "The Sex Lives of College Girls" and the medical drama "This Is Going to Hurt" are included on the list.
However, the publishing industry may have already taken the biggest impact.
One of Russia's leading publishers, Eksmo-AST Publishing Group founder Oleg Novikov, protested to the online magazine Tinkoff that the new law's ambiguous language would threaten about half of all books available on the Russian market. He cautioned that publishers are unaware of the works that may be prohibited.
The bill would pose significant hazards to the publishing sector, according to Alexey Ilin, the CEO of publishing firm Alpina, who spoke to DW. Companies might be destroyed by potential penalties and legal disputes, he said.
Since Alpina has not published anything that might be considered to include LGBTQ content, Ilin claimed he had not yet had to delete any titles from his list. However, he admitted to DW that he was aware of bookstores that had previously pulled novels "in which same-sex love plays an obvious part."
The degree of independence was quite high, and the publishing business was not the state's primary concern until recently, according to Ilin. However, officials now believe that several works conflict with official state policy.
It is believed that specific Moscow libraries have lists of books that must be removed from the shelves as early as the middle of December.
Vladimir Kosarevsky, the head of a sizable Moscow library, told DW that "a few months ago, it was still about books by so-called foreign agents." However, this time the list included more than 60 works by foreign and Russian authors. Michael Cunningham, John Boyne, Stephen Fry, Haruki Murakami, and Eduard Limonov were among those mentioned.
Kosarevsky is critical of the Russian government's escalating demands on its people. He claimed that "we are denied the opportunity to voice our viewpoint and to make our judgments." "The legislation must be repealed as quickly as possible since it is discriminatory.
Moscow-based human rights and LGBTQ activist Igor Kochetkov doubts that the Kremlin would go that far. He thinks the country's escalating anti-Western sentiment is mostly to blame for the new law. He claimed that the goal is to portray an adversary as having "anti-Russian beliefs" and intending to hurt the nation.
Considering the conflict in Ukraine and the Russian government's desire for its population to support it, he believes it is reasonable that this type of debate is growing more intense.
The Russian regime has been deceiving the populace that it isn't genuinely battling Ukraine since its invasion last February. Instead, it is hostile to what is known as the "collective West," which includes the US and the EU.
There are others who, according to Kochetkov, "really think this helps to organize public opinion in favor of supporting the war." But he doubts that it will succeed. He declared that "Russian society is considerably more advanced than its leadership.