UGC Chairman Releases 'Environmental Studies: From Crisis to Cure' Published by Oxford University Press
UGC Chairman releases 'Environmental Studies: From Crisis to Cure' by Dr. Rajagopalan, emphasizing the significance of environmental education.
on
Nov 02, 2023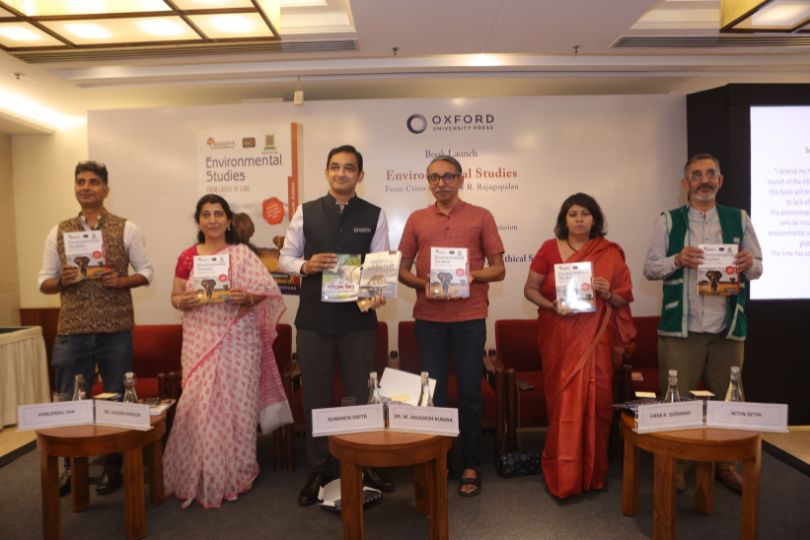 New Delhi, 02 Nov 2023: Highlighting the growing urgency of environmental concerns, University Grants Commission (UGC) Chairman Dr M. Jagadesh Kumar unveiled the latest edition of the book 'Environmental Studies: From Crisis to Cure', published by Oxford University Press India. Authored by Prof. R. Rajagopalan, a former professor at IIT Madras, the book is a bestseller and is widely regarded as a fundamental resource for environmental studies.
The book, currently in its fourth edition, fully covers the UGC Guidelines and Curriculum Framework for Environment Education 2023, developed under the New Education Policy (NEP) 2020 and seeks to reshape how students discern and engage with the environment.
At the book launch event in Delhi, Dr Kumar reaffirmed the UGC's commitment to addressing the mounting urgency of environmental concerns, underlining the pressing need for immediate attention and concerted collaborative efforts. He highlighted the UGC's proactive initiative to seamlessly integrate environmental education and sustainable practices into higher education curricula across the nation. Dr Kumar underscored the importance of empowering the younger generation, urging them to assume the mantle of environmental stewardship with responsibility and dedication. The book, meticulously aligned with the course objectives, serves as a catalyst, nurturing not only environmental awareness but also fostering a heightened sensitivity toward conservation and sustainable development practices among the readers.
The book focuses on climate change as the most significant challenge of our times. It also includes new content on topics such as climate adaptation, circular economy, disaster management, and the government's 'Lifestyle for the Environment (LIFE) Movement,' which aims to promote environmental awareness.
Sumanta Datta, Managing Director, Oxford University Press India, expressed, "At Oxford University Press, we are committed to raising awareness about social and environmental issues among learners and researchers worldwide. We aim to harness the power of publishing to educate future generations, promote critical thinking and informed decision-making, and drive positive, long-lasting change. Reiterating the Hon'ble Prime Minister's mission of Lifestyle for Environment (LIFE), the book serves as a gentle nudge for individual and collective action to protect and preserve the environment."
Sumanta added, "As a publisher, we are focusing on reducing the impacts of our manufacturing supply chain—including papermaking, printing, and freight—as well as minimizing the environmental footprint of digital publishing."
On the sidelines of the book launch, a panel discussion titled 'Environmental Education and Humanity's Ethical Stewardship' was organized. The discussion centred on the crucial role that environmental education plays in shaping humanity's moral perspective regarding the prudent use of our planet's resources. The panelists included notable figures such as Nitin Sethi, Journalist & Founding Member of The Reporters' Collective; Dipankar Saharia, Senior Director at The Energy Research Institute; and Vimlendu Jha, one of India's leading Environmentalists. The discussion was moderated by Urmi Goswami, Assistant Editor at the Economic Times.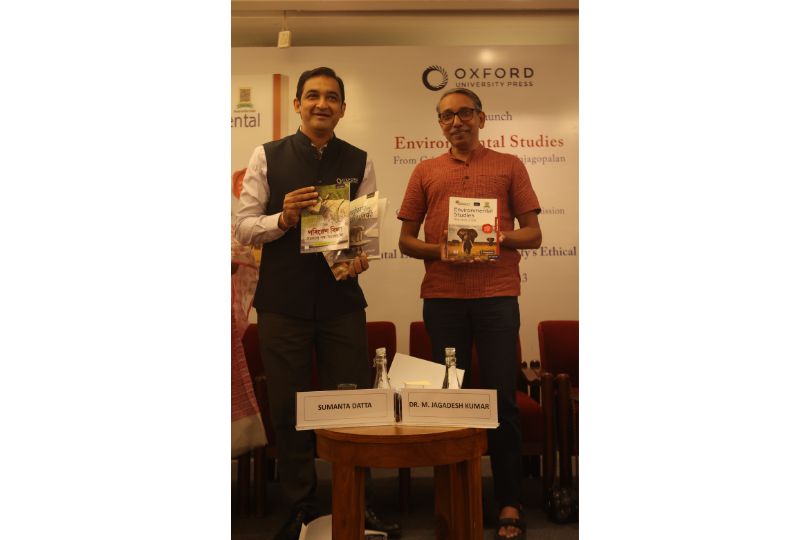 About the book - Environmental Studies: From Crisis to Cure
A bestseller in environmental studies, this book, currently in its fourth edition, has been updated to reflect recent news, reports, and studies. It delves into the major environmental challenges we face today: runaway growth, imperilled ecosystems, vanishing forests, endangered species, depleting natural resources, hazardous toxic wastes, environmental laws, and other related issues. The book illustrates various problems, solutions, successes, and failures through over 80 real-life case studies from India and around the world.
Following the guidelines of NEP 2020, the main text employs the Socratic method in a question-answer format, effectively promoting active learning. Each chapter begins with a lead story and incorporates additional narratives. The chapters also shed light on how students can positively impact the environment through group projects, initiating their organizations, and undertaking personal initiatives.
This book serves as a valuable resource for university students and holds particular significance for UPSC civil services examinations, as it covers ecology/environment topics for both preliminary and main examinations.
University Grants Commission's guidelines and curriculum framework for environmental education
This environment day, on June 5, 2023, UGC released the guidelines and curriculum framework for environmental education in undergraduate courses. The UGC directed all undergraduate programmes in Higher Education Institution (HEIs) to include this course. The guidelines are designed to cater to students from all disciplinary backgrounds and to sensitise them about our nation's commitment to achieving sustainable development goals and resolving global environmental concerns. Given the multidisciplinary nature of the environmental education course, HEIs can choose to use the team-teaching method.
Message from author Dr. Rajagopalan
In a message for the launch of his book, the author Dr. Rajagopalan drew attention to the dire situation we are in: "In March 2023, the UN Intergovernmental Panel on Climate Change, a body of scientists from all over the world, released a report which included warnings that the world was approaching "irreversible" levels of global warming, with catastrophic impacts rapidly becoming inevitable; and that it was "now or never" to take drastic action to avoid disaster. Of course, we now regularly experience extreme weather events in India and elsewhere."
Dr. Rajagopalan made a plea for the full implementation of the 2003 Order of the Supreme Court on Environmental Education – at all levels from Class 1 to the degree course. The UGC should ensure that the compulsory subject Environmental Studies carries credits and marks. The government's 'Lifestyle for the Environment Movement' (LiFE) initiative should also be implemented.
About Oxford University Press
Oxford University Press (OUP) is a department of the University of Oxford. It furthers the University's objective of excellence in research, scholarship, and education by publishing worldwide. OUP is the world's largest university press with the widest global presence.
It currently publishes thousands of new publications a year, has offices in around fifty countries, and employs approximately 5,500 people worldwide.
It has become familiar to millions through a diverse publishing program that includes scholarly works in all academic disciplines, bibles, music, school and college textbooks, children's books, materials for teaching English as a foreign language, business books, dictionaries and reference books, and academic journals.