Frontlist | Two Book Deal from Penguin Random House for Former HamletHub Intern, Jackie Logsted Looks to the Big Screen Next
Frontlist | Two Book Deal from Penguin Random House for Former HamletHub Intern, Jackie Logsted Looks to the Big Screen Next
on
Jan 20, 2021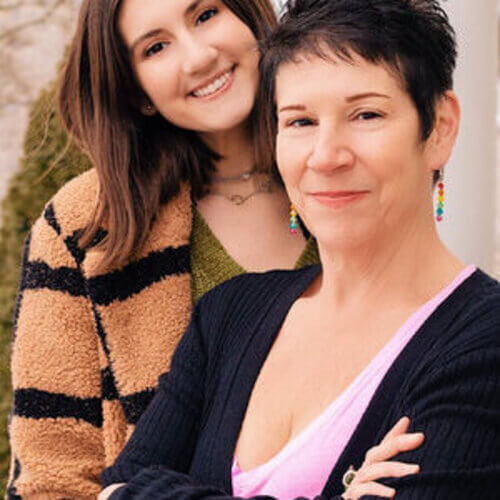 Danbury resident, Wooster School 2018 grad, Jackie Logsted has co-authored ten books, has written and directed a short film, and has an agent - oh, and she's 
only
 twenty years old! A former HamletHub intern, Logsted is currently studying film, screenwriting, and American Studies at Dickinson College, all while training to write and direct movies. Here, we talk with Logsted about the most recent book she co-authored with her mom, 
Joint Custody,
 sold in a two-book deal to Penguin Random House. Logsted is currently working on the sequel.
Joint Custody is the story about a mischievous dog who takes matters into his own paws when his beloved owners split up in this offbeat romantic comedy
.
Where did your inspiration for Joint Custody come from? 
I'm studying screenwriting in college and my mom is a successful author with 40 sold books under her belt. In July 2019, we were trying to come up with an idea that could combine our talents and be suitable for both a book and a movie. We landed on the fact that people LOVE dog movies – and who wouldn't love a dog book? So, we decided to write the script, write the book, try to sell the book, and then use that sale to try to sell the script. So far we've accomplished 3 out of 4!
And, you co-authored this children's book with your mom. Tell me about that process. 
When I was six years old, my parents and I were stranded in Colorado over Winter Break. To keep me occupied, my mom asked me, "If you could write a book about anything, what would it be?" Over our next few days snowed in, we developed the plot of what would become a nine-book series published by Houghton Mifflin Harcourt. The series follows 8 sisters (octuplets) whose parents go missing on New Year's Eve, and they must trick the world into thinking they're living with parents since they're 7 years old. Oh, and they each discover they have magical powers. My dad and I would sit on the steps to the basement where my mom's office is and feed her ideas while she typed out the stories.
This isn't your first book (and you're a college student!) How did you find the time?
We wrote Joint Custody in the summer of 2019, finishing the script and the book while I was on vacation. That fall we sold the book in a two-book deal to Penguin Random House. They sent a few rounds of revisions, the first of which may have come in while I was at school but we likely waited until one of my breaks to address the comments together. For the most part, our revision process has occurred since the COVID outbreak and being home from school since March has made it easy to address revisions together. Right now we're on the second round of revisions for the sequel, which will be published in December.
Do you have a dog? 
Nope – we have a cat!
You scored big with a big name in publishing - Penguin Random House. How did that happen?
My mom and I share an agent – Pamela Harty of the Knight Agency – and she sent the book out to a handful of suitable publishing houses. Many were interested and we ended up running an auction on the book between four publishing houses. In the end, we had the luxury of a choice between a few wonderful options and decided to go with Penguin Random House.
More books to come? Co-authoring with your mom or on your own?
The sequel will be out in December. As for more projects… who knows! We always have something up our sleeve. For me, I'm writing and directing a short film that will be crowdfunding this February and released later this year. You can find more on that on Instagram 
www.instagram.com/someonesomewherefilm
 or on Twitter @someonesomefilm Source: https://news.hamlethub.com/