Frontlist | Outrageous, says Salman Rushdie as Twitter suspends journalist Salil Tripathi's account
Frontlist | Outrageous, says Salman Rushdie as Twitter suspends journalist Salil Tripathi's account
on
Dec 08, 2020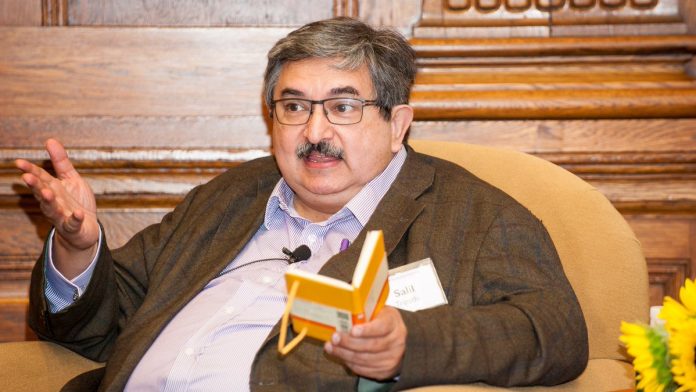 The last tweet by journalist Salil Tripathi before his account was suspended was on the Babri demolition anniversary. Twitter hasn't said why action was taken.
New Delhi:
 Twitter Sunday suspended the account of Salil Tripathi, the senior journalist and chair of writers' body PEN International's 'Writers in Prison Committee'.
The action led to outrage on Twitter, led by renowned British-Indian novelist Salman Rushdie, who asked the social media giant's CEO Jack Dorsey "what is going on".
"This is an outrageous act of censorship against one of the most important advocates of free speech. Twitter, stop it now! Jack what's going on?" Rushdie wrote. Author and journalist Nilanjana Roy, whose tweet Rushdie shared with a comment, said Tripathi had tweeted about the demolition of Babri Masjid on its 28th anniversary.
"Earlier today, he'd tweeted about the demolition of the #babrimasjid, expressing the continuing anguish many also feel — hope @TwitterIndia will restore his voice soonest," Roy said.
Jnanpith award winner Amitav Ghosh also called out Twitter's decision to suspend Tripathi's account, saying he is "beyond astonished" to learn about it.
"Salil is an outstanding journalist, writer and human rights activist. He is also the chair of PEN International's Writers in Prison Committee," Ghosh wrote.
Why was the account suspended?
ThePrint contacted two Twitter spokespersons through phone calls and email, but they declined to comment on why Tripathi's account has been suspended. Twitter rules prohibit a user from threatening violence, violent extremism/terrorism, child sexual exploitation, abuse/harassment, suicide or self-harm, sensitive media, including graphic violence and adult content and illegal or certain regulated goods or services under his safety guidelines. Under authenticity, it prohibits users from platform manipulation and spam, civic Integrity, impersonation, synthetic and manipulated media, copyright and trademark. Suchitra Vijayan, founder and executive director of New York-based research and journalism organisation, also tweeted about the suspension of the account, in response to which, author and journalist Kishalay Bhattacharjee claimed that Twitter had taken action because Tripathi's last tweet mentioned "December 6, 1992". He also uploaded a screenshot of the last tweet. The screenshot shows Tripathi's pinned tweet, which had a link to a poem he wrote in 2009 about 1947, 2002, and 6 December 1992, and a call from his mother. Many other users also called out Twitter for suspending Tripathi's account. Source -
https://theprint.in/india/outrageous-says-salman-rushdie-as-twitter-suspends-journalist-salil-tripathis-account/561811/