Top 5 popular Indian writers to read
Top 5 popular Indian writers to read
on
Feb 07, 2020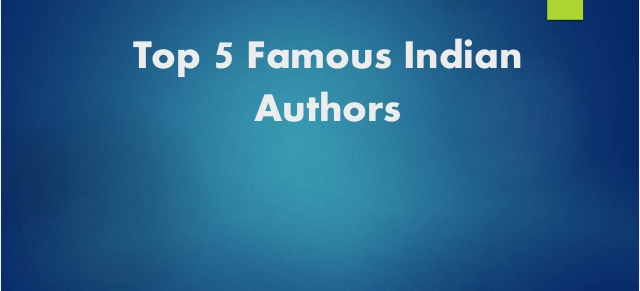 India always stands out when in the world for its literature. It's the land of amazing writers and poets who have done miracles from their pens. The readers from across the globe love to explore the literature world from the pen of an Indian writer. Here we have compiled a list of five Indian writers whose work has given a whole new identity to Indian Literature.
Ruskin Bond
Ruskin bond is the brightest star of Indian literature industry. His books are always on the top of shelves in the schools' libraries. His beautifully written stories always leave their imprint on the children's mind. He writes his stories in a way that they always go with a kid's imagination. He has earned several awards for his work in Indian literature. You just can't afford to miss his work!
R. K. Narayan
Another legendary name of Indian literature industry whose work we all have seen on the small television screen is "Malgudi Days". The stories of R.K Narayan have narrated through the character of 'Swami'. He has given the new dimensions to storytelling. We all have heard and loved his stories in the form of one of the best television shows of all time.
Salman Rushdie
Known for his controversial and mind-blowing literature work, author Salman Rushdie is the global celeb writer in the literature industry. He is a British Indian novelist and essayist. He has written many masterpieces which attracted huge controversies towards them. His idea of choosing the topics for his stories are completely different than a regular writer. His books are the pure form of perfection which keeps him reader's most interesting choice.
Sudha Murty
Famous for her very unique writing style, writer Sudha Murty is another best choice for our readers. Her books are known for her excellent story writing concept. She has won different awards for penning down the stories in an extraordinary manner. Her book, 'The Gopi Dairies' is loved by the readers and proven her name in the literature industry.
Arundhati Roy
One of the favourites and famous choices of youth is the writer, Arundhati Roy. Her novels have always become the easy choice to read. Stories are written in a simple yet beautiful manner which keeps you glued to the book with your coffee mug. Her most famous book, 'The God of Small Things' has brought fame, name and award to her in the literature industry. Now if you were confused about stocking up your new book collection then this list will help you. These
young Indian writers
are one of those amazing Indian writers who have known in the Indian literature industry for their extraordinary concepts of stories.