Frontlist Article | Top 10 best books every Libran must read
Frontlist Article | Top 10 best books every Libran must read
on
Sep 09, 2020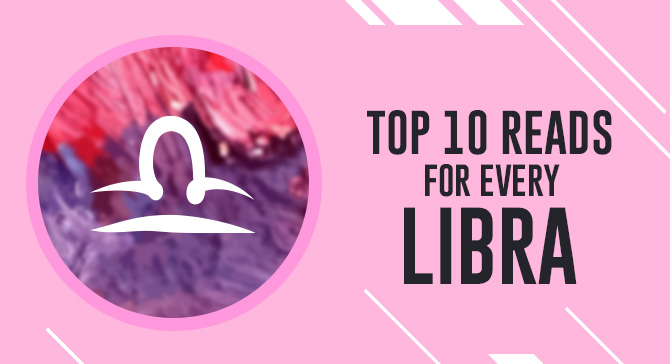 Top 10 Books you must read if you're a Libra 
Libra, ruled by the planet Venus is an Air sign that likes all things to be beautiful, balanced and oozing love. Not just saying this but the average libra gal or guy has a lot going for them. 
Idealistic in perspective and charming in their approach to people, the sign values fairness and equality. A natural mediator you have an eye for art, music and legendary literature...So if you're one of the really lucky borns between Sept 23 and Oct 22, make sure to fill your shelf with these 10 amazing books that are suited for your personality type
1. THE ART OF CHOOSING BY SHEENA IYENGAR 
For all your positive traits, Libra you do get a lot of slack for not making decisions on time, whether that's choosing a place to eat or a job to go for; your balanced nature sees 2 sides in everything. 
So if you're confused about even picking this book we understand, but trust us Iyegar's 2011 self-help books will train your mind to choose better in the nick of time. 
2. DEAR MRS. BIRD BY A.J PEARCE
Libras love initiating communication, as much as their sister air signs. Wherever they go they seek balance in every situation and that is why you'd love to read about Dear Mrs. Bird, a novel that takes you through the experiences of a woman who tries to turn things around by writing letters. 
Yup, she's disappointed to find out that her boss throws away letters containing 'unpleasantness' and so she starts secretly writing back.
3. THE LIFE CHANGING MAGIC OF TIDYING UP: THE JAPANESE ART OF DECLUTTERING AND ORGANISING BY MARIE KONDO
Let's get this straight, Libras are a little image focused. They like their homes and offices more clean and aesthetic than the average person living next door. So why not pick this up, it'll teach you to make radical changes to the ways tyou interact with the material world. 
4. ON BEAUTY BY ZADIE SMITH
So you love everything beautiful, huh? We see you boys and girls!
As much as you librans love to feel beautiful you also find beauty hidden everywhere around you. And this is why you'll love this modern-day retelling of characters that are more messy, but still beautiful.
5. HOW SHOULD A PERSON BE: A NOVEL FROM LIFE BY SHEILA HETI
A rumination about art, life and friendship, is there anything that Libra won't love? Absolutely not!
The book is a personal account of our protagonist who's trying to make sense of the world and navigate her growing individuality. Everything that Libra wonders once a week under the moon!
6. THE POETRY OF E. E CUMMINGS
Something a little romantic to indulge in? Yup, a lyrical treat is something all Libra would be interested in. And what's more a
Libra himself, E.E. Cummings wrote  poems that hit you like a punch to the heart.
His expression of the emotional highs and lows is nothing short of bliss in a book!
7. TO KILL A MOCKINGBIRD BY HARPER LEE
As justice-minded Libras are they would revel in Lee;s Pulizer-winning tale about a case that rocked the peaceful southern tow. With themes of racial inequality and legal system, every Libra will get something to think and philosophise about. 
8. PRIDE AND PREJUDICE BY JANE AUSTEN 
What better for the most romantic signs of the zodiac to read? The classic love stories that have touched many generations and keep doing.
Not something a lot of love stories can manage to accomplish!
9. THE GREAT GATSBY BY F. SCOTT FITZGERALD
As a libra, you love opulence and aesthetically pleasing stuff!
From the extravagant over-the-top parties to Jay's undying love for Daisy, this book is everything spelled with L- love, luxury and libra.
Be sure to give it a read!
10. CODEPENDENT NO MORE BY MELANIE  BEATTLE 
As a Libra, you know ever since you knew the world you wanted to be one half of a partnership, but that can just as well get toxic. This book shows where these beliefs come from and how to overcome them.
Be sure to give these a read!