Frontlist | Top 10 Books On The Partition Of India That Will Melt Your Heart
Frontlist | Top 10 Books On The Partition Of India That Will Melt Your Heart
on
Jul 17, 2020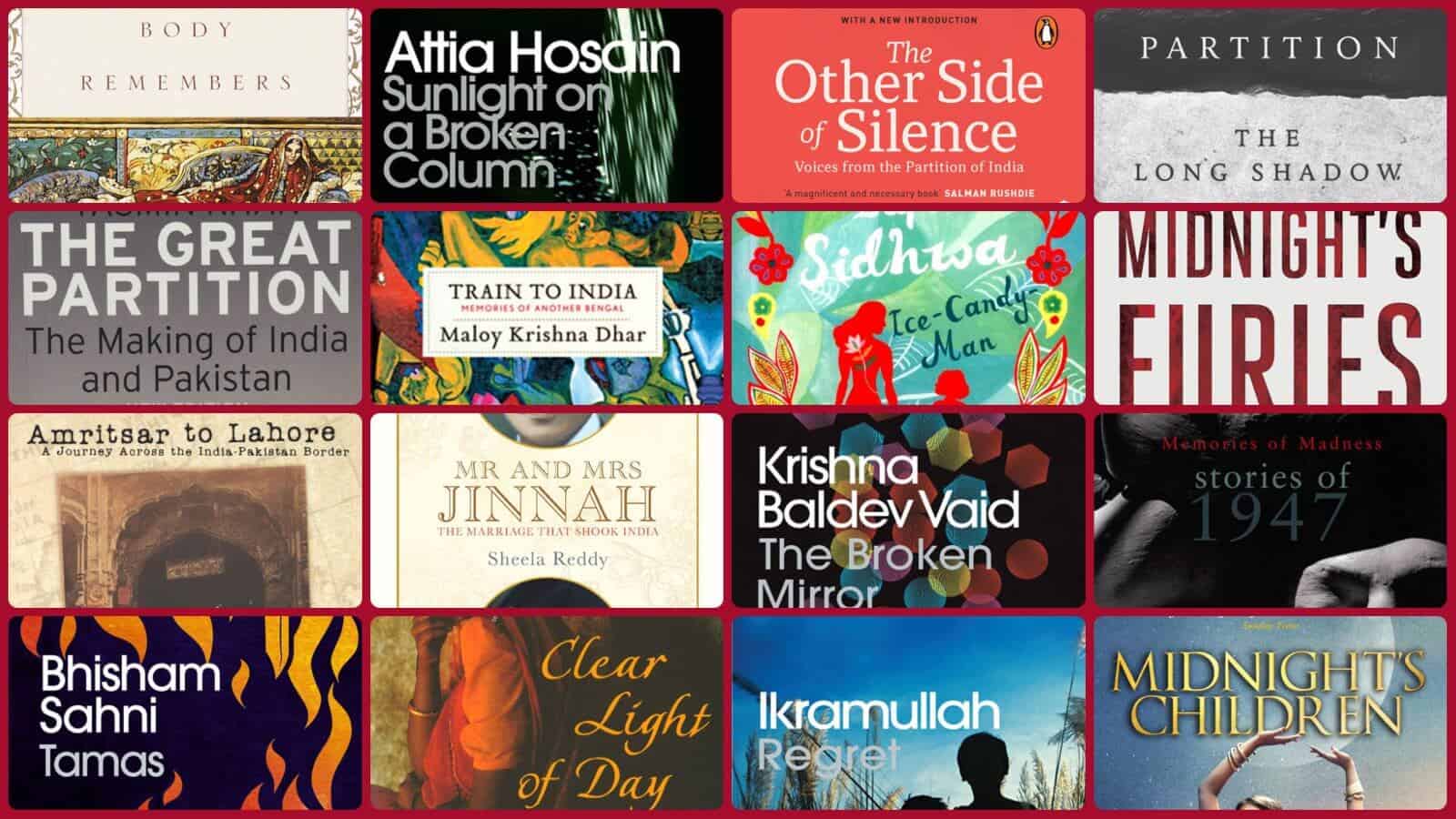 Are you looking for books on the partition of India and Pakistan? Have you found many books on the subject but want to know the good ones? Perfect!!! In this article, I list 10 books which are must-reads to understand the partition of India and Pakistan. Partition of India and Pakistan is one of the most sensitive subjects in the history of modern South Asia. A lot of research has been done on the subject and it has been critically analysed by many historians – both from South Asia and world over. Consequently, many books have been written on the subject of partition. 15th August 1947. This was the day when India got separated from Pakistan. When it comes to such a topic, a lot has been written and discussed. There are many first-hand accounts by people who actually saw it. There are many secondary accounts too in the form of books, letters, journals, etc. They depict moments of happiness, sadness, anger, hatred, and varied emotions. It is through these books and accounts that partition is still living in our memories. Almost 70 years have passed since that day, yet we still feel it's so vivid. So in order to explore that yesteryear era, here are a bunch of books one can read. They all are chosen ones and have varied themes and ideas:
---
Table of Contents
 The Great Partition by Yasmin Khan, Train to Pakistan by Khushwant Singh, Clear Light of Day by Anita Desai, Midnight's Children by Salman Rushdie, India Divided by Rajendra Prasad, The Broken Mirror by Krishna Baldev Vaid, Ice Candy Man by Bapsi Sidhwa, Mottled Dawn by Saadat Hasan Manto, Tamas by Bhisham Sahni, Midnight's Furies: The deadly legacy of India's partition by Nisid Hajari,
---
1. The Great Partition by Yasmin Khan
Yasmin Khan
 is a British writer and historian. This book by her is definitely the most famous partition literature work. She is currently a professor at the University of Oxford. In this book, she has described it all. Beginning from the execution of partition to the aftermath. She explains how the partition was a carefully devised plan. Later, she explains the recklessness with which it was implemented. Woven in the book are local stories too. She narrates tales of common people. Then these tales are interlinked to the larger politics that was behind partition. Many critics have also said that her work talks about obliviousness of the partition. She talks about how the partition as a moralistic plan was oblivious about its repercussions. Thus, it's a great read!
---
Who doesn't know this book? Or this writer? It's probably the best fictitious work on the partition of two countries. 
Khushwant Singh
 himself is no more, yet his legacy is!
Train to Pakistan
 may be in the fiction genre, yet it's an ultimate read. 
Singh
 employs the usage of a fictional village called Mano Majra in it. Now this village is located on the border of India and Pakistan. Both Muslims and Sikhs live together in it. Yet they become susceptible to certain viewpoints and stereotypes. Muslims think Sikhs will murder them. Sikhs think the vice versa. Thus, Khushwant has shown human predicament during trying times beautifully. Critics say he hasn't described politics much in the book. That's true because he tried highlighting human elements more. While reading the book, you will also encounter protagonists like Iqbal and Juggut Singh. It's a good one!
---
3. Clear Light of Day by Anita Desai
This book was published in 1980. It is written by one of the 
most brilliant Indian writers
 – 
Anita Desai
. She has been nominated 3 times for the Booker Prize. It basically talks about tensions in a family post the partition era. The setting is in Old Delhi. The story is divided into 4 parts, usually following the age group line. It ends with the adulthood part. It centers around the Das family. The family breaks away during the adulthood period. The protagonists of the novel are Tara, Bakul, Bimla, Raja and the Misras. In the second part of the book, the partition era is discussed. While in the last part, modern India is depicted. Finally, the climax ends with Tara adoring their neighbour Misras. They stand as an epitome of love and understanding, as opposed to their own family. Thus, its a really touching book!
---
Salman Rushdie
 is probably the most controversial writer of the World. Yet his art is worth all the awards and recognition. That's the reason that 
"Midnight's Children"
 won the Booker Prize. The story is told right from colonialism to Partition and post Independence. The plot is definitely very complex, yet interesting. The protagonist of the novel is Saleem Sinai. He is born exactly the date when India got independent. Thus, he was born on the midnight of 15th August 1947. Soon, Saleem realizes he has got Telepathic powers. He discovers that all children born between 12 and 1 on that day got miraculous powers. So they together convene a conference that is called "
Midnight's Children Conference'.
So the conference discusses problems that independent India faces or it faced before. The idea behind the book is excellent. Rushdie has carefully depicted reality in fiction form. It's truly a wonderful piece!
---
5. India Divided by Rajendra Prasad
Rajendra Prasad
 was the first president of Independent India. There's no doubt in it that he was a person who had closely watched everything. Right from Colonialism to Nationalism and then Partition. Although this book is now largely available only in fragments, efforts have been made to bind it all together. The book was published before Partition in January 1946. Most part of it was written in prison. It talks about Prasad's views on how Hindus and Muslims are two nations. And in this, it's proposed that a secular state be made for them with cultural autonomy. The book brings to light other such issues too. This includes the history of the two-nation theory. It also traces the chronology of the Hindu- Muslim conflict. On the whole, this piece is going to add a lot to your knowledge! So do read it!
---
6. The Broken Mirror by Krishna Baldev Vaid
"The Broken Mirror"
 is again a 
fictitious piece of literature
. Probably, very few people may have read it. Yet this story is simply subtle and sober. It brings out ethos that was related to the Partition times. The protagonist of the story is Beero- a village boy in Western Punjab. He has a whole gang of friends. They all are basically quite insane and crazy. Yet when partition arrives, some critics say that they transform into mature individuals. There are instances in the 
book which show Hindu-Muslim strife
. Devi, Beero's sister throws herself into the well. Yet the Hindus don't allow Muslim guys to get her out. Moreover, one sees dreadful incidents of rape and looting all around in the book as partition nears. It is definitely a strong metaphorical book, with the title being carefully chosen. The broken Mirror has a lot to say. Listen carefully!
---
7. Ice Candy Man by Bapsi Sidhwa
Now the title of this book looks quite weird and incongruous. There's hardly anything related to partition in it. Isn't it? But still, it's about the Partition era. But the writer encompasses other topics too like women objectification and child sexuality.
Bapsi
 is a Pakistani author and writer. She is currently based in Texas, USA. The story is told from the point of view of a little girl. It's a touching account of Hindu-Muslim tensions, communal riots, child rape, and massacres. The main protagonist is a girl named Lenny Sethi. She is a Parsee. She is just 4 years when she narrates the story and dies four years later. There are other colorful actors like Ayah, Sikh Zoo attendant, etc in the story too. It is through them that she explains various sentiments associated with Partition. The narrative is brilliant. At times it's emotional, but funny also. So do read it!
---
8. Mottled Dawn by Saadat Hasan Manto
Saadat Hasan Manto
 is the most famous Colonial Indian writer and playwright. He was born in Ludhiana, Punjab. Though originally, he is a Pakistani writer. Yet his book is simply scintillating. This book is not a single chain narrative. It is rather made up of many short stories together. These stories are real and not wholly superficial. Though some have a tinge of fiction, yet they aren't entirely untrue. Some stories are extremely short in length. Yet the context of stories is in pre and post-partition times.
Manto 
traces how pre-partition Bombay and Amritsar looked like. Thus through myriad characters, he portrays the partition quite vividly. Obviously, it doesn't follow a storyline, yet the account is vivid. Also, the main stories were in Urdu. So what you will read will be a translation in English. Anyways, go for it!
---
9. Tamas by Bhisham Sahni
This is a very lucid book showing glimpses of Hindu Muslim riots. The story is woven yet it's somehow true.
Bhisham
 himself saw the riots that happened in the book, in Rawalpindi. It basically follows the trajectory of a person Nathu. He is Hindu and is bribed by a Muslim politician. He thus kills a pig, which is later found near a mosque. Thus the tensions increase and riots erupt. In them, so many people of different faiths get killed. Muslims kill Hindus, while Hindus go about killing Muslims. Although the riots are controlled, yet they leave an indelible impression. That's how 
Bhisham
 explains about the partition woes. It's a very emotional and pricking account!
---
10. Midnight's Furies: The Deadly Legacy of India's Partition by Nisid Hajari
---
This book is written by an Indian-American writer. Rather than taking up the repeated narrative, it has something fresh to offer. It not only discusses the communal conflicts. It rather showcases how decisions by leaders and others were responsible for the Partition. It looks at new and fresh historical resources. Nisid is said to have conducted a good research before writing it. That's how he manages to write a masterpiece. It is a narrative that contains emotions and details both. It does talk about trains with carcasses, deaths, rapes, etc. However, he adds additional details to them. He goes into the depth of this topic to find reasons and problems Thus, one should read it, for sure!
---
All these 10 books about the Partition of India are masterpieces in their own way. They are artworks that are still relevant. Partition is definitely over, yet issues are not. The issues concerning our country are the same as before. Thus reading through these books, we will get to know and learn a lot. Happy reading!